Apart from Christmas, Halloween is one of my kids most anticipated holidays. The excitement of deciding what costume to wear and, wondering how much candy they will get to bring home. I think I enjoy these things just as much as my kids but, my main concern is safety. My job as their parent is to make sure that their Halloween is not only fun but, safe as well.  Knowing how to Make Halloween a Safe Experience for Kids is a must for any parent.  After a few years of enjoying Halloween with my kids, I have some great tips to share!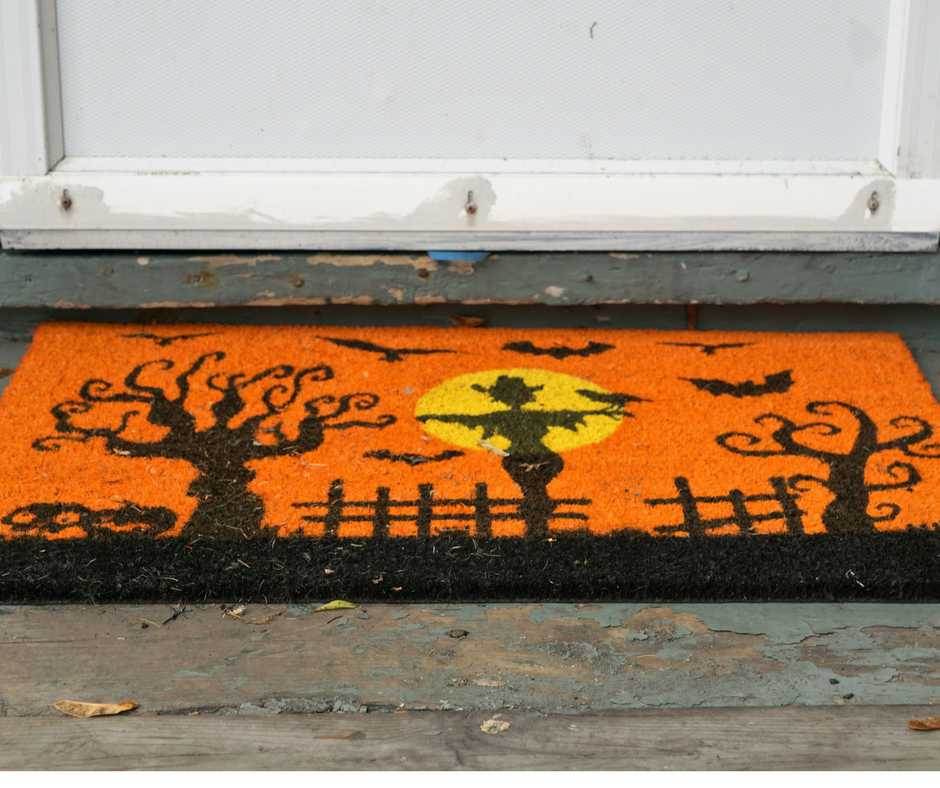 How to make Halloween a Safe Experience for Kids
This post contains affiliate links from Amazon. I may earn a small commission from purchases made via these links.
Getting ready for Halloween is tons of fun.  We love looking at all of the great costume ideas, and of course, creating fun decorations.  There are so many ways to make this sometimes spooky holiday a lot of fun for the whole family!  Below, you will find some of my favorite tips for how to make Halloween a safe experience that the entire family can enjoy.
Costumes
Masks
Many costumes come with masks. Masks work okay during the daylight as long as eyes, nose, and mouth are not hindered in any way. However, come nightfall, depending on the type of mask that is provided with the costume it may become very hard to see.
For my kids, we use the masks during the day time trick or treating events. Come Halloween night, we use face paints to recreate the masks. This way their eyes, nose, and mouth are not hindered at all.  The Snazaroo Face Paint Kit is a great option that has tons of colors and plenty of paint to do the entire family of faces.
Capes/Dresses
Capes and dresses are also popular for many costumes as well. I fully support wearing them but, to be sure your child is safe while wearing them be sure that they do not touch the ground. If either of these touches the ground your child runs the risk of getting their feet caught in them and tripping.  Trim or hem them if needed, and when going out after dark, you may want to include some reflector tape to keep it visible. 
Shoes
This is a tough one for us. Especially for my daughter. I have always pushed for her to wear tennis shoes no matter what her costume but, the battle is not always an easy one.
Heals become hard to walk in on uneven surfaces. Open toed sandals pose the risk of something you didn't see because it was dark getting stuck in them. To keep my kid's feet safe and comfortable we only wear tennis shoes even during the daytime Halloween events.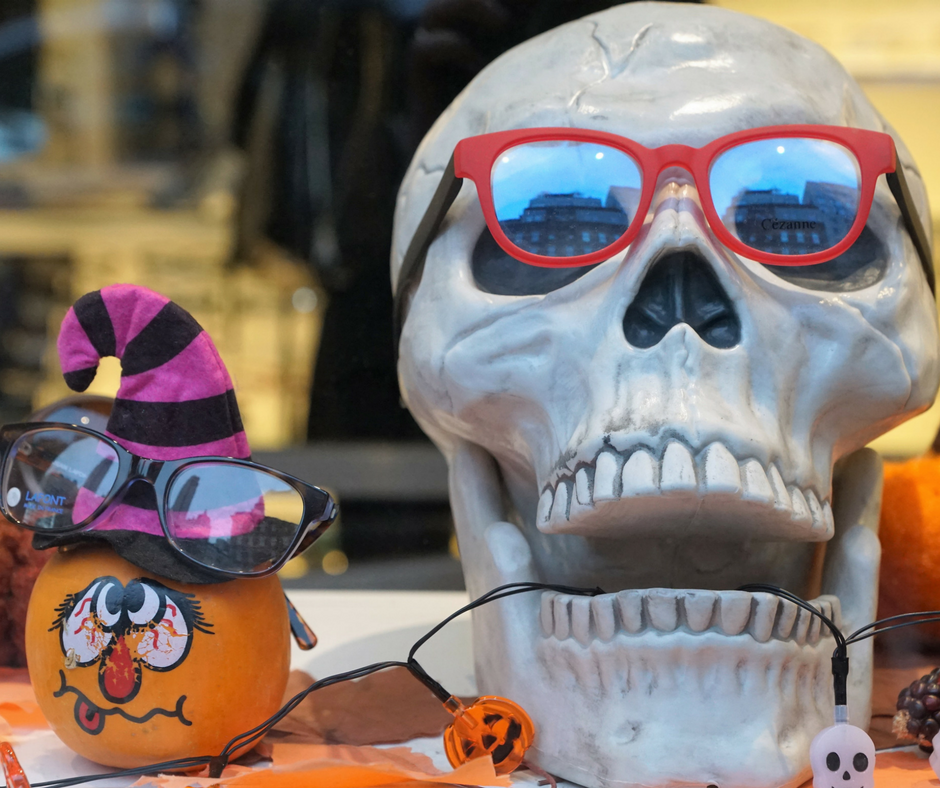 Visibility
Several costumes that children choose are darker colors. This is fine during the day but, once the sun goes down they become very hard to see, for both you and cars that happen to be on the road. To keep them visible you have a few options.
Reflective tape
This is especially helpful with costumes that have capes. You can easily add it to the bottom of the cape without changing the appearance of the costume. This can also easily be used on any costumes that have a hat. Adding a strip or two to the back of a hat will also help visibility. Another place you can add reflective tape is to both sides of your child's candy bag.
Glow Sticks
This is a favorite in our house. We go a bit crazy with them come Halloween. My kids typically have a bracelet or two on each arm and 1-2 necklaces as well. We do our best to coordinate colors with their costumes so it looks as if it is supposed to be with the costume. So, the year my daughter was a princess she got a glowing tiara, a necklace, and a glowing wand. All of these complimented her costume.  There are tons of places to buy them inexpensively, but this glow stick pack on Amazon is a great deal with multiple options.
Flash Light
I highly suggest that Mom or Dad carry a flashlight with them as well. This has come in handy many times. The streets may have street lights but, you never know if a couple will be burned out, leaving you on a very dark road.
Older Kids
Once kids get to the point that it is no longer needed (or wanted) for an adult to be with them while trick or treating they need to be reminded that they are not invincible. Make sure to have a safety talk with them every year. Remind them they are not invincible and to always be cautious while out. I also suggest setting a curfew with them.
These are a few of the ways our family makes sure that our kids are safe during Halloween. It may take a few extra steps to get their costumes ready but, it is well worth it in the end. All of these things together should make sure that you and your kids have a safe and fun Halloween.  Make Halloween safe for your whole family and enjoy a great holiday that allows you to dress up for fun!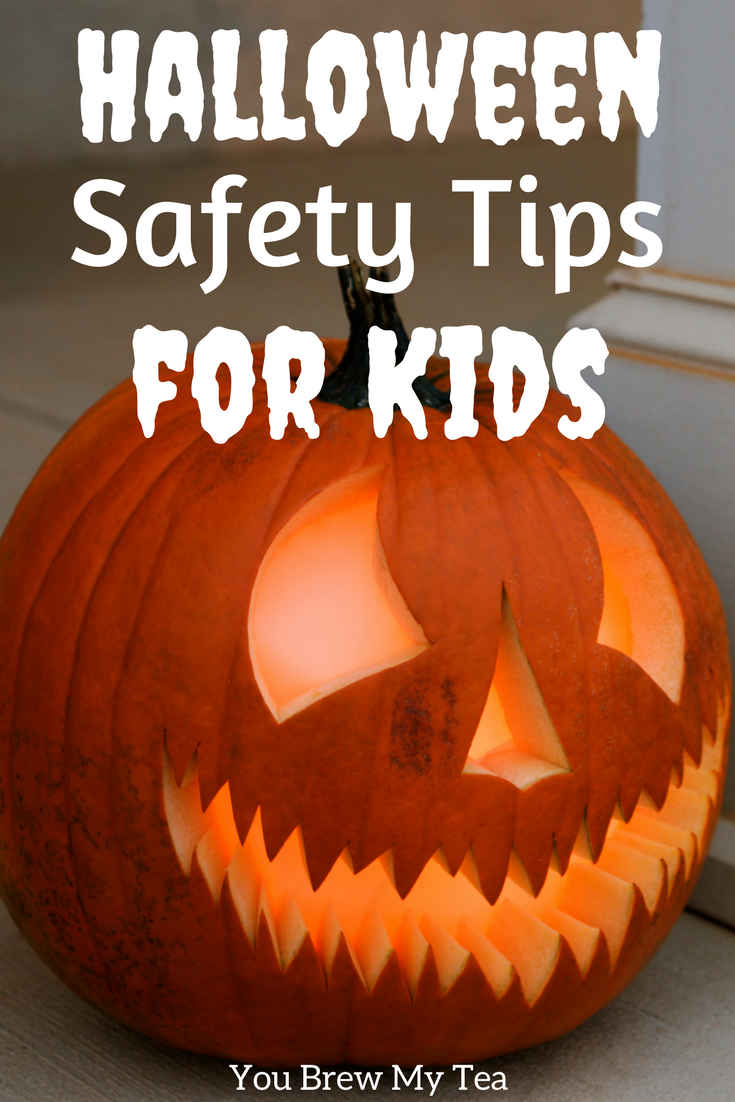 More Halloween Decorations & Tips:
10 Halloween Decorations You Probably Already Own
25 Cheap Halloween Costume Ideas
Halloween Costume Ideas for Science Fans
Great Kids Games for Halloween
Wooden Block Pumpkin Patch DIY
Frankenstein Upcycled Tin Cans
Great Halloween Printables
Halloween Fill in the Blank Vowel Review Printable
Free Printable Halloween Word Search
Free Halloween Printable Bookmarks
Great Halloween Recipes: 
Candy Corn Chocolate Caramel Apple