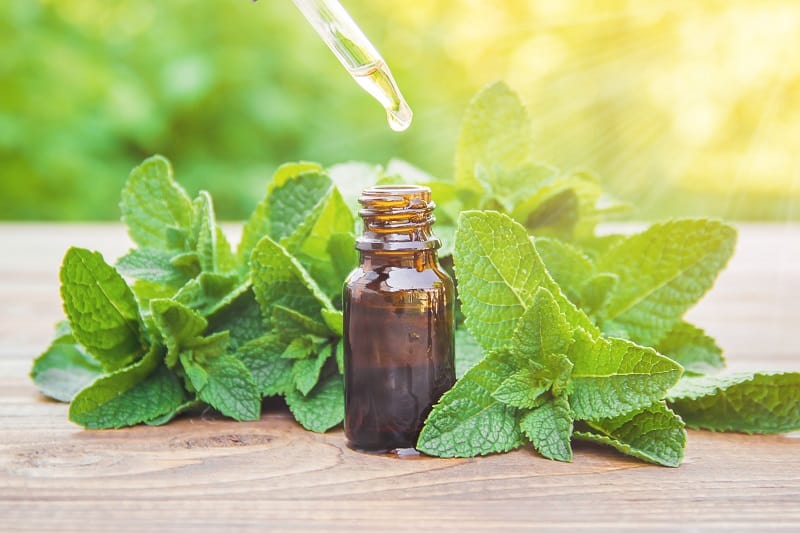 To prepare your own peppermint oil at home, there are two basic methods. The first, fastest, and easiest, is to infuse a base oil, such as olive oil, with peppermint essence by basically soaking the peppermint leaves in the oil. 
The second is by actually making a tincture of peppermint in alcohol. The resulting liquid will be alcohol rather than oil-based, and the resulting flavor will be stronger. 
The tincture method will produce the kind of flavor extract you are used to buying in the store, and will be more concentrated. 
Both peppermint oils can be used for most purposes.  Choose the method you prefer, or try both. Most peppermint lovers will enjoy the flavor in any form.
In terms of essential oils, peppermint takes a close second to lavender.  Considered practically a cure-all for a wide variety of ailments. 
In some ways, they are complementary opposites. Lavender tends to be calming and help promote sleep. While peppermint tends to aid in wakefulness and concentration. 
Both lavender and peppermint are effective pain relievers and anti-inflammatories, with peppermint having the added benefits of soothing muscle aches, opening nasal passages, as well as antiseptic properties. 
Peppermint can also soothe the skin.  For example, after a sunburn, when mixed with a base oil. It can actually reduce fever when rubbed into the soles of the feet. Always mix with a carrier oil before applying.
An additional use is as a digestive tonic. After-dinner mints are most likely a leftover from this home remedy.  Peppermint taken after a meal aids in digestion, reduces gas, and even Irritable Bowel Syndrome. 
Other uses for peppermint are cosmetic, as an astringent that closes pores, and can tighten skin. Peppermint reduces skin inflammation and redness, and can actually numb against pain. 
Rubbed on the chest (think Vicks Vaporub), it can relieve congestion and open clogged breathing passages. It is also a treatment for dandruff. 
In addition to stimulating circulation, peppermint acts like lavender in reducing tension and calming nerves and irritability, and even balance hormones. 
It's also effective against nausea. So if you love the taste of peppermint, it may be due to more than the flavor.  
The smell and taste of peppermint has many healing properties. That may be your body's way of signaling its need for peppermint's healing goodness. 
Peppermint also contains anti-microbial properties, making it a good cleaning solvent and sanitizer. The aromatherapeutic effects are an additional plus. 
It's also an insect repellant, with a smell much more welcome than bug sprays.
Method 1: Make Peppermint Oil in an Olive Oil base.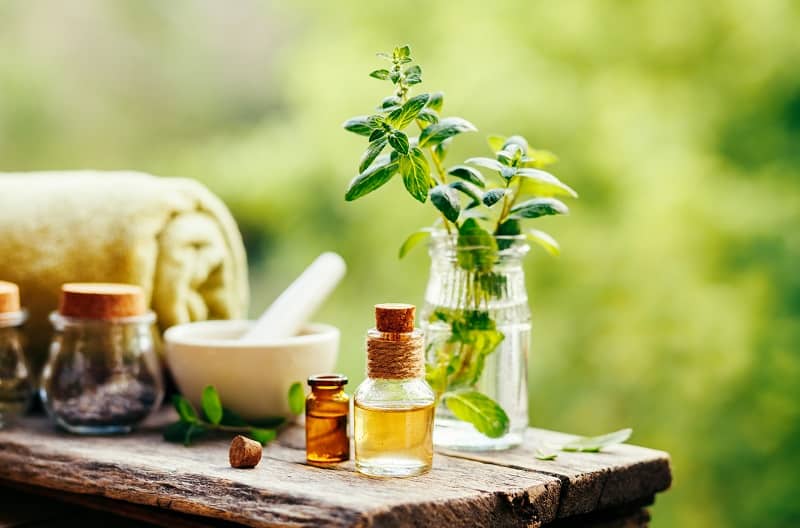 Ingredients:
fresh peppermint leaves

olive oil 

a glass jar
You can use this home-made recipe for peppermint oil to flavor your food. For recipes, subtract the amount of oil that you are adding as a peppermint infusion. Cakes, cooks, fudge, and ice cream are all delicious with peppermint oil. 
For the health benefits of peppermint, you may want to try the tincture method, which creates a much stronger substance. However, you can try this oil for home remedies, like treating indigestion. 
You can also try rubbing the soles of the feet with this oil to reduce fever. Rub it on the chest to relieve a head cold, flu, or bronchitis. 
It acts as an immune booster as well. Other uses for this oil are as a moisturizer for skin and hair (also tones skin), as well as a home remedy to prevent dental problems.
To make the peppermint infused oil, crush fresh mint leaves with your hands to release the natural oils, and pack them into your jar until it is full. Then cover the leaves with olive oil until they are completely immersed. 
Cover, and let the oil seep for 2 days in the sun, if you live in a warm climate, shaking the jar a couple of times a day. In a cold climate, put the jar in a cupboard for a month. 
Afterwards, simply strain the oil through a fine strainer or cheesecloth to remove the leaf fragments, and enjoy! The oil will last for at least a few months, if stored in a dry, dark cupboard. No need to refrigerate.
Select a liquid to use in extraction. Vodka, or another high-proof grain alcohol, is perfect for this, since it has both water and alcohol to dissolve the oils. 
While apple cider vinegar or glycerin can be used instead, the final tincture will be much less strong and have a shorter shelf life. White vinegar will also work, it will have the same effect. 
These are good for children that cannot drink alcohol, although if you use this for baking, the alcohol bakes out.  Homemade tinctures, just like vanilla extract you would buy in a store, are normally used in such small doses that the alcohol does not have a noticeable effect.
Method 2: Make Your Own Tincture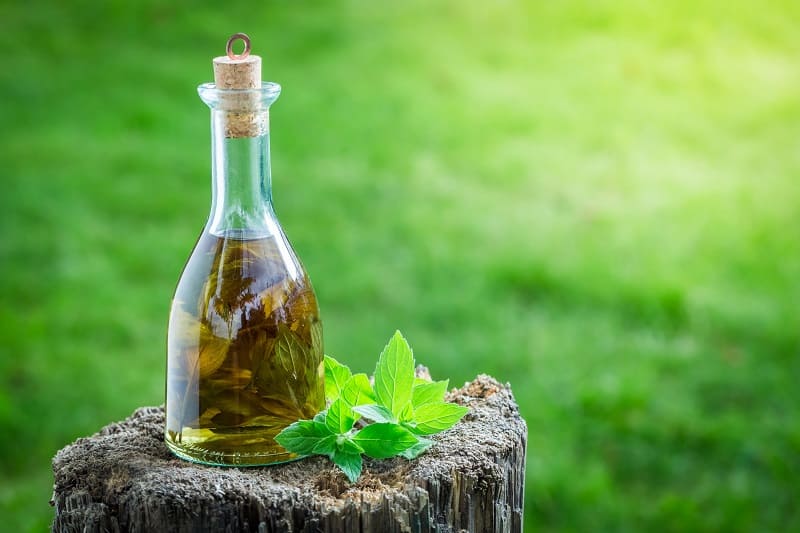 Making a tincture is basically soaking peppermint leaves in alcohol. To make a tincture using dried leaves, you will find that 90-120 proof alcohol is the right choice. 
For fresh leaves, which still contain water from the growing process, you will need a stronger alcohol, 180-190 proof. 
Wash and dry fresh leaves. Go over the leaves to remove black leaves or other signs of rot. It is not necessary to remove the stems. 
Then prepare the leaves by chopping or bruising them to release the oils. This step is not necessary when using dried leaves, which will simply crumble. 
You can also mash the fresh leaves with the bottom of a cup, or a mortar and pestle. Chop or bruise the mint leaves. 
Pack the mint into a jar, as full as you can, while leaving about ½ an inch of space at the top, and then fill the jar with the alcohol you have chosen.
You can choose from your liquor cabinet if you have the right proof. Vodka and other colorless alcohol will make a good tincture, and you won't have to buy any special alcohol for this project. 
Completely cover the leaves with the liquid and close the jar tightly. The leaves will eventually sink to the bottom. 
Simply allow your developing mint tincture to sit for several weeks, and shake it once in a while. The longer it sits, the stronger it will be. Keep it in a dark place to increase your tincture's shelf life. 
Taste it to judge the strength. When the taste is satisfactory, strain the tincture into a brown or color glass container. Clear glass is not recommended as the flavor will dissipate over time. 
Your tincture will last at least 6 months, or even longer. This method produces a much stronger result than method 1. 
If you grow your own mint, this is a great way to make use of what tends to be a plant of plenty; plus, homegrown is most likely organic, and free. 
With peppermint as the king of essential oils, alongside its queen lavender, you will benefit from its many health benefits by having it on hand. Preserving the wonderful leaves in a powerful form makes it last far beyond season. 
Use this oil for the many uses listed above. When adding to recipes that involve cooking, the alcohol will evaporate while the flavor stays, so don't worry about that. 
A strong tincture will add a negligible amount of alcohol when a drop or two is added to teas, coffee, or hot chocolate. About ½ a teaspoon will add monthly deliciousness to a batch of brownies or other baked goods. 
Soak cotton balls in peppermint and leave around to repel insects. 
You can use it will a diffuser to aid in concentration when studying or working, or add a couple of drops to a humidifier when sick. 
Dilute it with oils such as olive or coconut to use on your skin. It is effective for headaches, sunburn, and general skincare.