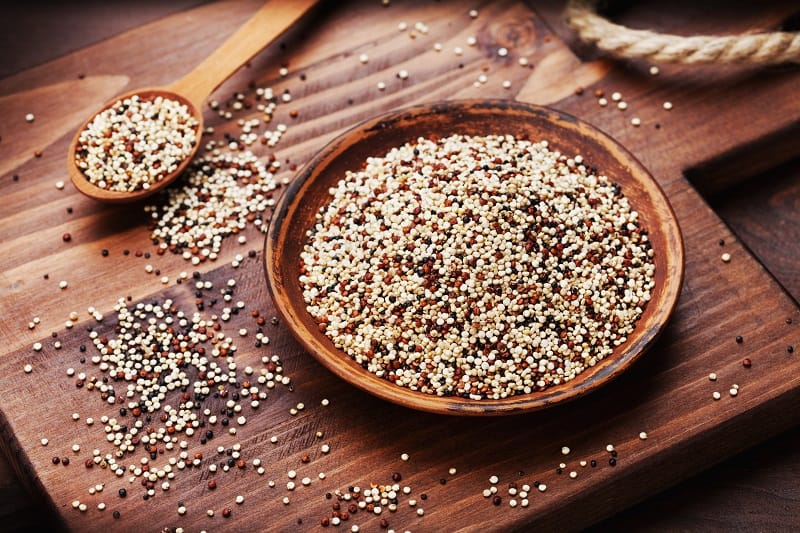 Quinoa is a mystery for those not familiar with it, but it is actually surprisingly easy to prepare, if you know the basics. Once you have cooked plain quinoa, you can add it to any number of recipes, from soups, salads, casseroles, and more. 
In fact, quinoa preparation is not that different from other grains such as rice. But don't be fooled by appearances. Quinoa is what is known as a "pseudocereal," which basically means that it looks and acts like a grain, but is actually of a different composition. 
In fact, it is botanically related to both amaranth and spinach. Instead of being mostly starchy, it is a combination of carbohydrates, with a relatively high protein level, and is much more nutritious than other grains like rice. 
Quinoa is rich in vitamins and minerals such as protein, dietary fiber, B vitamins and more. It is a rich source of manganese and phosphorus, as well as a source of dietary fiber, folate, iron, zinc, and magnesium.
Quinoa is actually a flowering plant in the amaranth family. The edible seeds are the part of the plant harvested and used, which explains why it has a much more nourishing chemical composition than most grains.  Especially refined grains that have had much of the fiber and nutrients processed out of them. 
Additionally, quinoa is gluten-free, making it a great choice for those living with gluten intolerance, and looking for alternatives to glutinous grains.
Quinoa is a high source of plant antioxidants known as flavonoids. These important components have been shown to have anti-inflammatory, anti-viral, anti-cancer and anti-depressant effects in animal studies, and are widely believed to be similarly beneficial to the human diet.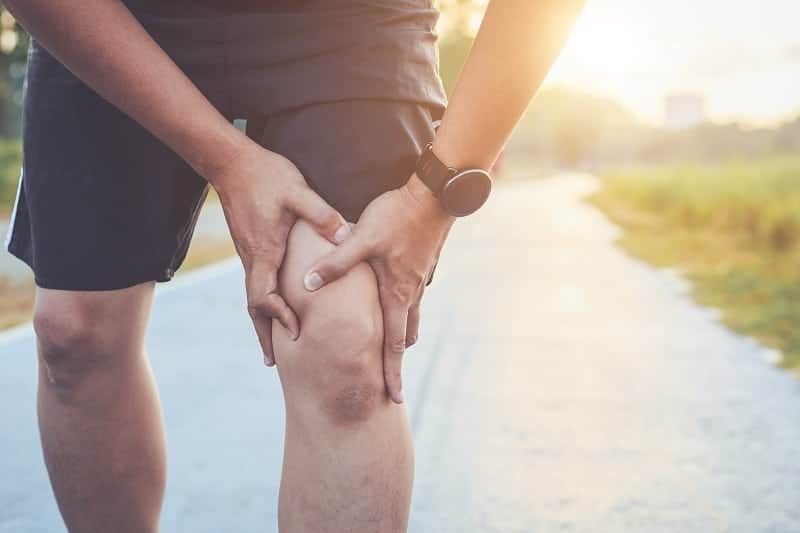 In today's world, with its many inflammation-causing triggers such as sugars, gluten, yeast, dairy products, caffeine, and pollution, introducing a healthy staple food that can counteract inflammation is just good sense. And when you get used to quinoa's nutty flavor, you will come to love the taste as well.
Another health benefit of quinoa is that is has been shown to improve metabolic function. That is a big plus for anyone, especially those interested in maintaining or achieving a healthy weight. 
It does, however, have high carbohydrates, similar to grains, but with the addition of protein levels unmatched by grains. So if you want to integrate quinoa into a diet, swap out similar sized portions of grain for quinoa. 
You won't get to eat much more of a grain portion in your diet, but that portion will be packed with higher levels of dietary fiber and protein, along with the metabolism-boosting effects of quinoa; and higher levels of all the vitamins and minerals listed above. 
Additionally, quinoa has a low glycemic index, which means that it breaks down into sugars in your body more slowly and steadily, avoiding blood sugar spikes, and the cravings and mood swings that go along with them. It also means that it is a great food to introduce to your diet if you are controlling diabetes or if you are prediabetic and looking to avoid the disease. 
Most of the world's quinoa is produced in South America, where for generations it has been a nutritious staple food for the indigenous people. Hence the "Wondergrain of the Andes" title. 
In recent decades, quinoa has become ubiquitous amongst health food enthusiasts, and even more recently has taken a prominent place in restaurants, cookbooks, and menus, beyond the world of the "health nut". 
That's right, quinoa is mainstream now, and we will show you in this article how easy it is to prepare, and start to substitute quinoa for bulky, nutritionally empty grain products such as pasta, white rice, and more. Actually, according to wikipedia, quinoa crop prices have tripled between 2006-2013, due to its increasing mainstream popularity. 
So how is it done? Cooking quinoa is really very simple, but we will add a trick that will guarantee you fluffy quinoa every time. The general rule for quinoa preparation is like rice — 1 part quinoa to 2 parts water.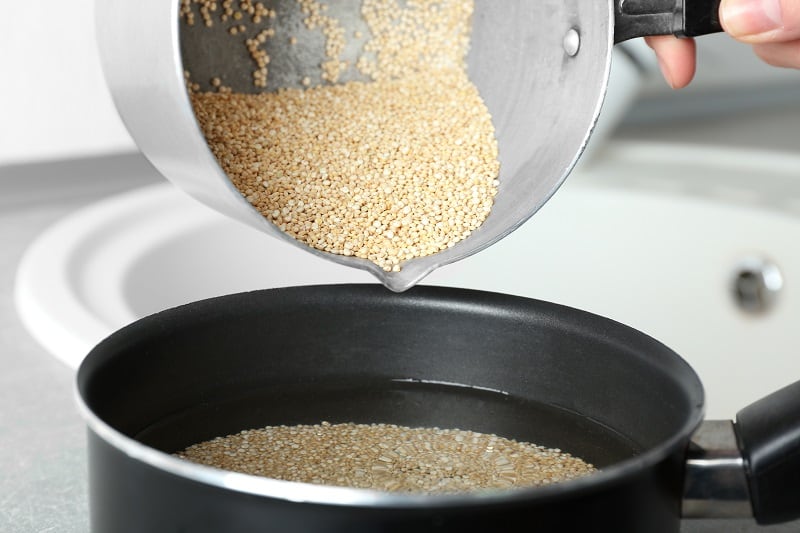 However, if you cook quinoa like rice, covered, you are likely to come up with a soggy product. And since you and your family may not yet have acquired a taste for quinoa, you want to make sure that the texture is optimal, to help you in your quest to integrate this wonderful food into your diet.
Therefore, we recommend the following method, start with one cup of quinoa. Rinse well in a very fine strainer, and drain out as much of the water as possible. Add to a pot with 2 cups of water, and bring to a boil. 
Remove the lid, and keep on a low flame until all the water has been absorbed into the quinoa, and remove from heat. Make sure not to overcook, as you will end up with a burned layer on the bottom which will not taste good. 
Replace the lid, allowing the quinoa to steam for about 5-10 minutes, until fluffy. The final steaming stage makes those little grain-like seeds "pop", achieving that fluffy texture. 
Too little water, and quinoa will be hard and appealing; too much water and you will have some soggy quinoa on your hands. So that's it! You now have the perfect method for preparing quinoa.
Once it is made, you can add whatever vegetables you love to make a delicious salad. From greens like lettuce and kale, garbanzo beans or other legumes, to a quinoa tabouli of parsley, mint, and tomatoes, the options are endless. 
Lemon and lime both soften the flavor of quinoa, making it more palatable to those not used to the flavor, and of course, a little salt and olive go along way in making your quinoa salad maximum delicious.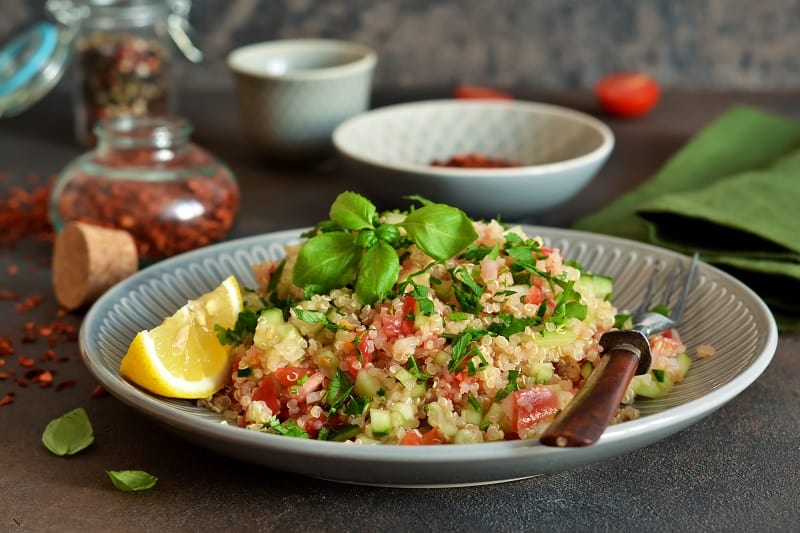 Serve quinoa next to other foods as you would a grain. Drizzle a little olive oil and some salt, and serve alongside chicken, fish or grilled vegetables, or in the bottom of a wide bowl as the base for a stew.
If you want to make soups with quinoa, it's even easier. Just rinse the quinoa and dry, and add to any soup recipe for a thicker consistency and added nutrition. Examples include tomatoey soups such as minestrone, any vegetable soup, bean soups, and more. 
The rule is, adding quinoa will work for chunky soups, but will be less delicious in smooth soups such a blended butternut squash, tomato bisque, and similarly smooth consistency soups where the texture of the quinoa is likely to stand out. 
But for any stew or veggie-based soup, just add half a cup of raw, rinsed quinoa (or more if you are doing a large pot), to your soup while cooking — about 30 minutes before you are ready to serve or remove from the heat. Here's to your health!
Read Other Related Article: