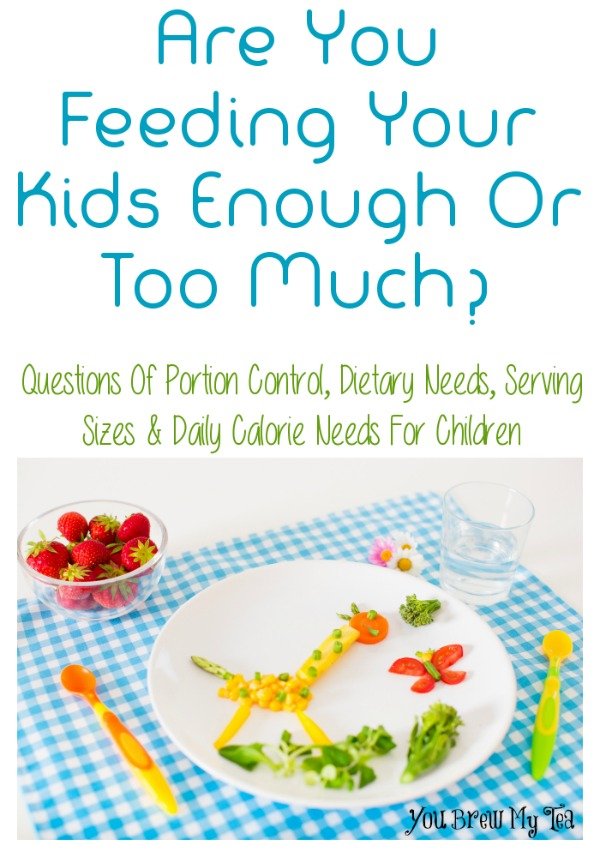 I have recently watched several of my friends posting pictures of their kids lunch boxes, or lunches at home. It is a ton of fun to create cool Bento Box Lunches or even Muffin Tin Lunches.  Kids love them, and it helps get a variety of food into their diet.  The thing is, I kept seeing things that concerned me.  Either a lack of food, or a distinct abundance of unhealthy foods.  In some cases I even saw what looked like entirely too much food for a young child.  That led me to decide a bit of research was in order.  While not wanting to pass judgement on another parents choices with their kids eating habits, I did want to verify that I was actually feeding the Wee Child the right amount of food for optimum health.
The question Are You Feeding Your Kids Enough Or Too Much is one that comes up often these days considering the rise in childhood obesity.  While my 7 year old is not overweight, his genetics and love of junk food definitely put him in a place where if not watched it could be an issue.  Since we personally have been changing our eating habits and working hard to feed our bodies and not our emotions, I also want to be a good example to him about healthy habits.  While we have never been bad about letting him eat a ton of junk food, we have lapsed in the past and don't want that to become a habit.  Since this has become a question and concern for our family, I wanted to share my research information with you to evaluate too.
ARE YOU FEEDING YOUR KIDS ENOUGH OR TOO MUCH?
How Many Calories Should A Toddler Have Each Day? On average a toddler should be eating around 1,300 calories per day.  An easy way to determine their calorie needs is to multiple 40 calories for every inch of height.  If your child is 30 inches tall, that would mean they need approximately 1,200 calories per day.  This is a national average and every child will have varied needs, but you should be sticking fairly close to this amount for most kids ages 1-3.  This listing on Healthy Children shows the approximate serving sizes, as well as suggestions for each food group for this age.  Breaking down these calories into several smaller meals is a great way to get the needed nutrient rich food items into their diet.  Just because they can't eat a lot in one meal doesn't mean they won't come back an hour or two later hungry again.  It is natural for a small child to eat regularly throughout the day.
How Many Calories Should A Child (grade school aged) Have Each Day? The standard of a 2,000 calorie per day diet is often mandated as the average.  While I was unable to find a specific recommendation for school ages children outside of this number, I would continue to figure their caloric needs according to height as shown above.  Additionally, I would take into consideration their activity levels, as well as their professed hunger.  Kids go through various growth spurts and stages, and while we don't want to over feed our kids, we do want to make sure they are being satisfied.  Choosing healthy options in additional to your regular meal and snack servings sizes is the best choice.  If they are still hungry after having a sandwich, vegetable and dairy or fruit at lunch, add in another serving of vegetables or another ounce of lean protein.  An extra 50-75 calorie high fiber and nutrient dense portion of healthy food is the best way to feed the growing hunger without feeling you are feeding them too much.
How Many Calories Should A Teenager Have Each Day?  As your child enters the teen years, their body will go through many changes.  While their caloric needs will likely be in the 2,000 -2,500 calorie range for awhile, there are factors of growth and activity level that will require increases.  For girls going through puberty there will be significant changes in how their body carries weight.  The best thing to do is to encourage healthy eating habits, but also healthy body image.  Some figures simply will grow more in the hips and thighs than others.  This doesn't always mean they are overweight, as much as their genetics are maturing their body in different ways.  For young men who are growing and changing, muscle building and development may take precedence at this point.  A significant increase in calories - up to 3,500 per day depending on their activity and exercise level may be required.
What Foods Should They Be Eating?
Make healthy nutrient dense options for your children.
Avoid the high sugar cereals, granola bars and cookies.  Instead offer egg white omelets with veggies and lean meat like ham or turkey sausage for breakfasts.
Keep low fat or fat free Greek Yogurt on hand and fresh fruit and organic honey to mix in for a bit of sweetness.
Make your own homemade granolas or energy bars leaving all the sugar and candy out of them.
Encourage snacks of veggies, fruit, and low fat or non fat dairy to increase their vitamin and nutrient intake.  Skip the empty calories of juice and flavored drinks.
Give them low fat milk at breakfast and one other meal per day, and encourage water the rest of the time.  For added flavor slice fresh fruit, herbs or things like cucumber and add to your water to brighten it.
Skip the processed foods and cook meals from scratch.  This includes boxed meal kits, packaged macaroni & cheese and even your favorite pancake mixes.  The added sugar and sodium are unhealthy and you can often make from scratch at a much cheaper price.
Learn what portion sizes are, and stick to them at meal time.  Instead of loading up a plate, give your children a serving size of each item and allow seconds only on vegetables.
Avoid processed meats that are high in sodium, fat and msg.  (Bologna, Hot Dogs, Pepperoni, Salami and similar are often low in actual protein, but loaded with salt and fat.  Read labels and limit the intake of these items).
Let's face it - we all love treats and junk food on occasion.  Keeping those things away from your kids all the time is a tough thing to do.  While you may wish you could prevent them from ever falling victim to the joys of caramel, ice cream or candy bars, reality says they will partake on occasion.  The goal as their parent is to limit those treats to rare times.  Make dessert a special event. Instead of offering with every meal, make it a once a week or even once a month treat instead.  Family time shouldn't be about going out to eat or grabbing pizzas on Friday night.  Family time should be playing games together or heading to the park to play.
As a parent, you - like me- may already know the struggle of obesity and poor eating habits.  While not all children will be the same size and many will have difficulty with weight for medical or even emotional issues, it is our responsibility to do our best to lead them in the right direction.  Work with your children to find out their favorite foods.  Look for healthier and nutrient rich foods that they will enjoy.  Help them mostly, to find satisfaction in other things besides food.  Sadly, we are a people who tend to feed our bodies.  Let's work actively together to teach ourselves and our children to feed our bodies instead of our emotions.