My friend Amanda from It's A Fabulous Life created this adorable Minions Door Wreath and is letting us share it here with you this week.  We loved Despicable Me, and the Minions of course became a favorite in our house.  We can't wait for the Minions movie be in theaters this summer!  I am sure it will be a great movie to add to our collection!
This fun Minions Door Wreath is a great decoration for your front door, kids bedroom or even a fun birthday party decoration.  With the Minions movie coming out this year I am sure there will be tons of Minions themed birthday party ideas and games, and this wreath is a great addition to any party!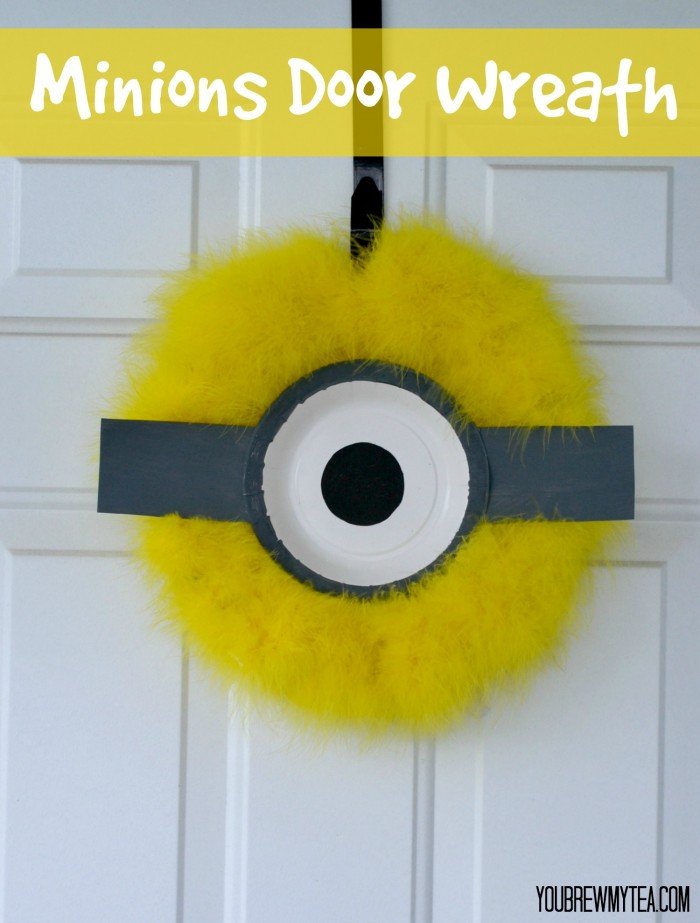 Minions Door Wreath
This simple wreath will take just a few minutes to throw together.  You'll want to allow some time for paint to dry before assembling all of the pieces, but overall this is a project you and your kids can do together on a weekend afternoon.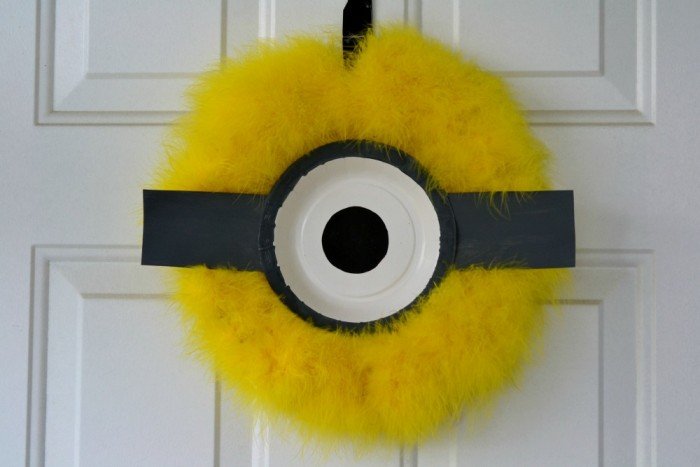 Supplies needed:
2 Yellow Feather Boas (you can usually find these at craft stores like Hobby Lobby or Michael's)
12 inch Wire Wreath (you can use a foam wreath if desired, it will look slightly different but will give the same overall effect)
1 Regular Paper Plate
1 Small Paper Plate (saucer sized)
1 sheet grey/blue card stock (you can usually find in the craft papers at your craft store.  If you want it to match identical to the rest of the grey/blue paint on craft you can simply paint a white piece of card stock instead)
Acrylic paint (she used grey, but you can use bright blue to match the traditional Minions colors)
Hot Glue Gun & Glue
Directions:
Start by tying one end of the yellow feather boa to the wreath.  You can use twine, wire or simply tie the boa itself directly to the wreath.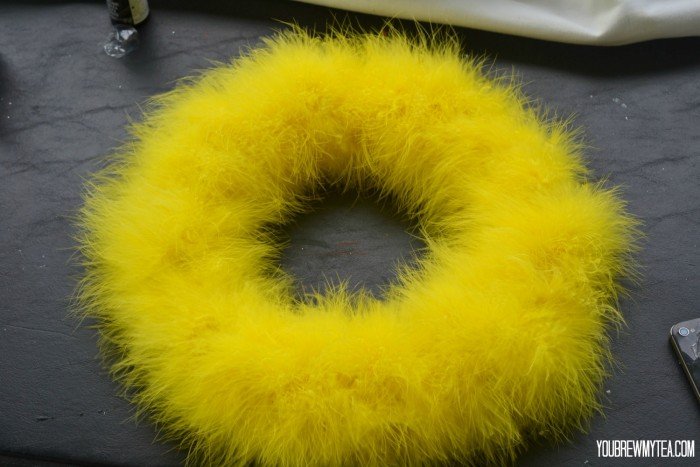 You'll then wrap the boa around the wreath until it is completely covered.  Depending on size and type of wreath you purchase, this could take 1-3 boas.  For thicker fuller wreath you can add additional feather boas.
In the center of the smaller paper plate, create a black circle in the center with paint or marker.
Use the grey or blue paint to paint the outside rim of the plate.
If you can't find blue or grey card stock – paint a piece of plain card stock and allow it to dry.
Once the card stock has dried, cut it into two pieces measuring 4 1/2″ x 2 3/4″.
Turn the larger paper plate upside down.  Place hot glue around the rim and set the wreath on top of it.  Flip your wreath over so the plate is on the top side.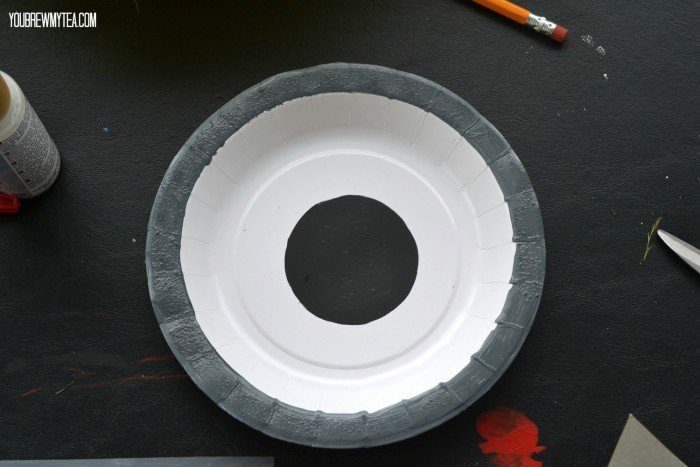 Use hot glue to attach a piece of card stock to both sides of the plate.
Attach the smaller plate to the center of the larger plate creating the eyeball of the minion.
As you can see, this Minions Door Wreath has a few steps, but is really pretty simple to put together with your kids.  Make several and hang them as decorations for a birthday party, or in a kids room that has been decorated in a Minions or Despicable Me theme.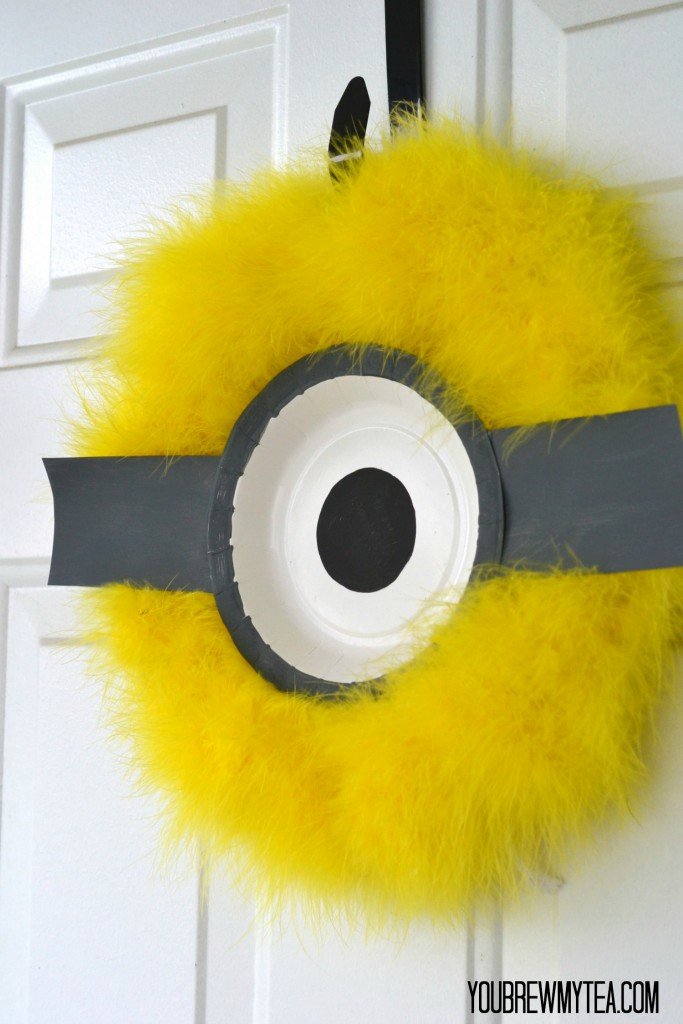 Check out these other Minions crafts and birthday party ideas!
Minions Duct Tape Pencil Holder
Disney Inspired Dole Whip Cupcakes
How To Host A Cheap Themed Birthday Party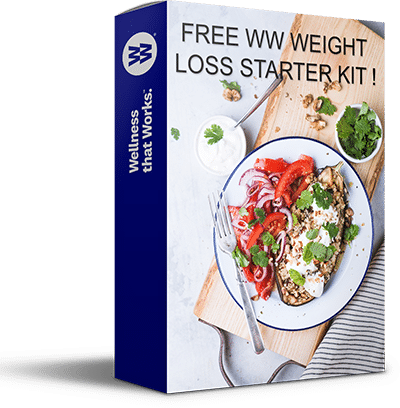 FREE WW WEIGHT LOSS STARTER KIT
+ exclusive tips, recipes & more to lose weight, increase confidence, and live a healthier and happier life !