If you want to do something a little different to dress up your table, especially for a special meal like Thanksgiving dinner this simple Monogram Burlap Flatware Pocket is the perfect touch of color and texture. Place a burlap pocket on each plate to give some simple style to each setting and make any meal feel like an occasion with just a little effort on your part. Let the kids help you stamp the monogram on to make it a family craft.  If you don't feel up to sewing you could probably create the pocket using hot glue but your burlap will continue to fray without some sort of fray glue like this.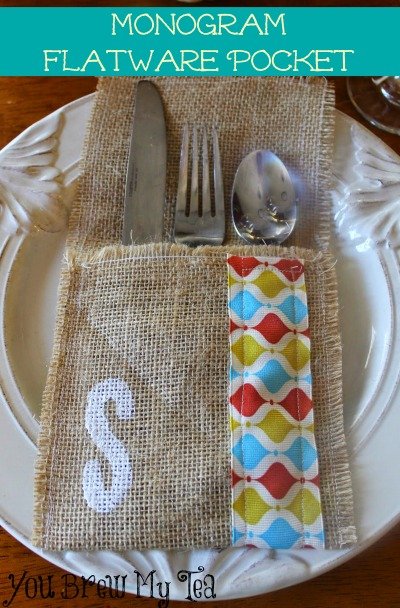 MONOGRAM BURLAP FLATWARE POCKET
You can add your family monogram to an entire set  or personalize one with the first initial of each guest at your table, using them like a place card, and then a pretty keepsake to take home that can be used in other ways.  You can make up a half dozen in less than 30 minutes and make a big impression on your guests.
You will need:
burlap by the yard
2″ grosgrain patterned ribbon
paint
foam stamps
scissors
sewing machine
optional:
rotary cutter
self healing mat
see through ruler
Directions:
Cut a piece of burlap to 15″ x 5 1/2″- To make is easy to cut a very straight line on your burlap pull a thread from right where your measurement is, this creates a perfect line for you to cut on.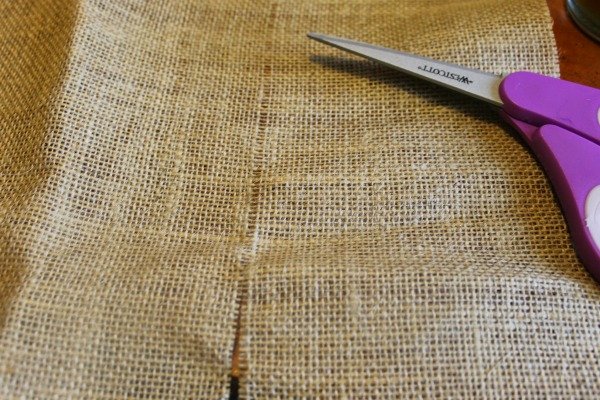 Sew  between a 1/8 "- 1/4″  seam all the way around the perimeter of your rectangle.
Pull threads on the outside of your seam to slightly fray the pocket, the seam will stop it from fraying further.
Cut ribbon to 15″ sew ribbon to burlap 1/2″ from edge, sew up 1/8" from edge of ribbon on  both sides so that it lays nicer.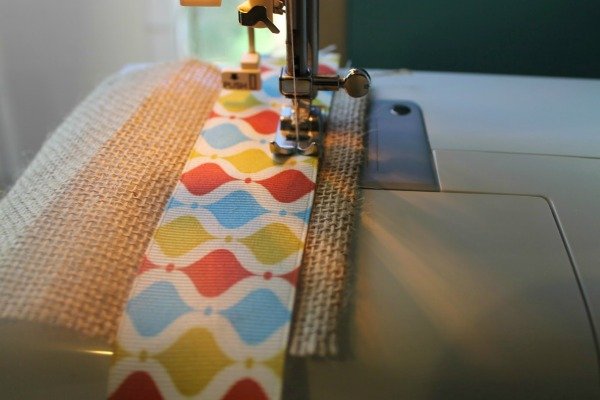 Fold burlap so that it forms a pocket that is 5″ tall, then sew up sides, going over your original seam.
Slide a piece of cardboard inside pocket
Dip or spread paint on a foam stamp and press into corner opposite of your ribbon, press firmly, remove.
Allow your pocket to dry completely before use.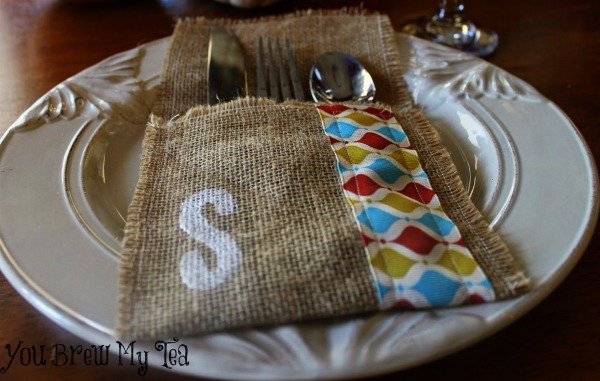 This Monogram Burlap Flatware Pocket is a great fun craft to make just in time for holiday dinner parties.  Not only is this perfect for Thanksgiving dinner, it can be designed to be functional year round.  Simply use a different pattern of grossgain ribbon to accent for different seasons or a basic theme that matches your decor.  Make these with your kids as a fun craft this week!
Looking for other fun crafts to do? Check out our other recent favorites!
Upcycled Fall Flannel Napkin Ring
Kids Fall Thumbprint Leaves Craft
Wooden Block Pumpkin Patch DIY
Upcycle Jelly Jar Votive Holder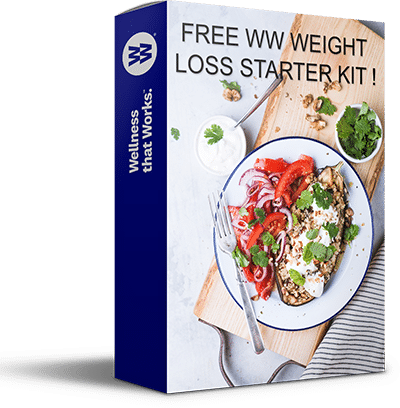 FREE WW WEIGHT LOSS STARTER KIT
+ exclusive tips, recipes & more to lose weight, increase confidence, and live a healthier and happier life !