As we prepare for our upcoming multi-state move, we know there is some basic moving equipment needed to make the process go smoothly. From helping us lift items without straining our back, to making sure things are safely packed for shipping, there is a checklist of items I think are important to have on hand.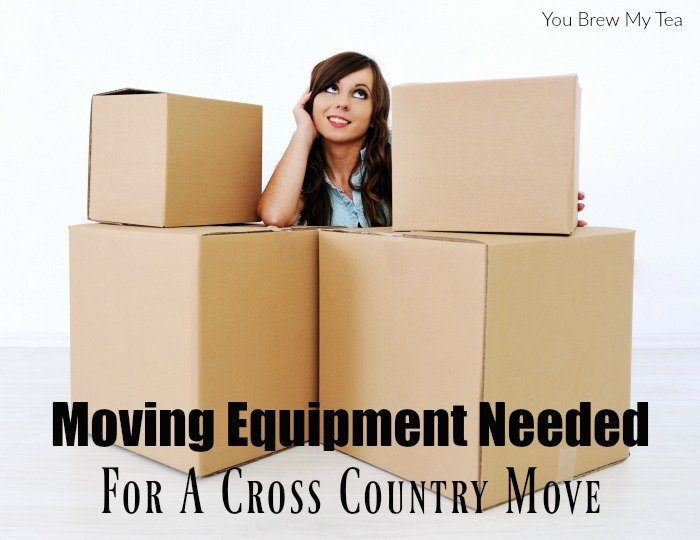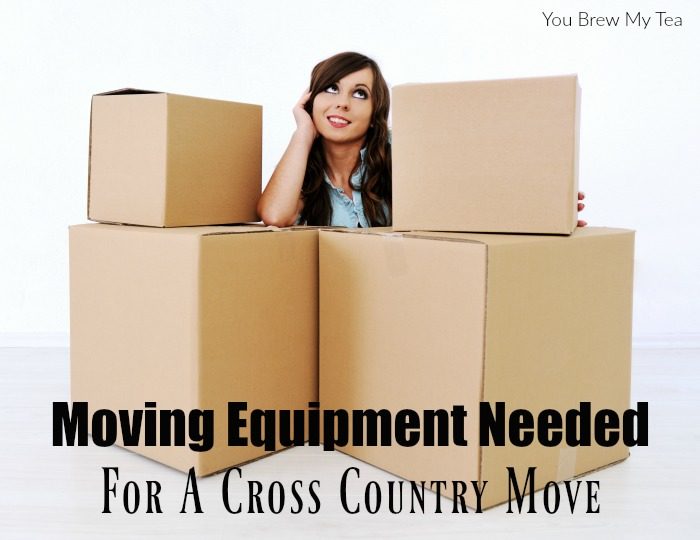 Moving Equipment Needed For A Cross Country Move
This post contains affiliate links.
Take into consideration that this list of moving equipment is for someone who plans to do the bulk of moving themselves.  Things like packing, wrapping furniture, moving items into packing cubes or moving trucks, and unloading and setting things up on their own are all covered in this list.  If you are hiring someone else to do your move for you, a lot, if not all of this will be unnecessary.
Our multi-state move is going to be a combination of us packing and preparing items and others helping us unload and move things.  So, while we are using a moving company, all of the packing will be done by us.  Once we arrive at our new home, we have help to get things unloaded and into our new home.  The thing is, while I can help here on mostly flat surfaces, the lifting, and effort involved in unloading at our new home with multiple stories just isn't something I feel would be safe for my back and current physical condition.  It's a win-win for us.  We can help someone in the community earn a bit to unload things for us, and I can save my back.
I recommend making a simple checklist of the supplies from this list that you need.  As you prepare for packing day, make sure to have them on hand.  You may think of other items to add to the list as well, if so, feel free to leave a comment letting me know what I missed.
Furniture wraps or blankets.  One of the things I totally forgot about until a moving company mentioned it was wrapping furniture to prevent scuffing or stains in transit.  While we plan to sell or donate the bulk of our furniture prior to our move, there are some things we still want to wrap for safety.  Many people simply use old blankets, towels, or quilts.  This works great if you have enough.  However, for some pieces of furniture, I would definitely prefer using the quality furniture wraps.
There are some nice prices for bulk amounts of furniture blankets on Amazon.  There are also some good deals on the plastic wrap meant for wrapping around large stacks of boxes or even large pieces of furniture.  I also found both items moderately cheaper at Harbor Freight.  However, with Prime shipping on Amazon it made it a bit cheaper for us.  If investing, you may also want to look at using simple inexpensive blankets you can later wash and add to your linen closet.  There are tons of options.
Boxes made to support specialty items.  Boxes are a must, but you may not think about needing heavier boxes for books, or boxes with extra thickness to protect mirrors, pictures, and flat panel tvs.  These are something worth the investment.  Along with the specialty boxes you may want to look for, definitely make sure you have gathered up boxes for everything in your home.  While tossing things into bags works, it's not the best or most organized method of moving.
The best places to find boxes: 
Grocery store
Hospital
Liquor store
Big box electronic stores (Best Buy or Office Depot)
UHaul (they buy back any you don't use!)
Labels, packing tape, and markers.  Of course, you know that you are going to need something to label the boxes for easy recognition once you unload at your new home.  There are tons of options out there that people love using.  You also need to have some packing tape on hand.  I've used every kind there is, and yes, I realize you can grab a lot of this at you local Dollar Tree.  However, I find that quality packing tape is definitely worth the investment.
On Amazon, they have these nice already printed moving labels that are brightly colored and labeled for individual rooms of the home.  For a decent price, you can grab these and make you labeling process super fast and easy.  I like these, but I also prefer being a bit more detailed.  So, rather than just slapping on a kitchen label, I want it to be kitchen utensils or kitchen pantry.  That helps me know where to stack as well as what boxes I will need to open first. I will most likely grab a box of cheap labels and markers to create my own labels that can be detailed yet easy to read.
Bubble wrap and paper for packing fragile items.  As we spent time purging prior to our move, we eliminated a lot of need for this kind of moving equipment.  We have only a few coffee mugs and a handful of mixing bowls and casserole dishes that are fragile in our kitchen.  I have already narrowed down my list of knick knacks and pictures, so we are limited to maybe only 2-3 boxes of items that actually need bubble wrap, newspaper, or wrapping paper for protection.
You can buy these supplies online or in the office department of most retailers.  You can also simply save up newspapers or ask your neighbors for their old newspapers and wrap fragile items in a free and easy to find product instead.  I have also heard that using wine boxes from your local liquor store is a great way to keep cups and glassware safe in a move.
Dolly or moving cart.  If you have any furniture or appliances to move, this is a must.  A dolly or moving cart can make a huge difference in how much strain you put on your own body in the process of a move.  Most moving trucks will come equipped with this moving equipment, but since they are relatively inexpensive to buy at Harbor Freight, Sears, Amazon, or Lowe's, I recommend you grab one to have on hand.  It will be especially handy if you decide to rearrange those appliances after the moving truck is gone and you realize they don't fit just the way you thought they would.
Tie down straps, rope, or similar items.  These little items are not always as necessary when using a moving truck or a moving cube.  They are, however, a good idea to have on hand just in case.  Tying things down can definitely prevent them from knocking against each other in a move.  Nobody wants to arrive at their home and find broken mirrors, scraped furniture, or torn items.  Many moving trucks include these in providing moving equipment, but it never hurts to have extra tie down straps on hand to secure your belongings.
I hope this list of moving equipment needs will help make your next move easier to manage.  As you can see, we are learning as we go with this process.  Although we have both moved several times in the past, there are always new things to consider.  Make a list and double check for all moving equipment you might need to make your next move go easier.
More Great Tips: