It is officially Back To School time in my community, and while we homeschool our son that doesn't mean we don't understand the struggles of back to school routines.  We have been schooling year round for the last few years, but with every break whether it is a week or a month away from our schedule, we find ourselves really having to work hard to get into the routine again. Having a checklist for different tasks helps us tremendously.  This Night Before School Checklist is a great way to help you and your child remember everything that is needed each day.

NIGHT BEFORE SCHOOL CHECKLIST + FREE PRINTABLE!
Check out our Homeschooling for Lazy Parents Facebook Support Group for more tips and ways to make your homeschooling experience easy to manage!
No matter what age your child is the list below can easily come in handy.  By having simple things listed here, you make it easy for younger kids to read and complete the list themselves for you to go back and check.
Pack Lunch:  Take turns amongst kids and parents to pack lunches for everyone each night.  For even added ease, prepare some things in portion sizes ahead of time on the weekend to easily toss into lunch boxes.  Things like cherry tomatoes, carrots, pea pods, broccoli, string cheese and yogurt in individual serving bags or cups are easy and healthy to grab and go.  Pretzels, pita chips, snack crackers or fruit treats can be portioned into baggies and placed in a designated area alongside granola bars, trail mix and similar for yummy lunches.
Finish Homework: Create a fun and convenient homework station in your living area, kitchen or kids bedrooms.  Make sure to have extra supplies like pens, pencils, paper, markers, glue and more for easy access as needed.  Add a basket for mom or dad to double check homework for errors before kids pack away to take back to school the next day.
Pack Homework Folder:  Make sure to check for permission slips, special notices from the school and notes from the teacher that may be in these folders.
Set Out Clothing:  Buy back to school clothes that are easy to mix and match for any age.  Basic colored bottoms with varied tops are fun and simple for kids to grab and go.  Go the extra mile and pre-choose clothing for the hole week on Sunday nights.  Hang or stack them in the closet or a special drawer for quick grabbing the night before.
Set Out Pair Of Shoes: Check the clothing choice for the day and plan accordingly.  You might even want to pull up the weather app and make sure rainboots or snow boots aren't needed he following day.
Place School Supplies In Backpack:  If anything was brought home and taken out to do homework, make sure it gets packed again.  For older students make sure any extra or new supplies have been restocked regularly.
Set Backpack By Front Door:  Don't forget that backpack on your way out.  Set it by the front (or back) door so it is easy to spot on your way out each day.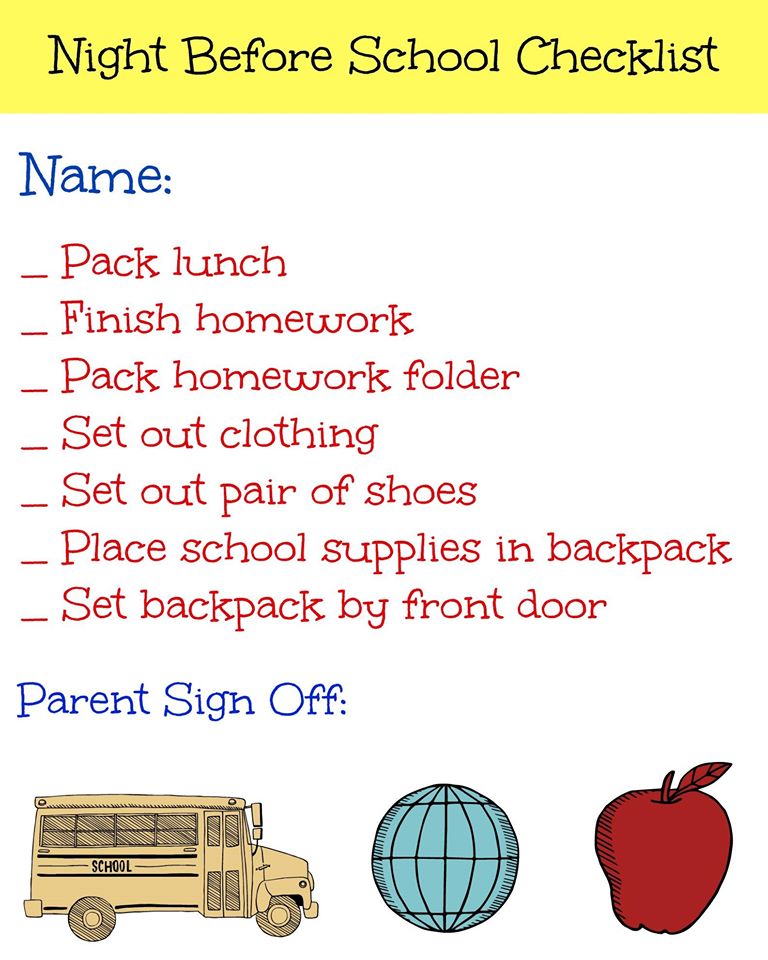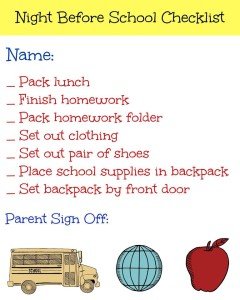 Download and Print your FREE Night Before School Checklist HERE!
This year the transition to back to school doesn't have to be as stressful.  Print out the Night Before School Checklist above and pin to the wall near where backpacks or chore lists are kept.  You can create one for each day, or laminate this one and use a dry erase marker for checking off the tasks listed.  Whatever method you use, this is sure to help make your days easier.  A list like this can even be great for homeshcool kids who participate in local group co-ops too!