Do you come home from work and see a kitchen counter cluttered with dirty dishes, canisters and food?  A lot of us struggle with how to stay on top of things like our kitchen being clean and orderly.  If you have kids, work full time and want to have any family time - you quickly realize how tough it can be to keep everything done, arranged and accounted for.  Here are some of my favorite tips for Organizing Your Kitchen Plus Free Printable Canister Labels our friend Katie F. made for us to share with you.  Not only do we give you our tricks, we are going to give you something fun to update your kitchen with!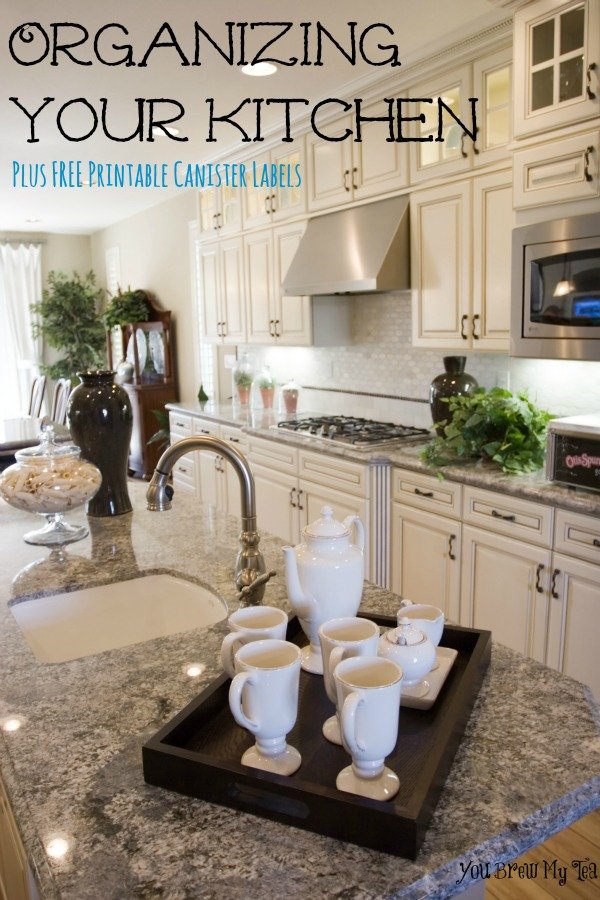 Use Multi-Purpose Utensils:  This is one of those things that is really hard for me.  I am a gadget and utensil hoarder.  I really love having all of those fun little tools in a drawer or canister just in case.  I have 3 potato mashers in my kitchen.  Why?  Because one is plastic, one is metal and one has extremely small holes in it so it makes an even finer mash.  I truly don't need all three.  I probably don't need any at all considering how rarely I make mashed potatoes.  My solution to extra clutter like mine?  Find some great high quality utensils that you can use for multiple purposes.  I believe a kitchen should have a handful of wooden spoons, a couple of nice spatulas, a whisk and tongues at the very least.  Outside of that, look for things like dual purpose zester/grater so you aren't housing both individual items in our kitchen.  Grab a great food processor or mandolin that have multiple attachments instead of buying every dicer, slicer and chopper product around.
Use Cabinet Door Storage:  One of those tricks I learned many years ago from a dear friend, was to hang simple hooks inside a lot of my cabinet doors to store extra items.  Things like measuring spoons and cups can slip onto hooks that will be out of the way, yet convenient on the back side of a cabinet door.  She also kept all of her pot holders on a simple hook system inside the cabinet that housed her casserole dishes, baking sheets and cake pans.  This way they were out of site, but always convenient when she started to use the oven.
Don't Allow It To Become The Junk Counter:  School books, mail, magazines, recipes, cookbooks and empty packages often end up on kitchen counters.  Make a household policy that this is not allowed.  Kitchen counters are not to become the "junk drawer" of your home.  Invest in a table for mail, book bags and keys to go outside your front or back door.  Practice what you preach and always put your recipes and cookbooks away after using them.  Make sure that trash goes to the trash can, and all food containers, boxes, ingredients go back in their proper place in the refrigerator or pantry.  Work together as a family to keep your counters clear.
Use Proper Storage Systems:  There are tons of great canisters, containers and boxes you can set up in your kitchen, pantry or cabinetry to house your most commonly used items.  Things like lazy susans are perfect for spices inside a smaller cabinet.  Using canned good shelves in your pantry can save space and keep stock rotated well.  Simple, yet elegant canisters and air tight storage that is labeled well can keep your frequently used items like rice, flour, sugar and tea or coffee convenient and easy to recognize.
We even have these great FREE Printable Canister Labels to make your organization that much easier!  Simply click on the image below and print these to use on your choice of great canisters, jars or storage containers.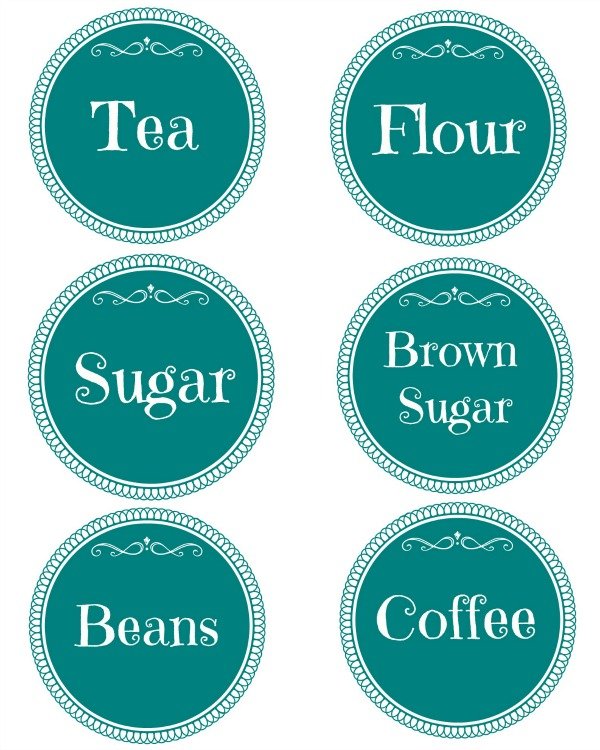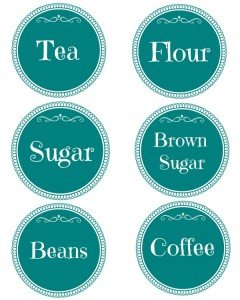 No matter how you go about organizing your kitchen - you need to remember that less is often more.  Cutting back on unused items, labeling well and using alternate storage methods will be a great start to having a wonderfully clean, organized and easy to navigate kitchen.  Don't stress about the clutter.  Toss the dishes into the dishwasher and settle in for a great movie night with the kids, or perhaps just a bubble bath and book for yourself.
Want more great Organizing tips?  Check out our other popular posts below!
Work At Home Organization Tips
12 Steps To Easy Spring Cleaning
7 Tricks For Easy Fall Cleaning