This week I am a bit late getting the Podcast up for you.  Sometimes – life happens.  That was the case this time when a friend needed some help, then my family asked for me to take a day off and focus on them.  The great thing is – as a work at home mom and entrepreneur, I can easily do that and simply shift things around a bit for another day. If you want the same freedom in your life, then our Podcasts are here to help.  Today we are discussing Making Money In Direct Sales.  Many of you have told me you don't want a big up front investment, but you also don't want to sell something.  While that is understandable, there is a lot to be said about direct sales and the benefits of another person/company handling your inventory for you. So, for the sake of not leaving something out – we have created a podcast around how you can make money in sales, as well as given some personal experiences too.
Note:  There is some static in the first few seconds of the podcast -just ignore it does go away quickly 🙂 Sorry!  Technical difficulties!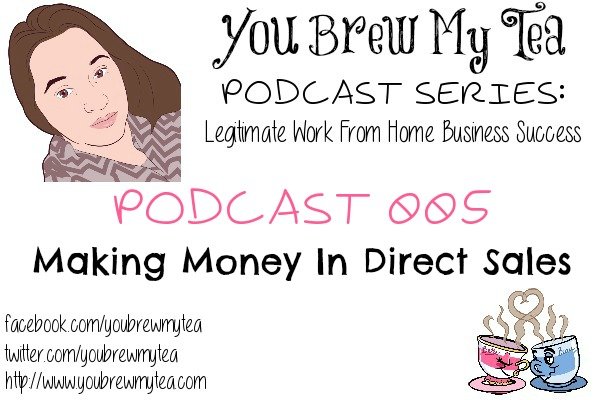 Choose Something You Love
Don't choose a product you don't like just because of commission

Choose things you can fully stand behind and promote without guilt

Research the product and company thoroughly before making the decision
Market It Professionally
Use your sphere of influence within reason

Don't overwhelm or guilt your friends and family

Create business social media, website and email

Invest in car signs, business cards and professional labels
Invest Time & Money To Reach Goals
Don't make it a hobby – make it a business

Have office hours to research, do outreach and pursue new clients

Invest time for upgraded items, samples and quality advertising
Don't Be Afraid To Do Something Different
Don't give up if you don't succeed immediately

Try new or different advertising methods

Ask others who have success for help and advice
Direct Sales Programs To Consider:
Scentsy, Pampered Chef, Tupperware, Home Interiors, Pink Zebra, Premier Jewelry, Younique, It Works, Avon, Mary Kay, Visalus, Plexus Slim, Jamberry Nails, Party Lite Candles, Pure Romance, Papparazzi Jewelry,
Making money in direct sales is still one of the most popular ways to work from home.  You can easily look at you friends on social media and find 1 in 10 who is promoting some kind of direct sales business.  Success rates will vary depending on multiple factors.  Reality is – while it isn't your favorite way to make money, it is a true legitimate work from home business.
Don't cross this off your list just yet.  Consider all of the companies out there and think about what they offer you and your potential clients.  Look at investment, training, what is included and do your research.  Direct Sales can be an excellent way to make money working from home.