This week we are taking a break from individual work at home business opportunities in our podcasts, to talk about How To Market Your Work At Home Business.  This to me, is one of the key things to focus on if you are looking to find success working at home.  Just because you know your stuff, do a great job and have experience in you field doesn't mean you will find success.  You have to get word out to those who could be potential clients.  For smaller locally based businesses that means tapping into your local community.  For online businesses, it means learning how to market and network in social media. Take the time to listen, take notes and learn a little more today in this Podcast about how to market your work at home business for the most success as a legitimate business entrepreneur.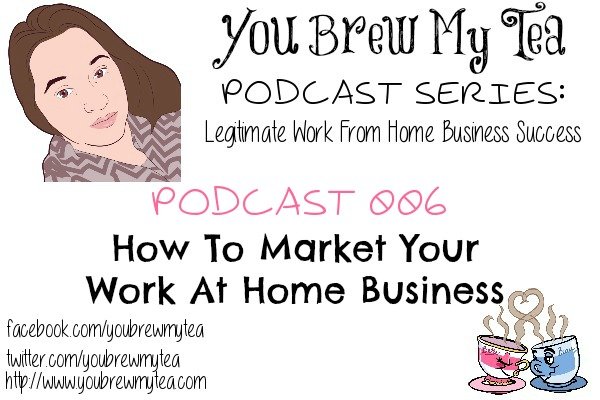 PODCAST 006: HOW TO MARKET YOUR WORK AT HOME BUSINESS
SOCIAL MEDIA
Create Quality Connections:  Don't pay for "likes" or "follows".  Work to get word of mouth out there for your social media.  Paid followers don't have genuine interest in what you have to offer.  Seek out groups of people who are looking for what you have to offer and share your social media pages there.  They will be quality followers that will have an interest in your business and not just empty numbers.
Use Appropriate Commentary:  There is a time and a place for humor, religion and politics.  Unless that is what your business is about, you should avoid controversial topics.  Crude language, sexual innuendos and anything that wouldn't be deemed family friendly should be avoided.
Business Appearance:  Use appropriate imagery.  Look professional. Don't use your mirror selfie picture.  Invest in a quality business logo, or use a simple appropriate head shot.
NETWORKING EVENTS
Attend Industry Conferences:  Depending on your business, you may have conferences to attend and connect with others who do similar things, or could use your services.  Connect with peers to help you learn how to market yourself, do your job better or connect you with potential clients.You can also attend local business events that are appropriate for promoting your business.  Duck Duck Goose, Craft Fairs, etc. are great options for selling direct sales products or homemade products.
Local Chamber Of Commerce: Check out their local small business events.  Many have monthly, quarterly or annual meet ups.  Cocktail hour, breakfasts or coffee and talk. This is great for meeting and working with businesses that are more localized.  These are often covered by local media and attended by local city officials.
Linked In & Facebook Groups:  This is a great place to connect with other professionals who have similar interests.  Not only can you learn form each other, you can find your sphere of influence growing.  Look for groups that include people looking for your services or who offer the same services you do.
BRAND YOURSELF
Social Media & Site Branding:  Buy your own domain.  Whether you use your name or your brand name, you want to secure that website domain.  Do the same with Social Media.  Secure the same name across all platforms.
Create A Business Landing Page:  Even if you don't have a full business website, create a simple landing page with contact information so potential clients can find you with ease.
Offer To Speak Out On Your Own Behalf:  Do you have experience in something others may have an interest in?  Perhaps you can speak on blogging.  Maybe you make crafts and could hold a class in your local craft store? Get your name out by offering to speak out about your business, product or knowledge about something others have an interest in too.
USE YOUR SPHERE OF INFLUENCE APPROPRIATELY
Don't forget to share your new business with your Sphere Of Influence, BUT DON'T OVER DO IT!
Connect with lifelong friends, friends from church, other parents at daycare, school or moms groups.  Don't forget to connect with co-workers, former co-workers or even acquaintances.
Market our work at home business properly for ultimate work at home success.  Use your knowledge, friends and social media standing to promote your business and product.  Make sure to do so tastefully.  Don't become that annoying sales person.  Instead share occasionally to get their interest without being pushy.
Don't forget to listen to all of our podcasts thus far!  Make sure to sign up for our Weekly Newsletter as well so you won't miss any of these great tips on how to make legitimate money in a work at home business!