For a long time I have debated on doing podcasts.  While the average person that comes to You Brew My Tea is here for recipes, crafts or my long rambling stories, I also have a lot of people on our social media pages that ask me how I can work from home and be successful.  There are a lot of things a person can do to make money from home, but to truly be successful I believe it takes 3 specific things.  So, I finally bit the bullet and created this podcast for you to listen to.  I knew it would be easier for some to listen to a 20-25 minute podcast than to sit and read 5,000 words on how to find success working from home.  The Result was Podcast Episode 1: Become A Successful Work At Home Entrepreneur
After you listen, make sure to check out our notes below for important links mentioned within the podcast!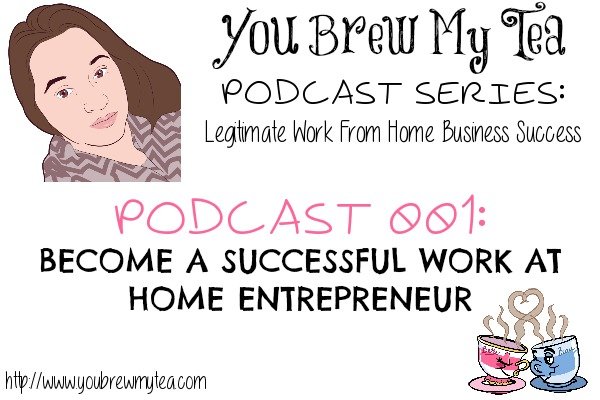 PODCAST EPISODE 001: BECOME A SUCCESSFUL WORK AT HOME ENTREPRENEUR
Know Your Passion:
Why are you doing this?
Is it something you love, or something you think will make you money?
Is this both financially and emotionally satisfying?
Get Organized:
Stick to a schedule.  Daily, Weekly and Monthly routines.
Documentation Is Key.  Taxes, Client Orders, Invoices & Expenses.
Spreadsheets are your friend.  Libre Office and Google Drive are great free options
Backup daily in multiple places.  On your hardrive, on an external drive and in one or two cloud drives.  Google Drive, Amazon Cloud and Dropbox are great options.
Treat It Like A Business:
Get serious.  Stop treating it like a hobby you can do when you feel like it.
Create Business accounts. Get a Tax ID number, LLC, Bank account, Paypal account, etc.
Treat clients like you would your boss in a regular office.  Complete deadlines, behave professionally and respectfully.
If you have further questions about how to be a successful work at home entrepreneur, feel free to message us at khale@youbrewmytea.com or leave a comment below!  We have years of experience, debt being paid off, time management tips and more to share with you!
Check out our Work From Organization Tips post for more helpful hints to keep you on track with your home business!