If you are looking for some great Kindergarten Homeschool Pages to print out and use in your classroom, we have a simple and fun set to give you!  This set includes handwriting practice, counting, simple addition, matching, and learning about greater or less than.  All in simple printable pages your young child will love!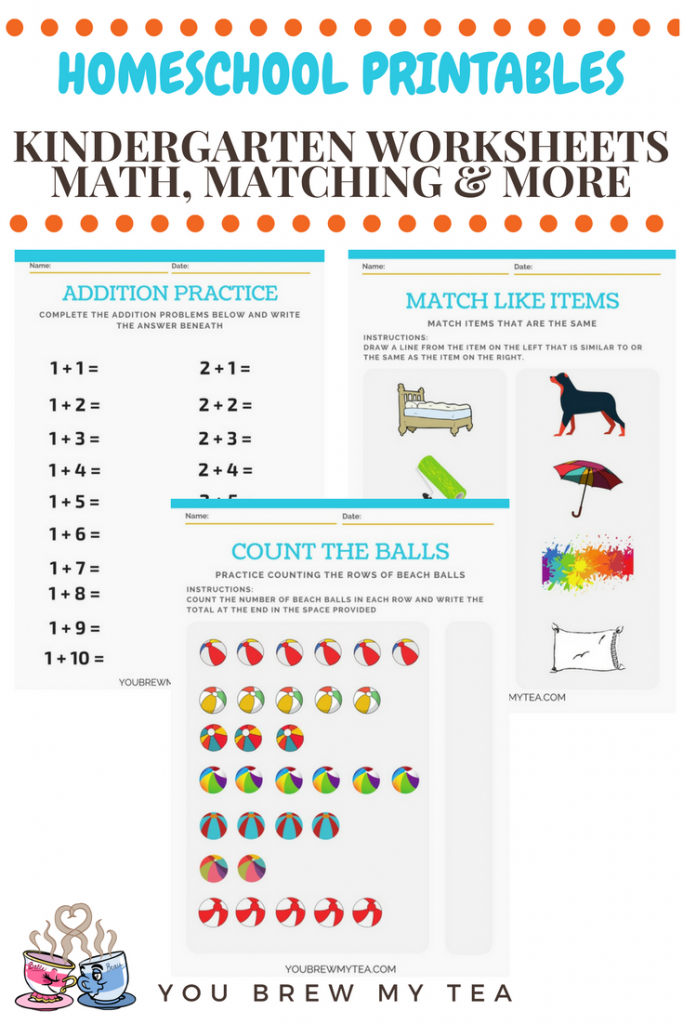 Printable Kindergarten Homeschool Pages
This post contains affiliate links for Amazon.  I may earn a commission from purchases made via these links. 
If you are working with your Kindergartener on learning from home, you likely have spent a bit of money on worksheets, booklets, and curriculum.  A great way to save money while also giving them quality work to do is by printing your own homeschool pages. I created some simple worksheets that can easily be added to any daily lesson plan.
Homeschool Printable Worksheets are ideal for supplementing your existing curriculum.  Pages like the one shown below or in the image above can easily be added to any unit study.  A little addition with basic numbers is great for early learners.  Things like the matching pages are excellent for recognition and basic cognitive skills.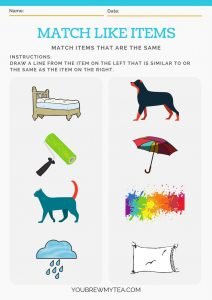 Download this Kindergarten Workbook Here!
We like to mix workbooks like this in with other unit studies.  Below you'll find some of my favorite Unit Study options that work well for all ages and are easy to adapt to your needs.
You may want to print out our free transportation spelling worksheets and our free fall themed spelling worksheets that are both also ideal for younger learners.  They make great additions to these printables to round out a day of school.
Homeschool Unit Study Ideas: 
Here is a good mix of our own unit study ideas as well as some of our favorite bloggers.  While most unit studies vary on age ranges, you can easily adapt the suggestions to meet the needs of your young scholar.
If you are looking for more worksheets or workbooks to use in your kindergarten homeschool classroom, check out our recommendations below!  These are some great tools that are inexpensive and work great for basic educational needs.
BIG Kindergarten Workbook for ages 5-6
Phonics for Kindergarten Workbook
Handwriting Printing Workbook for Grades K-2
Brain Quest Workbook for Kindergarten
Work with your kindergartener at home in your homeschool, or in addition to their regular classwork using these great printables.  Free and easy to use, means they are a great idea for those who are budget-minded!
More Homeschooling Tips: