This post was sponsored by Colorwear as part of an In-Home Party Activation for Influence Central. I received complimentary products to facilitate my review.
I love coloring, and I am sure everyone out there has heard about adult coloring books by now.  So, I decided to share with you a few things I love and how easy it is to throw a rainbow themed party for adults using our latest sponsor and a few of my favorite things.  It just seemed like a great combination to combine my love of rainbow themed parties, adult coloring, and our sponsor Colorwear to bring you a post that helps you manage a fun rainbow party easily!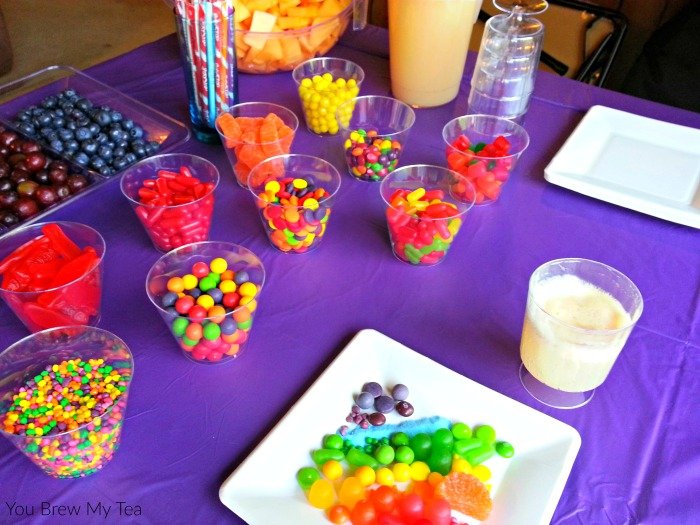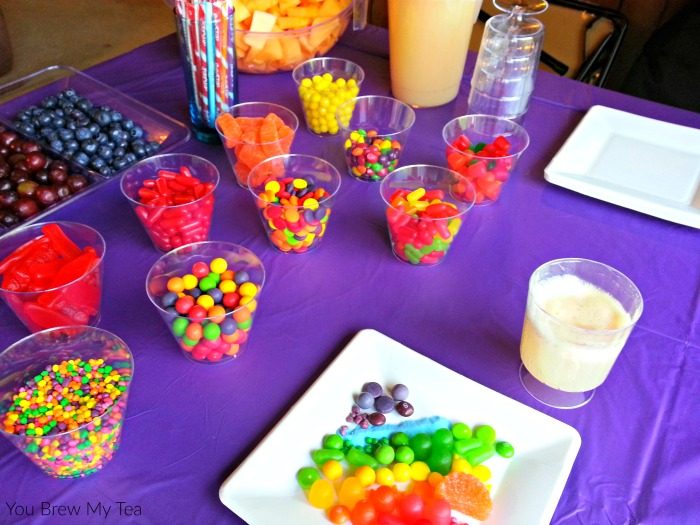 Rainbow Party Ideas For All Ages
Let me start by saying that there is nothing more fun than putting together a party that kids and adults both will enjoy.  That said, there is just something about coloring that makes adults silly, happy, and very relaxed.  So, when it came time to work with Colorwear for this post, I knew I had a great hit idea for a party that my adult friends and their kids would all enjoy.
Decorate with inexpensive rainbow party accessories:  I much prefer investing my money into something that my guests will remember long term.  So, instead of buying pricey decorations and such, I hit up the local discount or dollar store for solid colored plates, napkins, cups, and tablecloths.  For our party, we used a bright purple tablecloth on each table and used clear cups and bowls to serve items so their color would pop.  You can grab rainbow colors and mix and match for a fun look, or grab actual rainbow themed decor at dollar stores and use them as accent pieces.
Fun rainbow theme ideas: 
Make each table a different color theme
Twist bright colors of tissue paper or crepe paper together creating a rainbow colored streamer for your entryway
Add rainbow stickers to solid colored cups
Stack solid colored cups in rainbow patterns around the punch bowl
Wrap colored ribbon around napkin and utensil packets for a fun and easy grab and go pack each guest can take to their seats.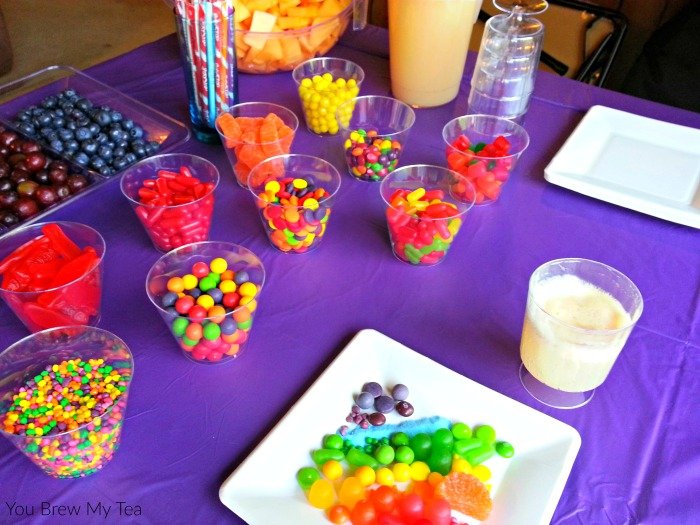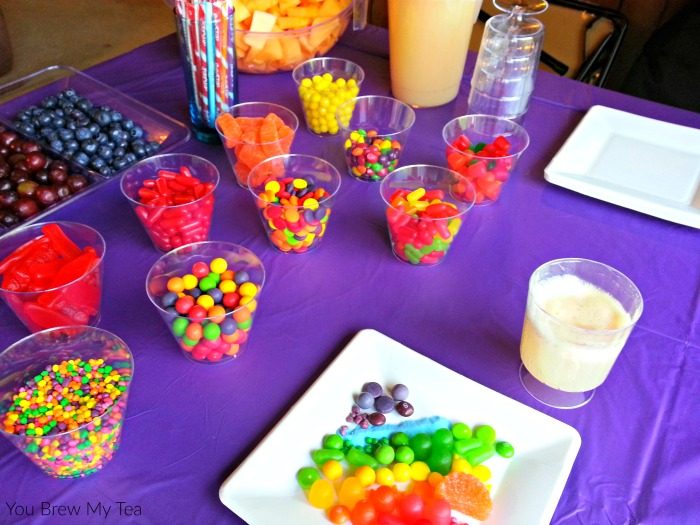 Serve rainbow themed foods:  The easiest rainbow party ideas are all about serving up fun foods.  For our party, it was all about sweet treats and snacks.  Of course, everyone loves classic candies that are rainbow colors, but in the middle of the summer, chocolate does melt fast.  We decided to go with some non-melting candies and arranged each in a different cup to make an easy to serve "candy bar" that everyone enjoyed.
Fun rainbow themed foods: 
Fruit flavored gummy candies, jawbreakers, licorice sticks, and similar items
Fresh fruit like blueberries, grapes, cantaloupe, watermelon, pineapple, and other bright fruits
Pudding cups with a rainbow marshmallow top, or even rainbow sprinkles
Rainbow or tie-dyed cupcakes or cakes
Our Mango Fruit Punch or other bright colored and flavored punch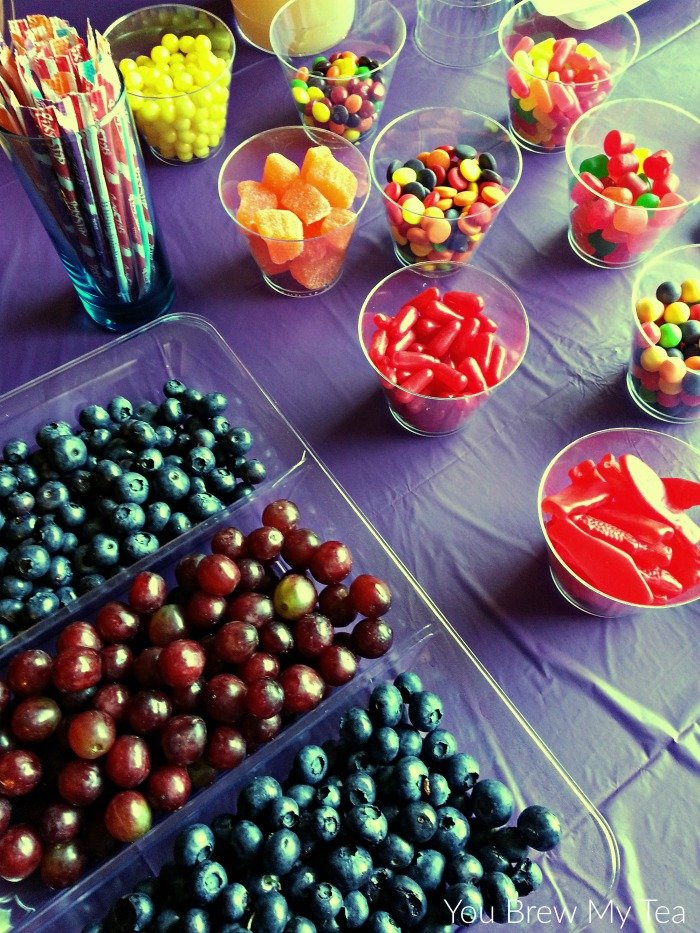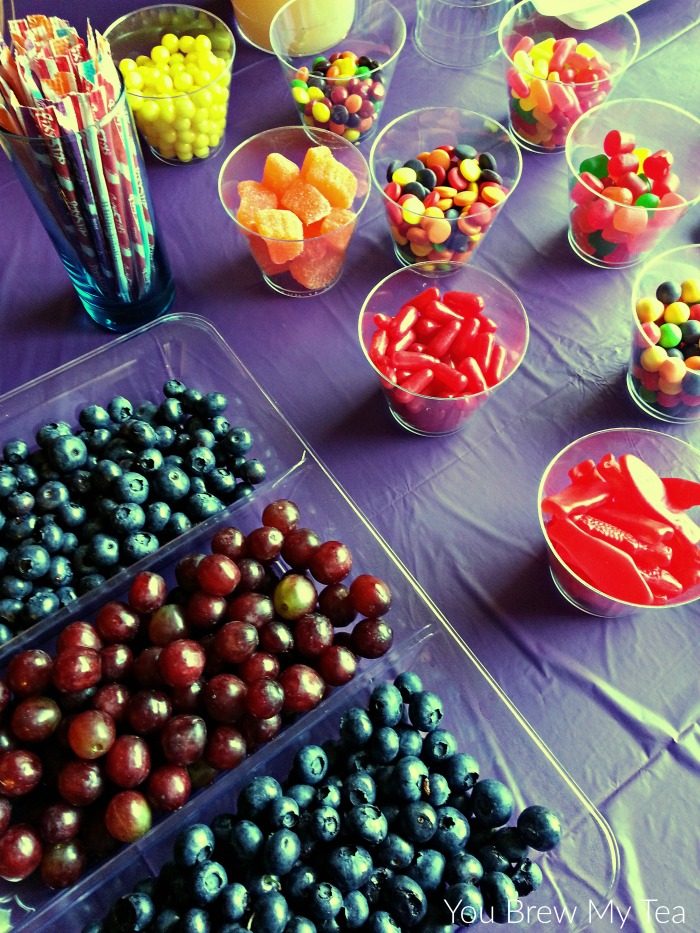 Mango Fruit Punch Recipe: 
½ gallon mango sherbert or sorbet, 2 liters lemon-lime soda, 2 cups mango nectar, 1 cup fresh mango chunks.
Mix together lemon-lime soda and mango nectar in large punch bowl or pitcher.  Scoop mango sherbert into punch and top with fresh mango chunks.
Have fun coloring projects for everyone to enjoy:  The best rainbow party ideas involve fun coloring projects.  We pulled out our Colorwear T-Shirts and Colorwear fabric paints to have fun creating unique shirts everyone could take home as a long-term memory to wear.  Since coloring has become such a fun pastime, I knew it would be ideal for adults to enjoy as a craft for a party.  What I loved about Colorwear was that their patterns weren't just for kids or women.  They had several fun patterns available that men loved.  In fact, my Beau swooped in to grab his favorite in the batch in advance of the party because he didn't want anyone else to have it!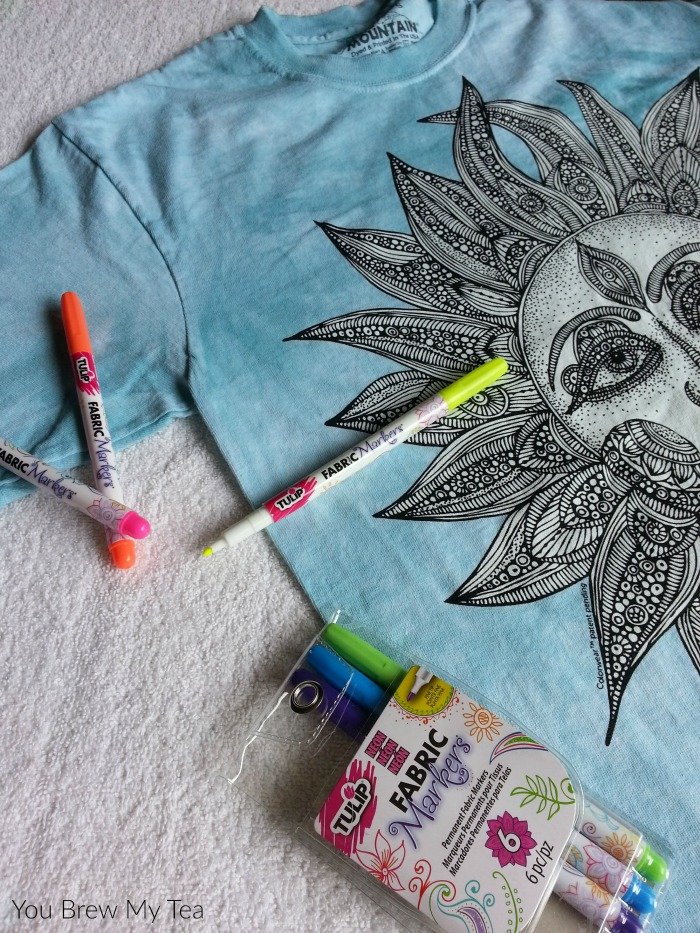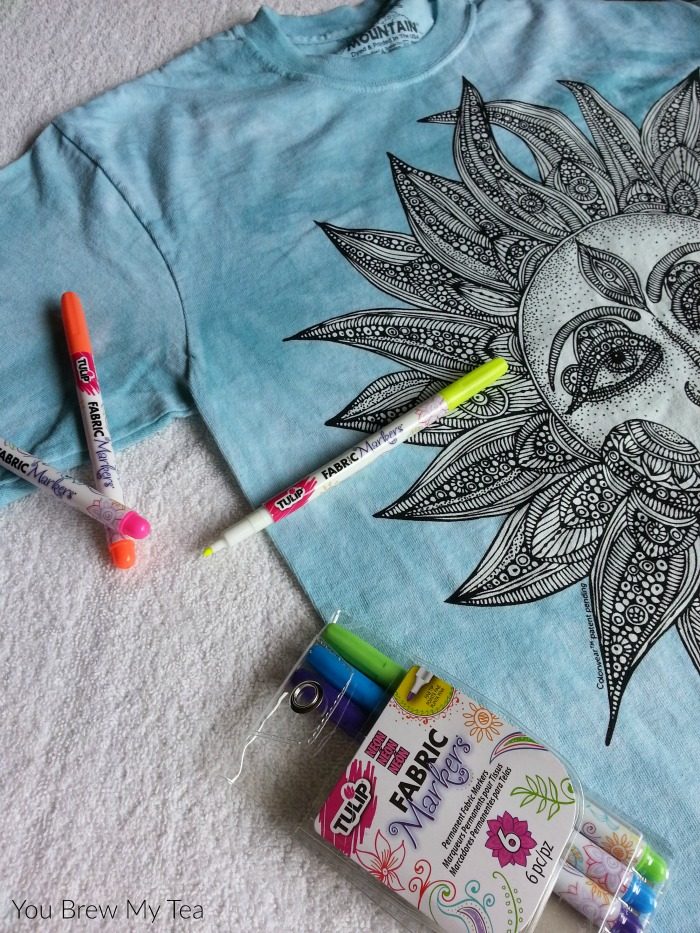 Setting up your table for a Colorwear coloring party is easy.  Just place your Colorwear fabric markers (included with purchase) at each place.  If you order all identical t-shirts, you can add one per setting.  If you have a variety, you can leave them on a table for your guest to choose which they want. I recommend having just a few options and larger sizes in each for adults.  Unless you know your guests well, it's hard to ask about shirt sizes in advance.  However, if you know some need extended sizes, you can ask about that beforehand to save any embarrassment.  Colorwear t-shirts are a bit larger so you may find they fit with a bit more room than some others you've purchased in the past.
Colorwear is a great choice for rainbow party ideas, especially for adults.  I looked at it as a new twist on those popular wine and paint nights my friends are attending all the time.  Instead, you can serve up the kid-friendly and family-friendly fare at home while enjoying some craft time and fun with your girlfriends!  I love that the design options available include classic slogans and designs as well as the always popular Mandalas!  We especially loved the sunshine pictured as one of our favorite choices to color.  It was actually so beautiful alone, it wold make a great t-shirt whether you colored it in or not!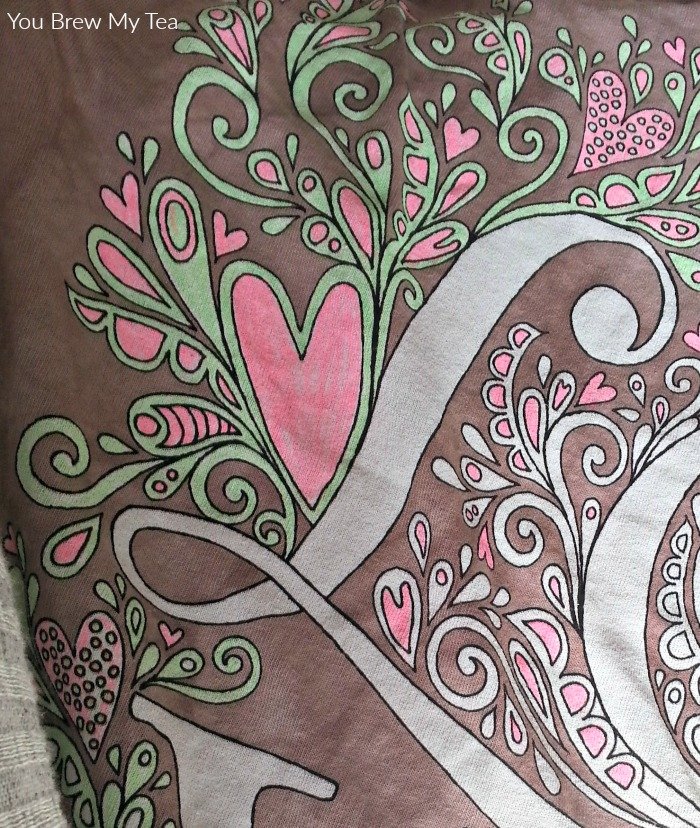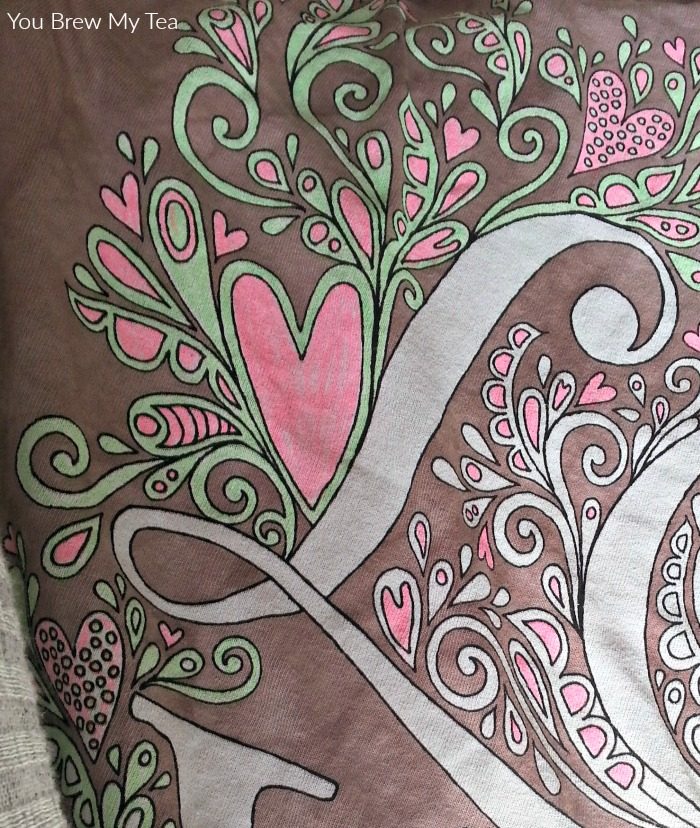 These rainbow party ideas are just what you need to throw a great party for your friends or family.  Whether you make this a fun girls night out, or you use for a fun kids themed party doesn't matter.  Rainbow party ideas are ideal for all ages and easy to make work on any budget!