In the age of technology with flashing and buzzing toys that fight for your child's attention you want to make sure they are grounded in things that help them grow intellectually- reading is the base for just about everything else they will do in life.  As a parent, you want your kids to have the best and knowing How To Raise A Reader is important.  Use these tips to encourage and help them become an avid reader!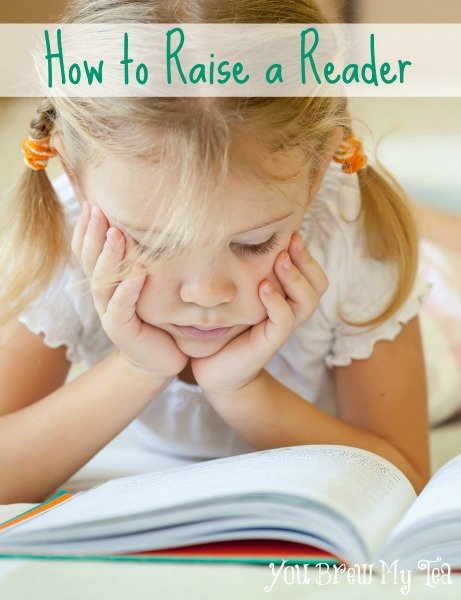 HOW TO RAISE A READER
I am a lover of words-writing them or reading them. Fiction or Non, if it is good I will devour it like a piece of chocolate.  I will reread particularly good ones and shove them into the hands of friends and declare "You must read this, it is the best book EVER!". Because as I said I love a good book. I think readers are made early on-I know I was turned into a voracious reader in the lap of my mother who read to me every night.

1. Read to them- Start early, in the womb if you can.  Even babies love to hear words in their mothers soothing voice. Toddlers who may not sit still for a long book will still pick up language skills by your reading board books as they play. Preschoolers  can pick up letter identification sooner when exposed to ABC books like Chicka Chicka Boom Boom. Even elementary age children generally still love to hear readings from favorite chapter books.
2.  Scatter books- I put books throughout the house, on bookshelves, in baskets next to comfy chairs, on the coffee table.  I tuck Star Wars books in the basket with my sons Star Wars action figures to encourage reading.  Make them accessible, I leave most within their reach and put up a few more delicate books for special times.
3. Choose appropriate level- Books that are too easy cause them to be bored with reading, too hard and they become frustrated and see it as a chore instead of the reward it really is.
4. Take Turns- Once children start reading simple CVC words let them read to you, sometimes with just a little assistance but other times you can make it fun by taking turns reading each page. This will build their reading skills and give them confidence.  If they have younger siblings encourage them to read stories to them.
5. Mix it up- Besides reading at home- bring a book along to the park, thumb through books at Barnes & Nobles, visit the library often, read magazines, and  occasionally let them read on a Kindle or other device (nothing beats a real book).
6. Encourage their interests- Provide them with books on topics they love. Some people are very "Pro- Classics" and against "twaddle" I am not one of them, while I love the classics and encourage them- if it gets my child to love reading I don't care if it is a Star Wars comic or Swiss Family Robinson, the more intellectual reading will come . Choose Your Own Adventure Books are great for both boys and girls alike. This
7. Be a reading role model- Let your child see you enjoy reading for the fun of it.  My kids and I like to curl up on the couch together, sometimes to share a book, other times each with their own selection.  They see me choosing to spend my time on reading and they know that it is worthwhile (You are also close by if they get stuck on a word).
We love the following books for beginner reading with our kids: 
Little House On The Prairie Series
Choose Your Own Adventure Series
Check out some of our favorite homeschool articles below: 
Ways To Kick Start Your Homeschool
Using Legos In Your Homeschool
Using Television In Your Homeschool Curriculum
Check out our Homeschooling for Lazy Parents Facebook Support Group for more tips and ways to make your homeschooling experience easy to manage!