These Simple New Year's Eve Party Hats made from headbands are a fun, simple, and inexpensive craft for New Year's Eve that children and adults alike will enjoy putting together.  Make a bunch ahead for your guests or set up a hat/headband crafting station and let everyone make their own, giving you not only fun party gear but an activity to keep everyone busy while you wait for midnight. Set out a couple examples to get them started and let their creativity shine through!   I purchased 4 packs of cheap plastic headbands at the dollar store and used craft supplies I already had on hand to create a couple different styles. Even if you don't have a huge craft stash on hand you can make a dozen of these easily for under $5.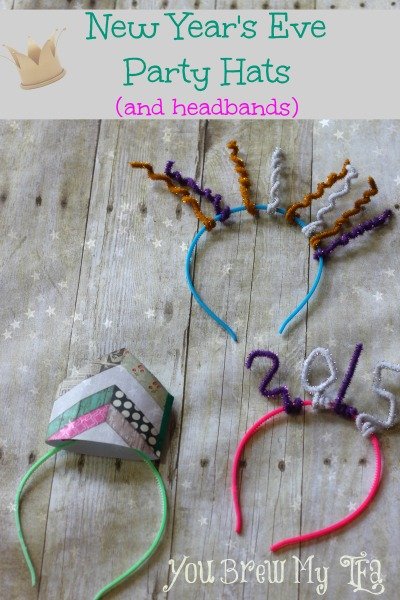 SIMPLE NEW YEAR'S EVE PARTY HATS
Crown Hat
This was my sons creation inspired by a character named Max from one of our favorite books - WHERE THE WILD THINGS ARE. We also made one of these with a pretty pink card stock.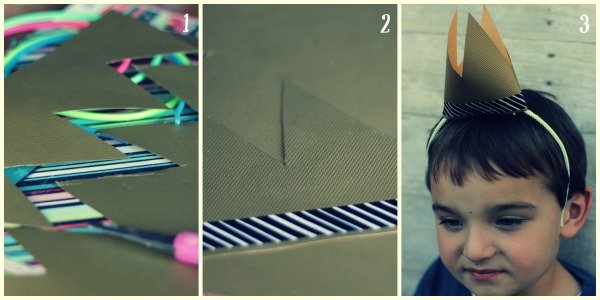 We used a sturdy 12x12 cardstock paper to cut a strip with zig zag pattern at the top about 8" long.
Embellish with washi tape, markers, glitter, etc.
Roll to form the crown, tape to secure
Flatten slightly.
Hot glue both ends of the bottom to a headband.
Crazy Sparkle Band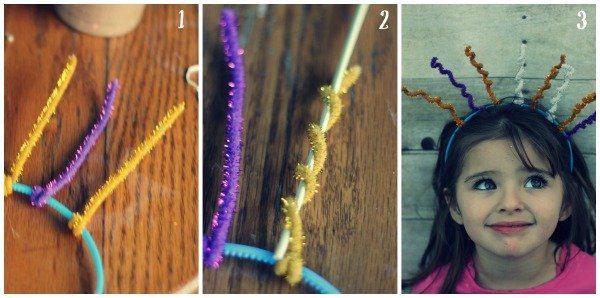 My daughter loves sparkly fun shapes so for her we created this silly headband with glittery chenille stems (pipe cleaners).
Cut chenille stems in half.
Wrap the end around headband tightly 3 times to secure.
Wrap the remainder around a stick or pencil to make curlicues, remove pencil.
Fun and easy!
Welcome the New Year
I thought it would be fun to make a headband to welcome in the New Year, but you could also use pipe cleaners to form words like Happy New Year, names, the year that is on it's way out, or another sentiment for a different occasion. This is a great fine motor activity as well for kids learning to write- forming the numbers/letters not only enforces letter recognition but also strengthens small muscles.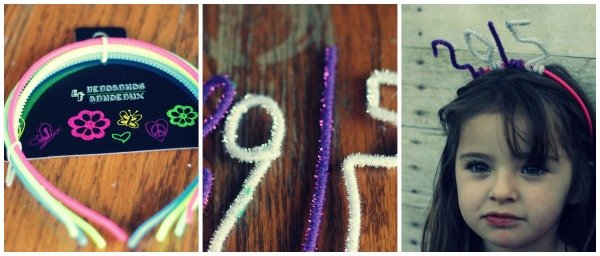 Cut chenille stems in half.
Wrap the 3 times around headband tightly.
Form your letters or numbers on the top.
That's it!
This is a super fun New Year's Eve craft for your kids to feel included in your party.  Not only can they make their own hat, they can help your party goers make some too!
Looking for other great New Year's Eve Crafts?  Check out our other themed ideas below!