This S'Mores Caramel Apple is another delicious creation from our friend D. from A Worthey Read. I love what this man does with food, and I am always tell him and his wife that if they lived closer I would be inviting myself over for dinner all the time.  When it comes to unique food combos, he knows just what to make.  This was a great classic treat with a twist I knew I had to share!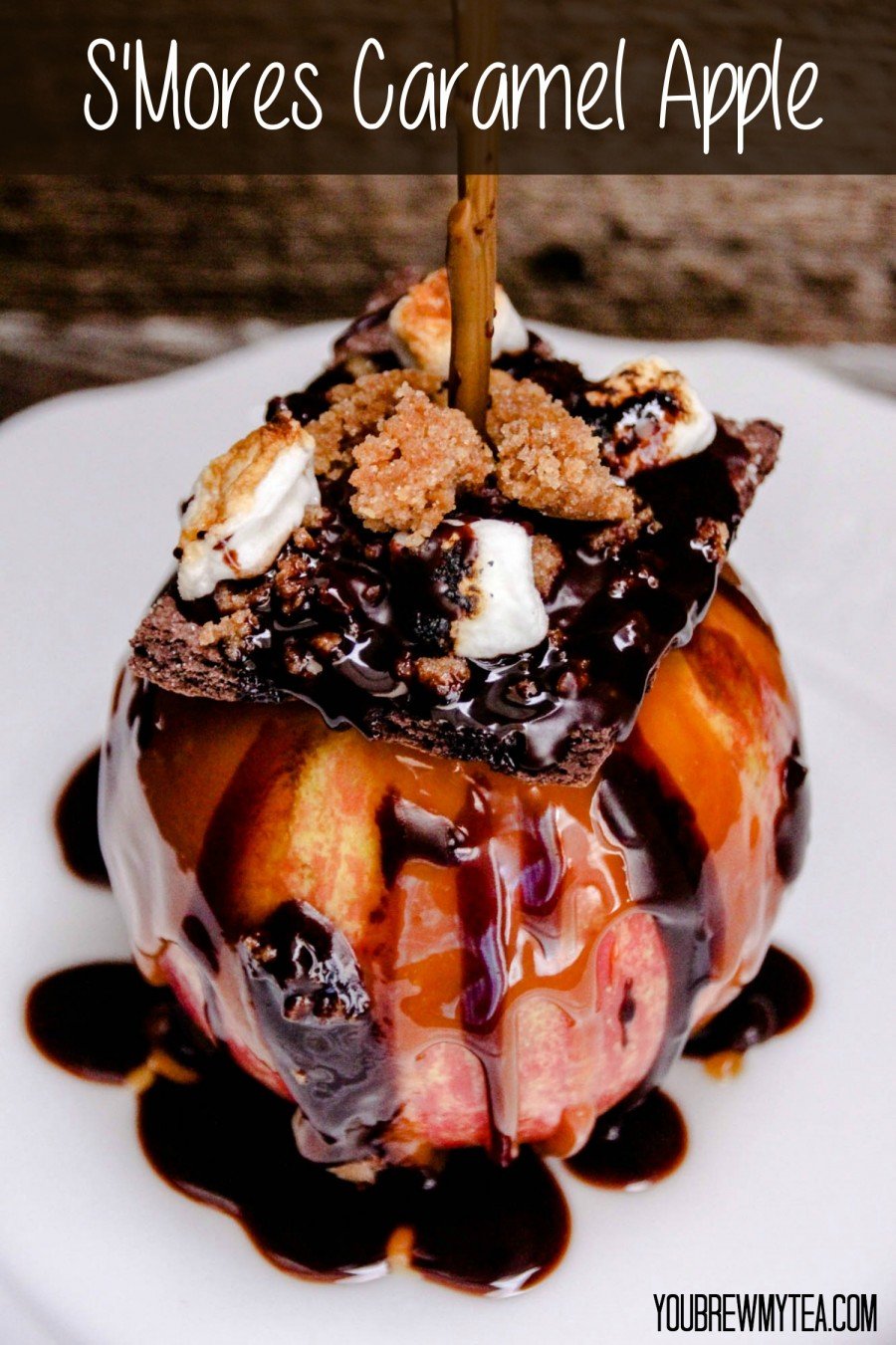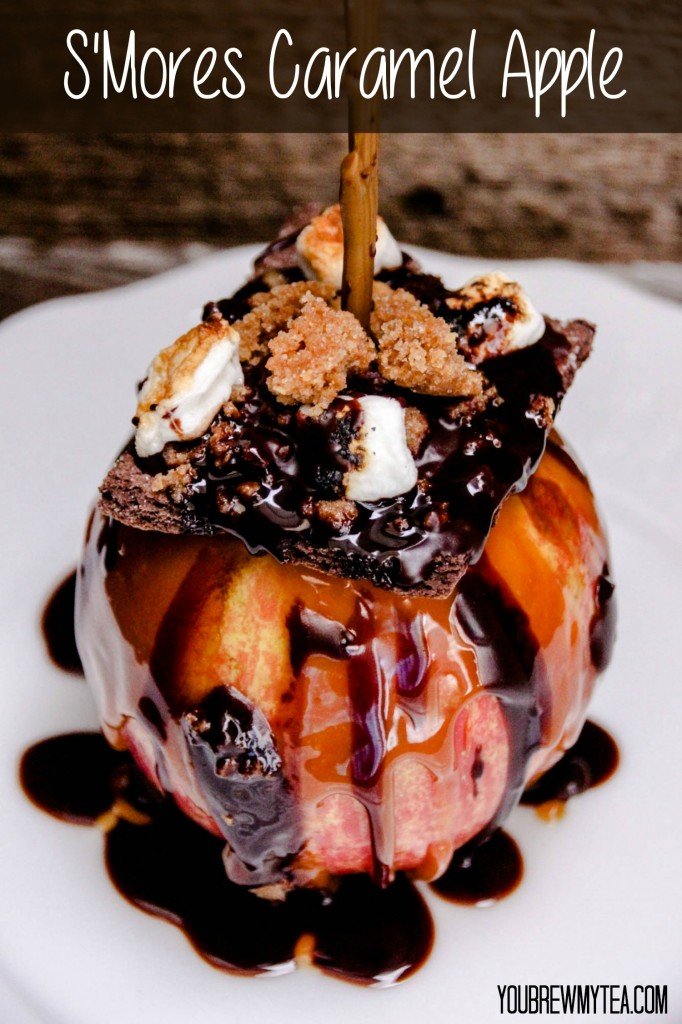 S'Mores Caramel Apple
There is nothing better in the fall than a caramel apple or some delicious S'Mores.  Combing the two in this S'Mores Caramel Apple is just what I need to satisfy the sweet tooth of the guys in my house.  A simple, fun and above all beautiful combination is made with this delicious recipe.
We prefer using Fuji or Gala apples since they are a it sweeter, but you can go with a more traditional Red or Green Delicious apple for this.  Of course, the best part of this recipe is the use of a fun kitchen blow torch. While not necessary, it does make it easier to melt the marshmallows, and of course the kids love watching you use it!
This recipe is for one apple but you can easily update with multiple apples if you want.  As decadent as this S'Mores caramel apple is, you may be able to split just one among your family as a sweet and delightful dessert treat.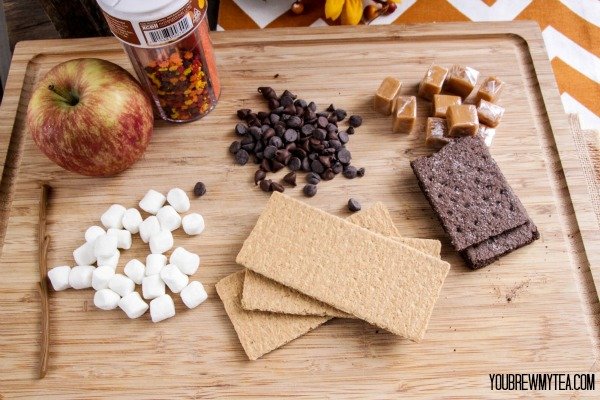 S'Mores Caramel Apple
Ingredients
15 Caramel Cubes
1 Apple (whatever kind you prefer)
1 Chocolate Graham Cracker
4 Regular Graham Crackers, crushed
2 Tablespoons Unsalted Butter
3 Tablespoons Light Brown Sugar
2-3 Tablespoons Milk
Chocolate Syrup
Mini Marshmallows
Festive Candy Apple Stick
Wax Paper
Instructions
Rinse and dry apple, remove stem and insert festive candy apple stick.
Use enough wax paper to accommodate an apple.
In a medium size sauce pot melt caramels over medium heat. Stir milk in gradually, only add enough milk to encourage melting.
When caramels are melted using a tablespoon drizzle caramel over apple
Next, using the tip of a steak knife make a hole in the middle of a chocolate Graham cracker, the hole should be big enough to fit over the festive candy apple stick. Slide chocolate Graham cracker until it rests on top of the caramel apple.
Drizzle chocolate syrup over the chocolate Graham cracker.
Place 4-6 mini marshmallows on top of the chocolate Graham cracker.
Using the Chef's Butane torch toast the mini-marshmallows.
In a skillet over medium heat add unsalted butter, stir in the crushed Graham Crackers. Stirring constantly add the brown sugar. Continue to stir until mixture starts to brown. The butter, brown sugar and crushed Graham Crackers should resemble small golden brown crumbles.
Sprinkle Graham Crackers all over the top of the marshmallow and chocolate.
This S'Mores caramel apple is sure to be a favorite with everyone in your house.  Using marshmallows, caramels, chocolate syrup and both regular and chocolate Graham crackers makes this the ultimate of holiday treats to enjoy!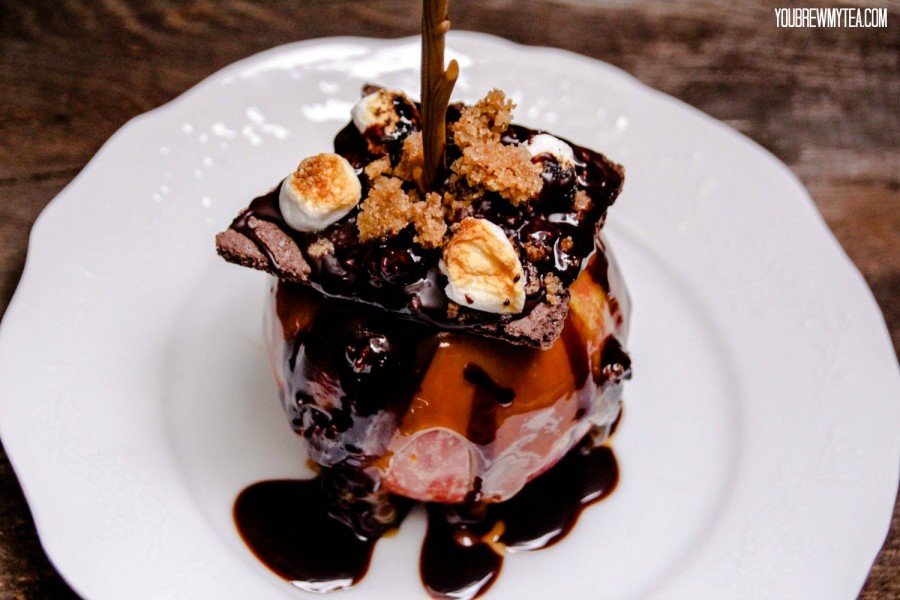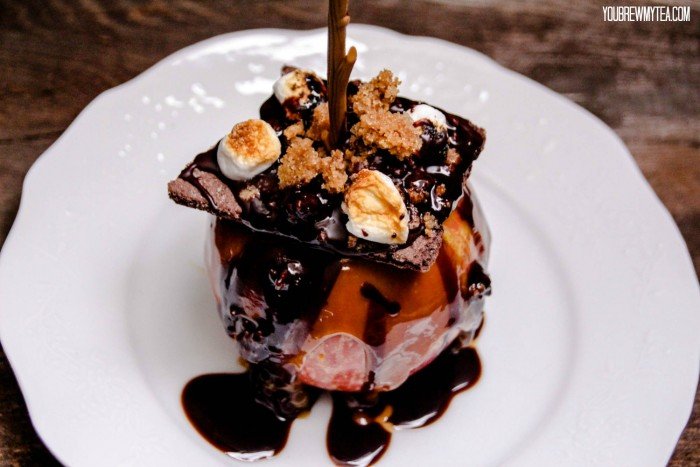 Check out some of our other favorite apple treats! 
Candy Corn Chocolate Caramel Apple