As we approach the holiday season, it is very easy to see how society has made the reason for the season appear to be all about gifts, trees and spending money. We have, for many years followed a method of in all honesty – being so broke we couldn't truly get into the gift giving craziness that occurs.  As a result, we really have learned to appreciate the holiday season for what it is all about.  We tend to not give gifts, or at least not very many.  So, as we decided to write about saving money for Christmas, I decided instead to talk about how you can begin Taking The Commercialism Out Of Christmas in your life.  Not only will you feel better about what your family is doing during the holiday season, but you will find yourself less stressed. Enjoy the season for what it is intended to be, all about love of God and giving to those around us.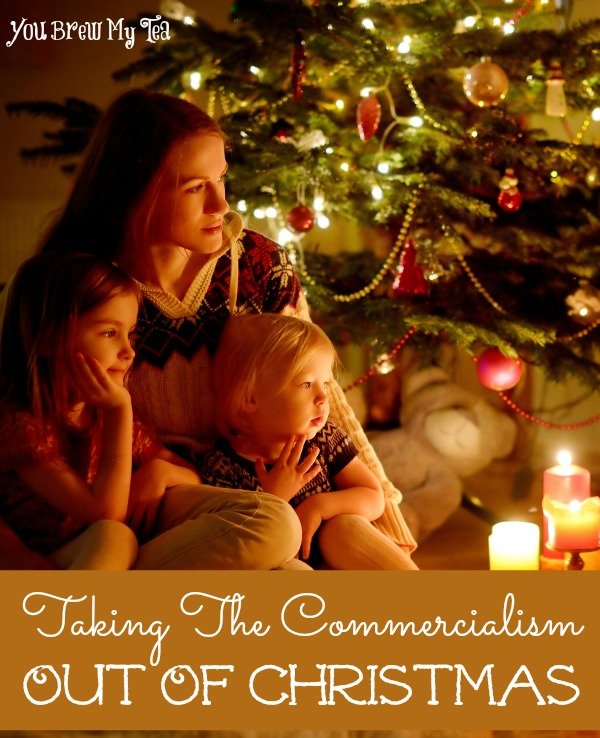 TAKING THE COMMERCIALISM OUT OF CHRISTMAS
Make the 3 Gift Rule: Instead of everyone getting a lot of gifts under the tree, focus your gift giving to only 3 per person.
1 Gift They Want

1 Gift They Need (clothing, furniture, etc.)

1 Gift The Whole Family Can Enjoy (games, movies, etc.)
Instead of focusing on how many gifts are under the tree, or how much is being spent – you are focusing on what is really needed and important. This also helps with jealousy issues among siblings too.  A good example of what we would do for our son in this case would be to get a new Blu-Ray movie or card game that the whole family would enjoy (How To Train Your Dragon 2 is on my list for this year), a new set of sheets or comforter for his new bunk beds and the big Star Wars Lego set he has been asking for.  All 3 are things he will enjoy, but they are all different purposes.  One he can share with us and enjoy as a family (the movie), one is needed and useful for his bedroom (sheets/comforter) and one is simply a desire/want of his that he will play with.
Give Gifts To Those In Need Instead Of Family/Friends: While there are tons of parties, events and request during this season that would require you to exchange gifts, skip those in favor of spending the $5-$10 per gift on an item someone in need could use. This could be given to a local shelter, directly to the homeless or to a less fortunate family.
Toiletries & Clothing for the homeless

Games, Books and Toys for local homeless shelters and womens shelters

Pantry Items & Household Supplies for a low income friend, neighbor or acquaintance

Pay a utility bill for a friend in need
Giving to others can go beyond the things listed above.  Helping a single parent out by babysitting, or even wrapping presents for them is also great.  Offering to sit and listen to a lonely friend in a nursing home, or even raking leaves for your neighbor are all great ways you can give to others and focus on the giving, instead of the getting.
Volunteer To Feed The Homeless Or Needy: Instead of hosting an elaborate holiday meal or party, join your family to help feed those in need in your community. Homeless, low income shelters or community meals at local churches are all great ways to get back to the basics.
Attend Church On Christmas: One of the quickest ways to be reminded of the reason behind the Christmas season is to attend church. Christmas Eve and Christmas Day services often focus around the birth of Christ and his humble beginnings. Check your own church schedule, or look into attending another local church program to help get your family into the spirit of love and encouragement instead of entitlement that has become common.
Skip The Decorations: While some really need this to feel in the holiday spirit, sometimes we get too caught up in how things look and forget the reason behind the decoration. This year skip the tree, lights and decorations and focus instead on spending the time and money playing games with the kids, making home made hot cocoa or singing classic carols together.
By leaving behind the commercial trappings of parties, gifts and endless decorations you can focus your energy on your family and those in your community that need the love the legend of St. Nicholas presents.  For our fellow Christians, this season is all about the birth of Jesus and God's love.  No matter what your belief's are, celebrating love for each other and remembering how little gifts and things done for those around you can make a difference is what your focus should be.  This year taking the commercialism out of Christmas as a family is really easy to do. Choose to actively seek out ways to give back to your community, your family and your friends as an act of love instead of obligation.
Some more helpful hints:
Free Printable Christmas Menu Planner & Grocery List
25 DIY Christmas Decorations & Treats
What Dudes Really Want For Christmas!