You guys know I'm not the crafty one around here, but when my friend Katie Fermia shared this with me,I knew I had to post it here!  It is time to start decorating your home for the Thanksgiving holiday! Take a look at how we crafted this Thrifty Turkey Wreath using just a few supplies from our local dollar store. In just minutes you can make your own thrifty turkey wreath, perfect for celebrating the arrival of the season. Here is how to get started!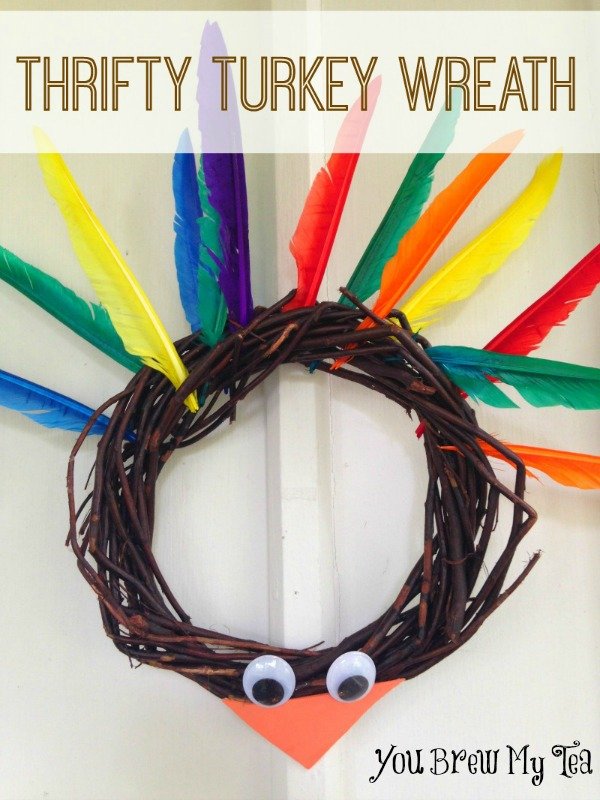 THRIFTY TURKEY WREATH
Check out our Homeschooling for Lazy Parents Facebook Support Group for more tips and ways to make your homeschooling experience easy to manage!
Supplies Needed:
Grapevine wreath
Pair of googly eyes
Assorted colored feathers
Orange craft foam or paper
Craft glue
As mentioned, we found everything we needed at our local dollar store. The final cost of our wreath was just a few dollars, making this most thriftiest Thanksgiving craft you can find!
Directions:
1. Begin by creating the face of the turkey. We simply cut out a triangle from the orange foam and glued it to the bottom of our wreath.
2. Next, add some glue to your large googly eyes. Press them right above the beak.
3. Add some colorful feathers to the top of the wreath. Just add a dab of glue to the bottom of each leaf and tuck it into the top of the wreath.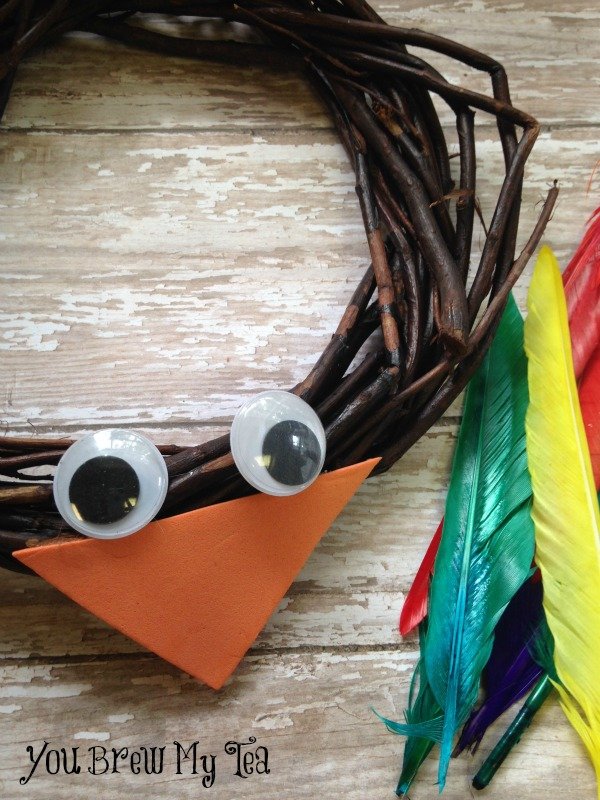 Your thrifty turkey wreath is now ready to be hung. Once the glue is dry, you can place it on a wreath hook, or any hook for that matter. You can even add a length of ribbon if you wish for hanging. Either way, it is lightweight and takes very little strength to display it.
Gather your supplies and give this thrifty turkey wreath a try. It is a wonderful (and thrifty!) way to welcome the arrival of the Thanksgiving season!  This is also an excellent homeschool craft project!  Not only can you incorporate great books about Thanksgiving and Turkeys, you can work on color recognition with the leaves, and fine motor skills with younger kids when assembling!
Check out our favorite Thanksiving Books:
Here are some other great fun Fall Crafts & Homeschool Projects!
Upcycled Fall Flannel Napkin Ring
Free Fall Spelling Worksheets For Early Readers
Kids Fall Thumbprint Leaves Craft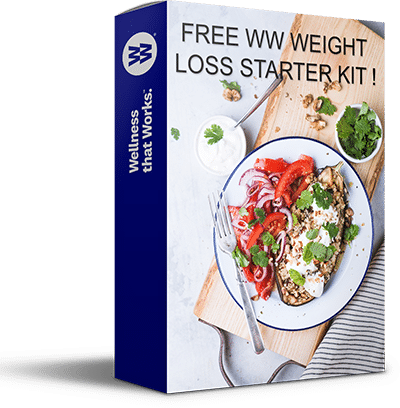 FREE WW WEIGHT LOSS STARTER KIT
+ exclusive tips, recipes & more to lose weight, increase confidence, and live a healthier and happier life !