I was recently given a chance to review Tessemae's All Natural Salad Dressings through a program from Mom It Forward.  This inspired me to share with you how I create a Healthy Salad Bar at home to keep on my toes with my Weight Watchers program.  This is one of my little secret tricks to staying satisfied and not getting overwhelmed when trying to eat healthier.  I hope it helps you to also stay on your healthier eating program!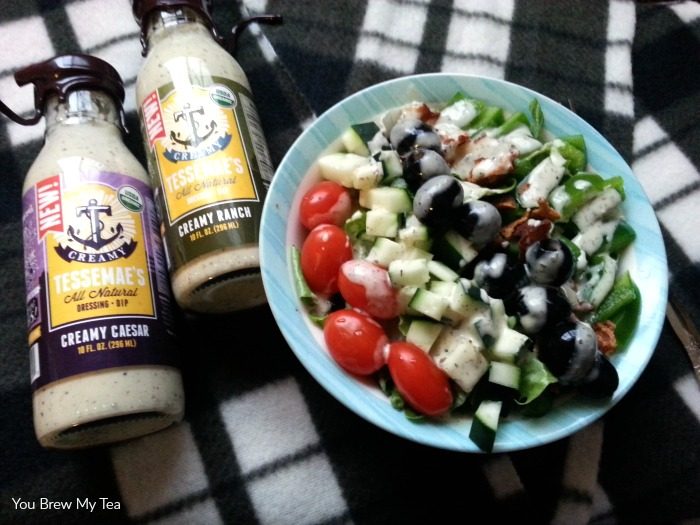 Tips For A Healthy Salad Bar At Home
This post contains affiliate links.  I may be compensated for sharing these links with you within this blog post. 
When I think of a salad bar, I often think about those buffets that kind of make me cringe.  You know the ones with the chocolate fountains and endless bars laden with greasy gravy covered fried foods.  Every buffet has a token salad bar.  On that salad bar, there are some great foods, and I admit to having enjoyed a salad on many occasion from a salad bar.  The problem is, they aren't the cleanest things and the germ factor really gets to me.  That and the price just make me say no.  Add in the inconvenience of going here when you want a salad for lunch or dinner, and I realized how important it was to create an at-home salad bar setup that was functional for myself and my family to always have a healthy salad option on hand.
Prepare your produce as soon as you get home after shopping.  I can't tell you how many times lettuce, cucumbers, and bell peppers have gone bad because I didn't wash and prep them when I got home from the grocery store.  They were put into that lovely drawer in the bottom of the refrigerator, and because they weren't conveniently ready they never got ready. It's embarrassing, but we all know it to be true.
I set aside time now to immediately prepare and sort my produce when we get it home.  Washing everything and then slicing, dicing, or sorting into bins or bags to have for easy preparation in salads takes about half an hour, and saves tons of time throughout the week.  Instead of spending that half hour of prep every time I want a salad, I can just pull out my veggies and make my salad.
Buy the right ingredients.  I've followed fad diets many times in my life.  Most recently, kale has been a vegetable that everyone loved.  I just don't like it.  I have tried.  Oh boy, have I tried.  Kale is just not my jam. That said, I love other greens and adore things like bell peppers, cucumber, green onions, broccoli, carrots, and peas.  I enjoy a nice loaded salad full of vegetables, just not every vegetable.
Buy the right ingredients.  Buy what is going to be something you will actually eat.  Don't buy just what is currently popular or recommended.  If you don't like it and won't eat it, then it isn't worth your money.  That's why I was so excited when I tried Tessemae's Ranch Dressing.  I love homemade ranch dressing, but lower fat versions never taste right.  I am trying to limit the added sugars and higher fat content.  Finding a healthier option in salad dressing that I like has been nearly impossible.
Tessemae's  is a brand of sugar-free and dairy free dressings and marinades that you can trust and you'll love.  I found myself delightfully surprised at how great the flavor was.  I've tried other sugar-free products out there with some pretty big disappointment.  Trust me – you can't fool me.  Tessemae's sent me both their Ranch and Caesar salad dressings to try this time, and both have far surpassed my expectations.  Since they are available at Walmart and Kroger, I plan to check out more flavors on a regular basis.
Don't deny yourself your favorite toppings.  Here's the thing.  I learned the hard way that I struggle with moderation.  I also learned that denying myself results in major indulgences.  So, I focused on the impact of flavors.  As you can see, I added the flavors that impact me the most.  On a salad, I love bold flavors and crunch.  Tomato and bell pepper add a lot of flavors.  Cucumber is one of my favorites for crunch.  Of course, you see I add in two fats.  I love the healthy fats of black olives and I indulge in this in my salads.  I also indulge in bacon.  I like to cook a package of bacon all at once, drain it well to remove excess fat then bag and freeze.  I can crumble one piece at a time onto a salad or to use in recipes.  A half a piece of bacon in my salad is a minimal amount of fat in my overall daily calorie count and adds the flavor I want and need.
As you can see, making your own at home salad bar is about preparation and having the right ingredients on hand.  Choose the things you enjoy the most and add them to your refrigerator to build an easy salad anytime but make sure you also pick the healthier but still full of flavor Tessemae's salad dressings as an option to top your salad.  The bright flavors with no GMO, no dairy, and no sugar will be sure to please your palate.  If you want to learn more about Tessemae's products make sure to check out their social media pages on Facebook, Instagram, and Pinterest.