As a mom who has been breastfeeding her children for years, these tips for breastfeeding in public modestly come from my own personal experiences.  Breastfeeding is no easy task and it takes a lot of time and effort. Whenever it comes time to breastfeed in public, it's easy to get a little nervous. I prefer to cover up when I nurse in public, but not all moms do. If you're still trying to perfect your breastfeeding style in public, check out these tips.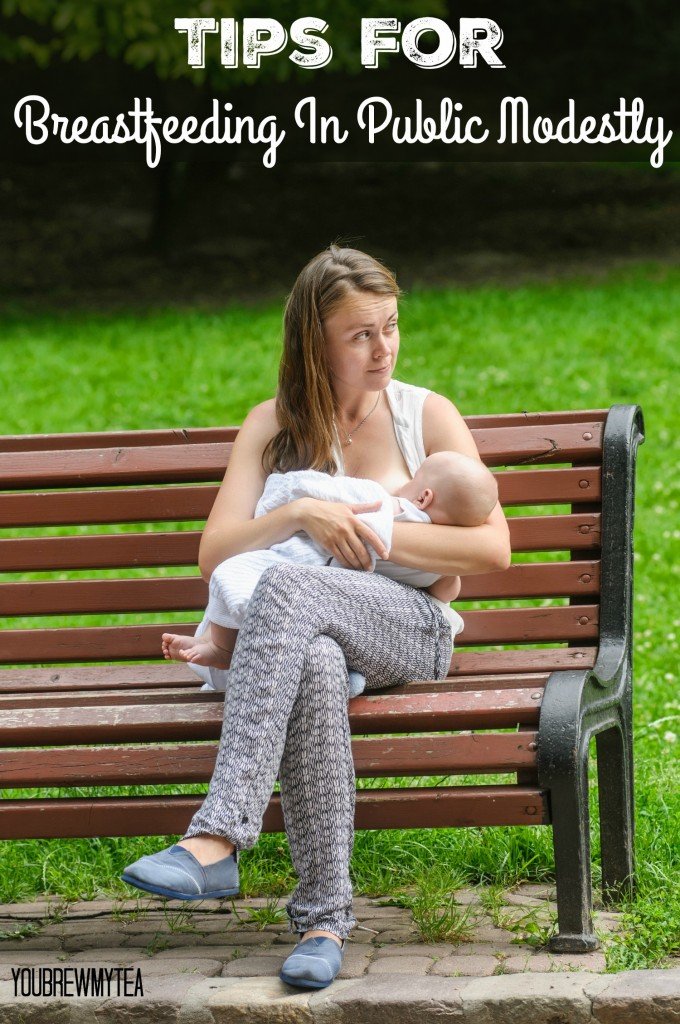 Tips For Breastfeeding In Public Modestly
Sit in the corner of the establishment
Whenever I walk into a restaurant, I always ask for a corner booth or a table away from everyone else. I'm not afraid of people seeing me nurse, but it's nice to not have the stares from everyone else.  Sitting in the corner of an establishment allows you to enjoy a meal with your family without feeling pressure from everyone else.  I am proud of my choice to breastfeed, but prefer to remain modest and private.
Wear a tank and an over shirt.
I have found that wearing a tank top and an over shirt has helped me be more modest with nursing. I am big chested and I have a tummy from having four children. I feel less self-conscious if I am covered from all angles. Even if you choose to not cover, which is completely your choice, the baby will be covering your nipple and your shirts will be covering your breast and tummy. Who can really complain about that?  There are some excellent nursing tanks to choose from, or a simple classic tank can work depending on your body type and chest size.
Surround yourself with things and people.
Whenever I need to nurse in public and want a bit of privacy, I will surround myself with items and people. I'll put the infant car seat on the table so it's blocking me or I'll have my husband sit in front of me. Sometimes I'll even lower myself into my chair so the table is blocking me.  There are even many nursing cover options you can keep in your diaper bag to help keep you an your baby covered and modest if you prefer.  Breastfeeding in public modestly often means using what is most available to help provide cover while my baby is enjoying their meal.
Let me get this straight. I'm not telling any woman to cover up or hide. I'm simply giving advice to those who feel more comfortable being covered up. I am big breasted and like my privacy!  Breastfeeding in public modestly can be achieved, and will allow you to continue this wonderful method of feeding your baby and bonding with them. What are some ways you keep things modest while nursing?
Check out our other parenting tips! 
How To Create A Bedtime Routine For School Aged Kids
5 Ways To Teach Your Kids About Recycling
Reasons To Give Your Child A Cellphone
Cheap Activities To Do With Kids