I have always been a gift giver, so these tips for gifting on Valentine's Day to friends are ones I know work and are appreciated.  It's hard to juggle all of our responsibilities, and while a spouse or significant other may treat us to a romantic date on Valentine's Day, sometimes it is nice to be noticed by our friends and family.  This year, we took the time to create a simple basket of treats for our neighbor who has become a great friend.  Why?  Because Valentine's Day isn't just about romantic love, but also love for everyone.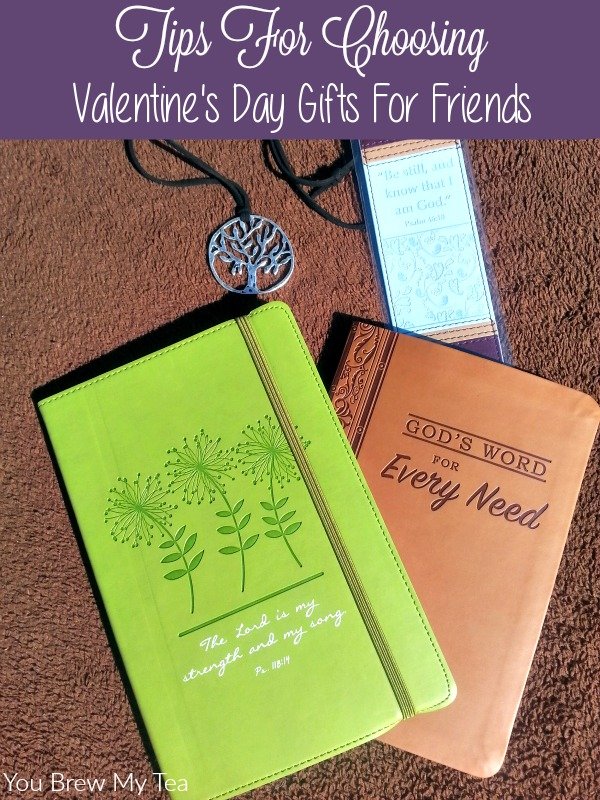 Tips For Choosing Valentine's Day Gifts For Friends
This post was sponsored by Family Christian and came at just the right time to create a wonderful basket of gifts for our friend.  You see, gifting is something that is personal and can be used to show love in a simple way that others need.  Whether it is a book of quotes or scripture for encouragement or a simple bookmark that reminds them of your love, giving a friend a gift will carry with them far longer than a piece of candy or a slice of cake.  I love that I was able to give my friend a little boost of love, and know that what we sent her would grace her home for years to come as a reminder of our love.
Think about their current needs. Sometimes you may know that your friend has been sick, is struggling in their marriage or maybe has financial struggles.  For some it could be a tragedy or a death in their family that is presenting them with pain and needs.  It may even be the need for a break to take a nap while you watch their kids.  Whatever their need, try to find a way you can fill it or offer encouragement.
While you may not be able to "fix" their problems, you can consider them still when choosing a gift.  Our friend has been a wonderful support to us, and while I don't know all of her specific needs right now, I know I want to show her we are here for her. Even though I didn't know her specific needs, I was able to offer her a simple book of God's promises and helps for when you are in need.  I know these words will bring her encouragement when she needs it most.  They can also remind her that we love her and are there for her.
Think about their emotional needs.  Sometimes we just need to be reminded that we are strong and capable.  The Tree of Life necklace was a great reminder to me that I am strong and supported.  I knew that with her wonderful taste in fashion, it would fit perfectly into her wardrobe and serve as a reminder that no matter what, she too had support from us as her family.
Think about a splurge they won't make for themselves.  A simple journal and bookmark were a great addition to our treats for her.  She is careful about what she spends, and much like any woman who is trying to do the best for their family - she rarely takes time to just treat herself.  These little things aren't much but they are something special just for her.  You could include a gift card, a candy bar, a special manicure kit or a book you know they have been wanting.
Choosing Valentine's Day gifts for your friends can be a fun adventure.  They don't have to cost a ton of money.  They simply have to include some great thoughtful items that show your love and appreciation.
Thanks to Family Christian for giving me the opportunity to share love with my friends this year for Valentine's Day.