There are tons of misconceptions about flying with babies, however, it doesn't need to be as miserable as everyone says it is. Planning ahead for your baby and their needs is important.  Hopefully these tips will give you a great idea of what to do before you get on board for your next flight with a little one in tow. If you're going to fly with your baby, check out these tips!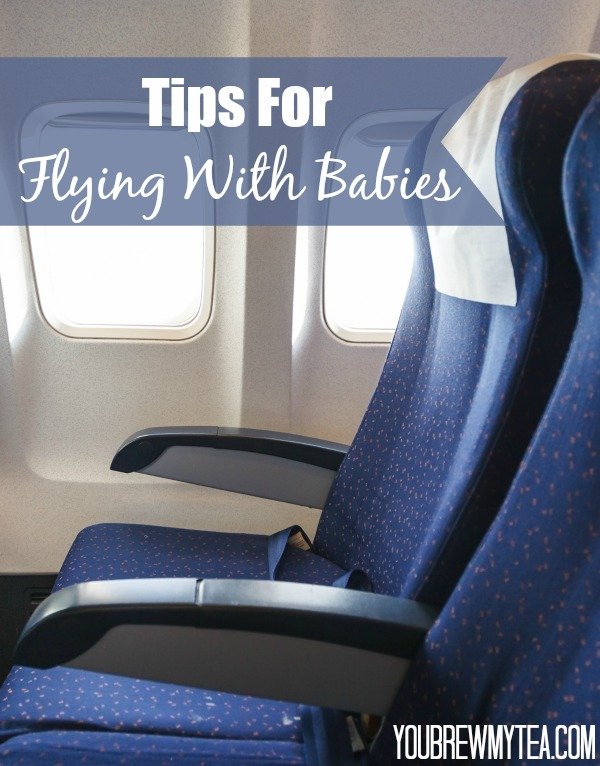 Tips For Flying With Babies
This post may contain affiliate links. 
Babies are Unpredictable
As much as you want to prepare for flying with a baby, you can't always predict what will happen. In fact, there's nothing predictable about flying with babies. My best advice would be to expect the unexpected when it comes to flying with that precious baby of yours.  Don't be so hard on yourself.  Accept that things happen and you can only do so much.
Over Pack if You Can
When it comes to packing for baby, it's okay to over pack. Babies need so many items that it can be tough to leave something at home that you need. If you're going to over pack for someone, you might as well make it the baby!  Most airlines allow for a carry on bag, plus a personal bag to go under your seat.  You can pack a diaper bag well for on flight, and a carry on to go in the overhead bin.  Check your other baggage if necessary.  While we typically avoid checking baggage, this is one case where it may come in handy to give you more ability to travel with extras for your baby.  Food, snacks, blankets, diapers, wipes, changes of clothing and entertainment like small toys and even a DVD player or tablet to play movies are all good ideas for on flight.
Wear Baby if You Can
You will save yourself some sanity if you can wear baby instead of carry him or her everywhere. Having those two hands free to carry items and not worry about carrying the baby will be a big relief while you're loading the plane. Not to mention, if baby falls asleep as you're flying you have somewhere to put him or her. Plus, babies feel a lot safer in your arms.  We love traditional baby carriers, as well as the cloth sling styles that have gained popularity in the last few years.  This is by far one of the best tips for flying with babies that we have personally used.
Fly in the Morning
You can't possibly control how a flight will go. Flying in the morning will help you and your baby in more ways than you thought possible, mostly because you both are well rested and you can deal with the stress a little better. It's almost impossible to fly your baby around their nap schedule because flights are so unpredictable, plus a delayed nap can cause a cranky baby. Might as well fly when you both are happy and ready to face the day!
Flying with a baby is different with each flight and baby. Know what makes your baby happy and what keeps them calm. Do the best you can and try not to worry about those around you!
Other Great Travel Posts: 
Tips For Using Public Transit While Traveling
10 Tips For Cutting Expenses While Traveling
5 Items To Never Travel Without