Are you wanting to go out to eat, but are broke? Since it is all too common for us, here are some tips for going out for dinner on a budget.  Well, I know broke is putting it just kind of out there. No one likes to be "broke." Often, it isn't even that you are literally broke as much as you are being responsible for the money you spend.  So we'll call it being on a budget. Basically, you have 6 people to feed for like $20. What is a girl to do? Here are several tips for going out to eat on a budget.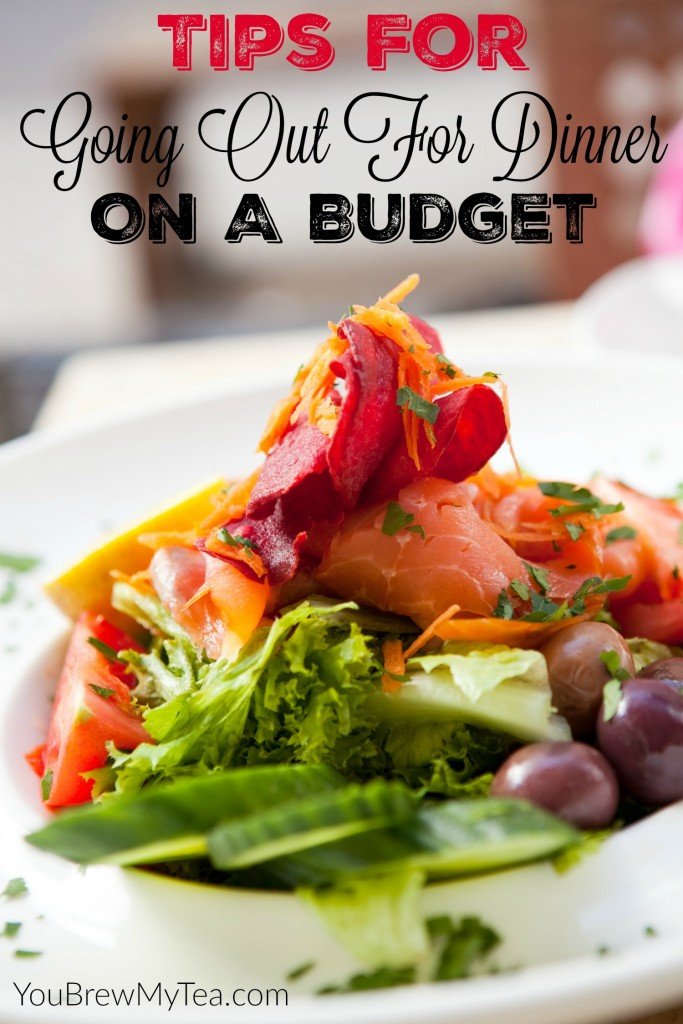 Tips For Going Out For Dinner On A Budget
Share a Plate
Restaurants love it when you share a plate. I'm kidding, they really don't. I think the waiter goes into panic mode. Sharing a plate is one way to save money whenever you're on a budget. I try to get my husband to do it with me, but he's not having it. My little boys still share a plate though. I tell my kids that I don't know how I'll afford to take them out to eat when they need to start ordering their own food.  Choose an entree that has two sides and is a bit larger and you can both eat a decent portion without spending so much.  Often smaller meals are in the $8-$10 range but a larger entree will be $10-$12.  For just $2-$4 more you can have enough to feed both of you easily.
Order the Appetizer
This one may seem like it isn't a good choice, but in fact, it can be a great way to feed a family.  If the restaurant you are going to has a sample platter you can spend $8 on it instead of $5 for each kid.  They usually come with 2-3 choices and each child can enjoy what they want and be full.
Order Water
Oh man, this really makes you look like a cheap person, but what am I supposed to do? Order 5 drinks at $2.50 each? No thanks! If my family is going out to eat, we're ordering water. It's cute to share a drink when your kids are little, but it's frowned upon when you are adults. Hey, adults can drink an average of 10 Pepsis a minute.  Ignore the rolling eyes of the wait staff and order water.  Ask for lemon if you want a little twist with it.
Go Before Dinner
I don't know what genius decided this, but if you go to dinner BEFORE dinner starts, you can save a ton of money. Let's say you get hungry for dinner at like 4:00, you can save a ton of money. And then you can go home and eat Ramen Noodles at 6:00, which is what you should have done to begin with.  Seriously, though, going earlier, you can often get the lunch menu prices, or happy hour prices.  Not on drinks, but the fun bar food like appetizers and similar at half price.  Definitely worth the trouble of going out early.
Use a Coupon
Many chain restaurants have great coupons for free items available when you sign up for their email subscription.  These are usually buy one get one entrees, free desserts, or free appetizers.  We love using the free appetizer and buy one get one coupons to make our money stretch just a bit further.  A meal at one restaurant in particular that often sends out free chili cheese queso and chips with an entree purchase is easy for us to eat at as a couple for under $15 by splitting a meal and sharing the appetizer.  That often even includes the tip depending on if we hit lunch or dinner.
Going out for dinner on a budget really is possible. It's hard to not look cheap, but hey, you're on a budget. Don't feel bad about ordering water or sharing a plate with your spouse. If the restaurant has a problem, tell them you can take your $20 somewhere else.
Check out some of our other favorite budgeting tips! 
7 Tips For Budget Friendly Vacations
How To Go To Disneyland On A Budget
10 Ways To Cut Your Budget Without Coupons
Budgeting Tips For Stay At Home Moms