Moving cross country into a new home is exciting for both kids and adults. Usually, kids feed off of the excitement of the adults. My kids were so excited the last time we moved, probably because of the fact that my husband and I were overly elated. Even though our move was just a short distance away, I wanted to share how you can help kids manage to move to a new home.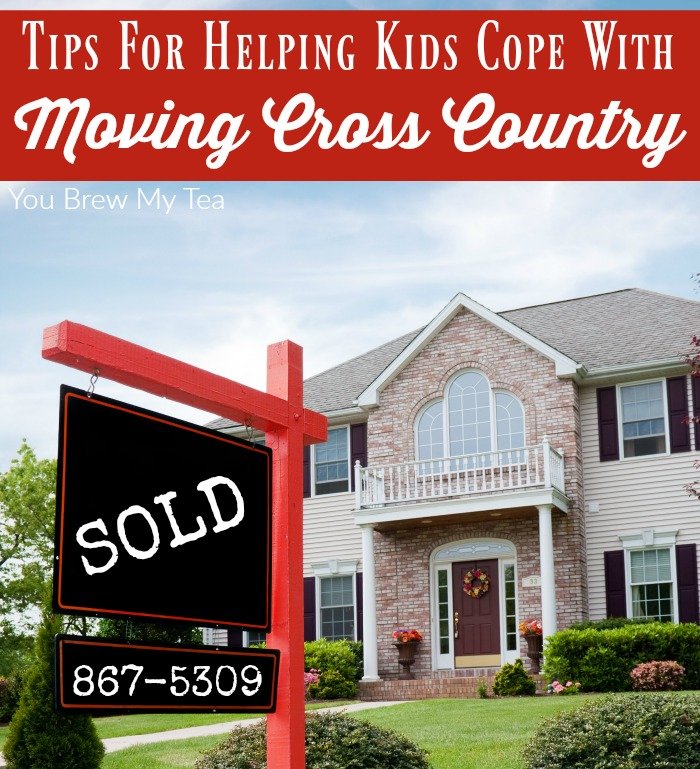 Tips For Moving Cross Country With Kids
This post contains affiliate links. 
We have moved 3 times in the past 4 years. Just recently, we settled down and bought our own home.  Katie is in the process of a much longer move (closer to me too – yay!), but the principles are definitely similar.  There are many things you can do for your kids to help make this new home transition easier to manage.  Check out our tips below!
Talk to your kids about it
One way you can help your kids manage to move into a new home is by talking to them about it. Don't surprise them with anything, especially when moving cross country. Be open and honest and let them know the play by play. You don't need to tell them the stressful stuff. But you can talk about when you will be moving and where.  Getting them use to the idea is vital to their understanding and ability to accept this change.
Stay positive about moving
Moving can be really stressful for anyone. Make sure you stay as positive as possible during the move. Keep the negativity away from the kids and let them see the fun side of moving. Let them help pack. Allow them to draw pictures of your new home and everyone living in it. The more positive you are – the more positive they will be.  Keep stressful things behind closed doors so your children aren't worried about struggles but are excited about the
Let them help on moving day
It is easy to think that kids are annoying during a big move, but it doesn't have to be that way with your kids. In fact, you can allow them to help on moving day. Assign them chores and reward them for their hard work. You can give them tasks like cleaning up toys, moving empty boxes, or helping to pick trash up off of the floor.  If you are moving cross country, you can easily get your kids things like a map, atlas, or other travel tools to let them help you navigate the trip. National Geographic makes a really inexpensive and fun United States Kids Atlas that is easy for them to use on the road.
Visit the new house often
If you live close enough, visit your new house often. When we moved this last time, we visited the house as often as we could. It gave the kids a sense of hope and excitement and it let them know that the day was getting closer and closer.  If your new home is too far to visit regularly, you can take some pictures and have those handy to show your kids each day.  You may also want to take a video of the new home to show them.  If they can get familiar with the layout of the new home, it will help them to become more comfortable on moving day.
Let them be sad.  
One thing about moving cross country is leaving not just your home, but friends and family behind.  For may people they are actually moving closer to their family.  For others, it is a move that takes them somewhere that they don't know anyone. Let them grieve the loss of their old home, but also take the time to show them all of the great things about their new home.  If possible, you can even arrange playdates or a meet and greet with local kids before the move.  This helps make it seem less daunting and more exciting.
Moving cross country can be a wonderful thing for most families.  Doing so with kids can be difficult at times, but these tips can definitely make that process easier to manage.  This, along with a lot of clear communication can make a great move happen for your family.
More Moving Tips: