We live in an older home, and frankly the master bathroom is tiny.   These tips for organizing small bathrooms have really helped me to keep things neat and orderly while not feeling so cramped.  This helps me to manage until we can afford to move to a different location in the future.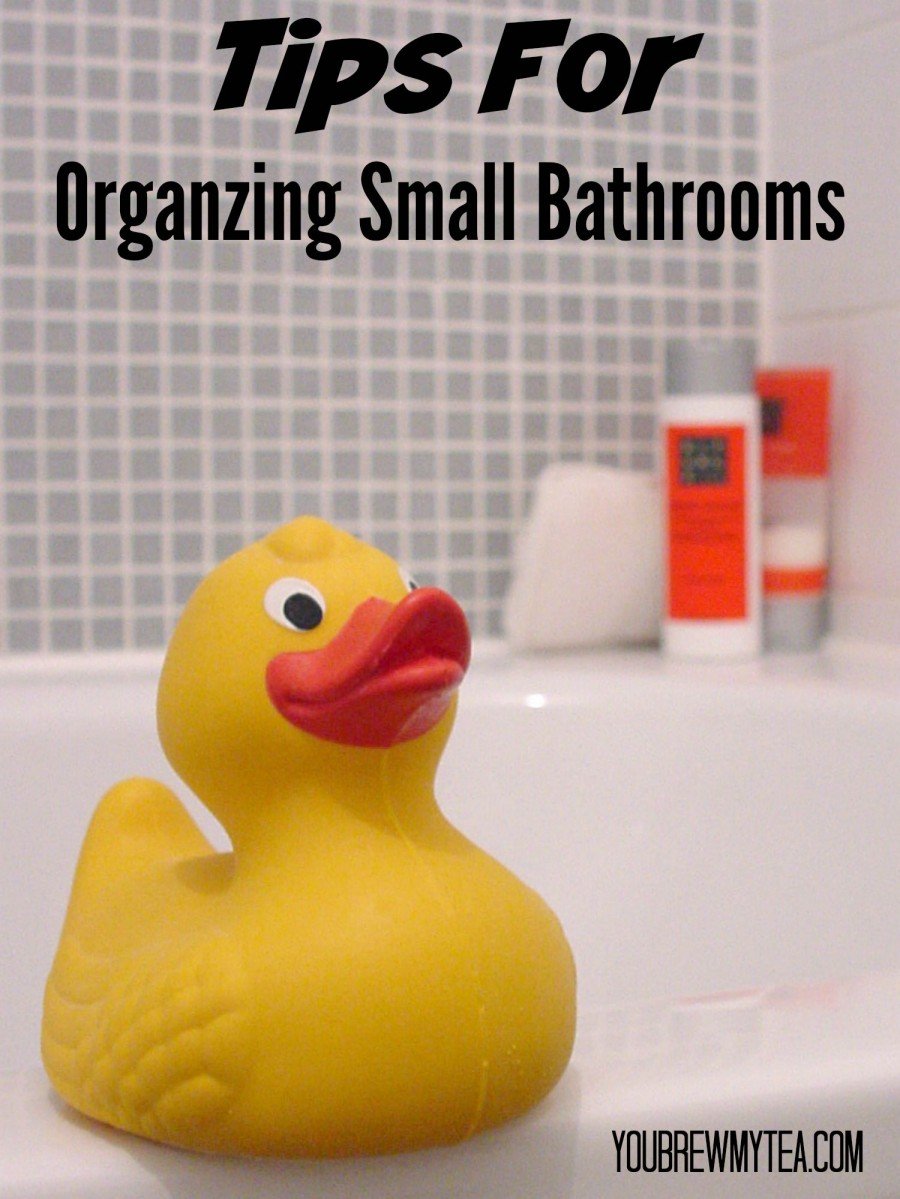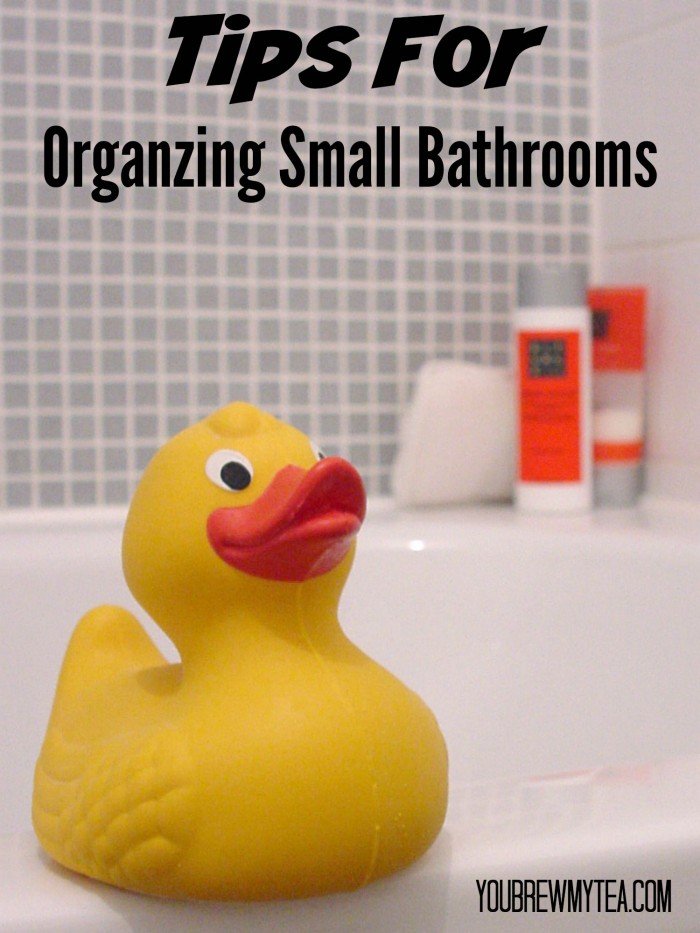 Tips For Organizing Small Bathrooms
This post may contain affiliate links.
Our son has the larger of the two bathrooms in our home, and if the master bathroom wasn't in suite, we would definitely be swapping him for it. We have a ¾ master bath which means there is a shower and no bath.  While it is functional for our needs it can be very frustrating to deal with.  Being a smaller bathroom means we have to juggle to keep everything in place.  Especially since we have only one drawer and very little cabinet space.  Here are some great tips for organizing small bathrooms on a budget.
Use over toilet storage: In small bathrooms, using an over toilet storage unit that can go behind and above your toilet can make a huge difference.  Storage shelves are my favorite since the open shelf gives you just a bit more room for storage.  They are great for holding extra towels, washcloths, soaps and even just a nice decoration like a potted plant or candle.
Streamline your product usage:  If you are limited in the number of drawers or cabinets in your bathroom, it may be time to get rid of some of the extra stuff you have, "just in case" you might need it.  Go through your makeup drawer and eliminate items that are more than 1 year old (including nail polish).  Next you can go through what is left and choose just what you actually use on a regular basis.  Change to a hair care product that has a mouse or gel with heat protectant included so you aren't using two different products.  You can even buy multi-purpose cleaning sprays so you aren't storing multiple bottles under your bathroom sink.
Store extra towels and supplies in a different area:  Use your linen closet for things like extra towels, soap, shaving gel, razors, body wash and even your first aid kit.  Keep items away from small children that should be locked up, but using a different part of your house to store them is a great solution to free up space in your small bathroom.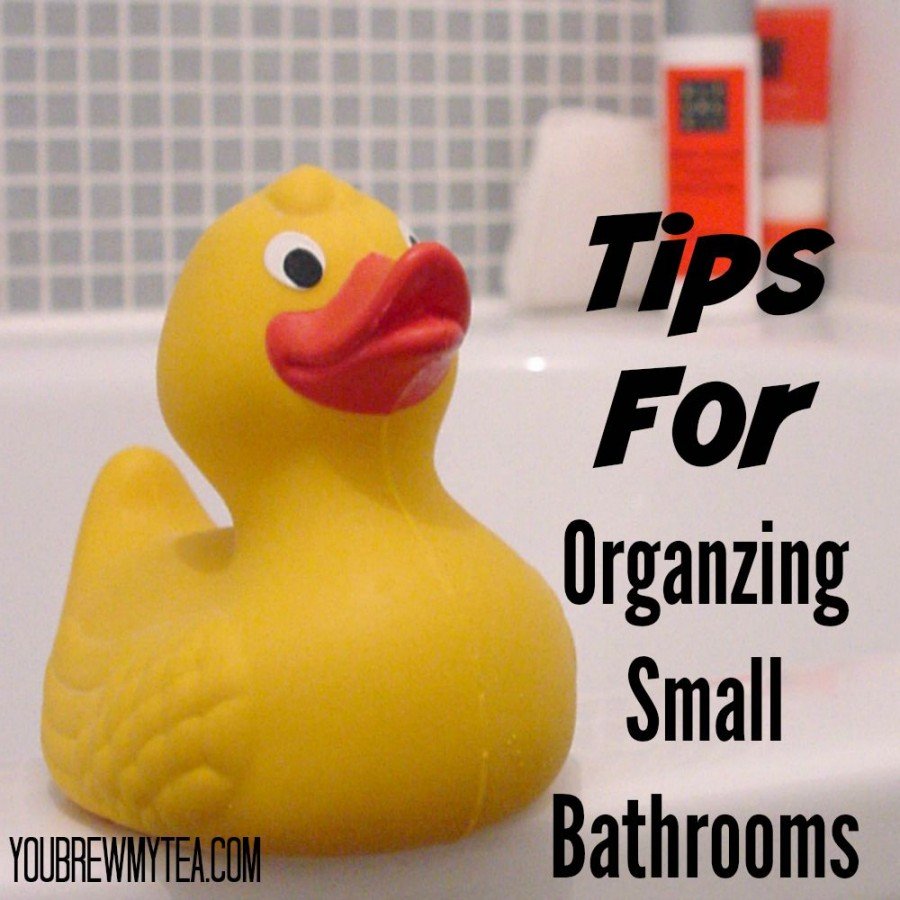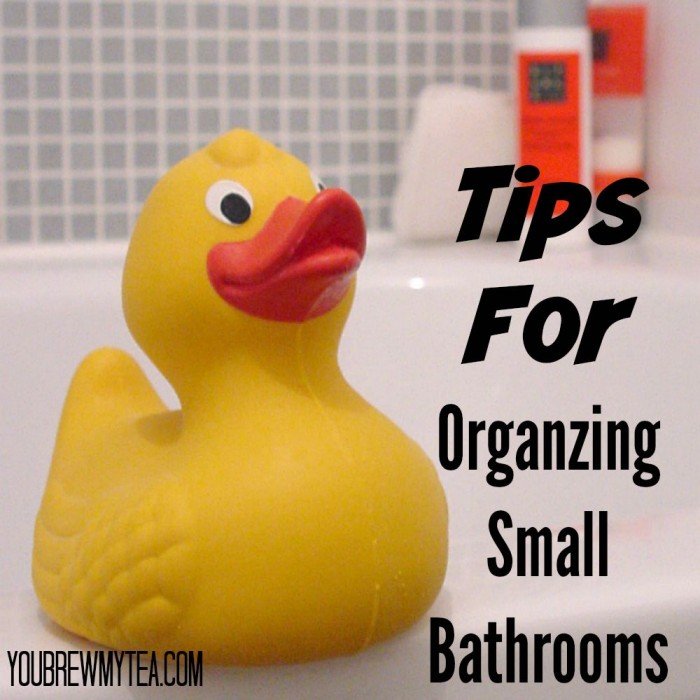 Use the right in cabinet shelving:  Inside your bathroom cabinets, you may have extra space to utilize that is currently being wasted.  Add in an appropriate shelf and double your storage for items that are shorter in under sink cabinets. I like stacking shelf organizers for this purpose, but you could even use a can organizer if you preferred.
Check out some other great organizing tips below!
Ultimate List of Cleaning Hacks & Tricks
Organizing Your Kitchen plus Free Canister Labels
Work At Home Organization Tips