Geek culture is truly unique.  It isn't just one thing, but many.  Geeks, nerds, dorks, they are different in many ways, yet all unique and the same.  For the geek that loves all things tech, science, sci-fi, anime, and of course, comic, there are some great travel destinations to consider.  We've visited a few of these places and have the others on our bucket list.  If you are trying to come up with a geek culture travel destination that will be fun for everyone in your family – this is the place to begin.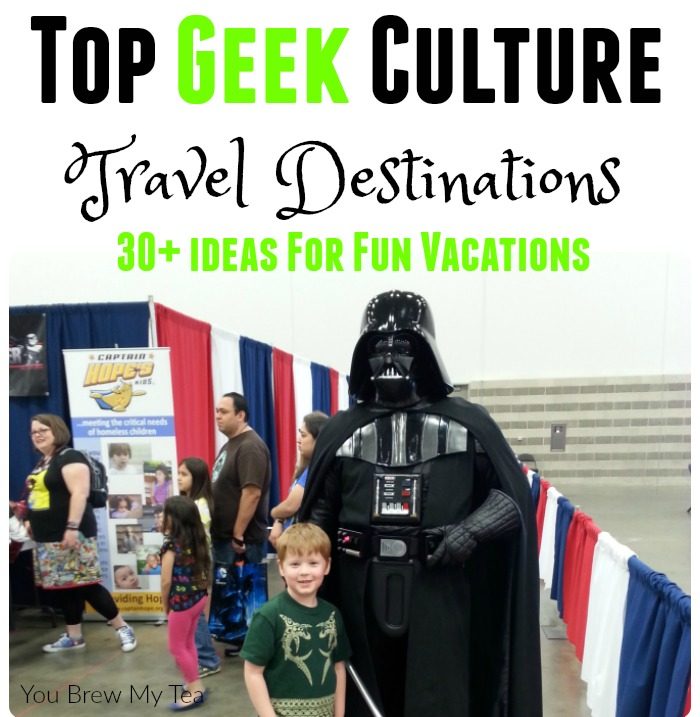 Top Geek Culture Travel Destinations
This post contains affiliate links.
These travel destinations are ideal for helping embrace the geek culture in your life.  Whether you choose a science-based venue like one of the many museums or hit up an amusement park that features a ton of great comic book heroes, this list embraces geek culture at its best.  The idea is to have fun learning, exploring, and experiencing things that are important to the geek, nerd, or dork in your life.
United States Space & Rocket Center:  Located in Huntsville, Alabama, this museum and space center is the location of space camp for many groups.  View a full-sized shuttle, sit inside the capsule an astronaut sat in as they orbited the Earth, and experience the many changing exhibits that encourage education through fun.  We spent a full day there a few years ago and wished we had longer.  It was truly an amazing experience.
Kennedy Space Center:  Seeing the location of launches up close and personal is an experience any geek will enjoy.  There are many educational resources, guided tours, and even the chance to have lunch with an astronaut. Only a short drive from Orlando, Florida, this is ideal for an addition to any family vacation.
Cosmosphere:  Located about an hour from Wichita, Kansas, this museum and space center is chock full of amazing historical memorabilia from NASA and the space missions.  Tons of tours, interactive programs, and educational options for all ages.
Smithsonian and the Smithsonian's National Air And Space Museum:  A classic in the heart of Washington, D.C., the Smithsonian is the ideal location to see a little bit of everything. It definitely appeals to the science geek, political geek, and just anyone who enjoys learning more about the history of the world.
Very Large Array:  In every aspect of geek culture, the Very Large Array and the rows upon rows of satellites is on top of their list of travel destinations.  Featured in movies like Contact, and well-known for the space facing satellites, this is a geek culture icon.
Kitt Peak National Observatory and McMath-Pierce Solar Telescope:  This is the ideal destination for anyone who has an interest in astronomy.  My Beau has visited in the past and says it is breathtaking.  Located shortly outside Tuscon, Arizona, it's a great addition to any tour of the state.
Mercer Museum:  This museum contains a great collection of artifacts from the pre-industrial age.  It's a great look at how things operated before industry took over.
Strataca Kansas Underground Salt Museum:  Located a short drive from Witchita, Kansas, you can easily tour this underground salt museum.  Tons of history about salt, mining, and the state of Kansas.  It's a fun experience that is kid-friendly and geeky enough for just about anyone to enjoy.
Google Campus:  While there are tours and special events that allow you to check out the inner workings of the Google Campus outside San Jose, California, just driving by is a great experience.  Google Maps is integrated so that when you drive to the campus, your path on the GPS map of your phone will then change to the fun Google colors for a few hours after your visit.  That alone makes the trip there using your Google Maps worth the drive.
The San Diego Museum of Man:  Located in the heart of Balboa Par in downtown San Diego, this is one must-visit on any trip to the area.  My Beau grew up in the area and has visited many times.  It's a perfect look at race, culture, religion, evolution, and society over the years.
Salton Sea:  Another Southern California landmark, the Salton Sea was one of the largest inland seas created by man.  It became a must-buy real estate destination and resort community, that overnight withered beneath conditions that destroyed the wildlife within the sea and area around.  There are documentaries and many pages of information online about this area and the unique history it holds.
Palomar Observatory and Hale Telescope:  Part of Caltech University, the Hale Telescope has been a wonderful tool to view the stars.  This is a fun place to visit and learn more about the study of our solar system.
The Museum of Science & Industry:  Whether you are curious about how things are built, or you want to understand the science behind weather patterns and climate change, the Museum of Science & Industry in Chicago has a wealth of information and exhibits everyone will love.
The Field Museum:  Another great place to visit in Chicago, The Field Museum brings society and culture to a place of education that anyone can understand and appreciate.  Their exhibits focus on telling the story of life and educating in science.
The Exploratorium:  San Francisco has tons of amazing geek culture travel destinations, but one that the entire family will thoroughly enjoy is the Exploratorium.  This fun interactive museum is chock full of old and new experiments that are ideal for a day of play time with the kids while satisfying your inner geek. They also have special adult only nights if interested.
The Neil Armstrong Air & Space Museum:  The astronaut everyone admires is the focus of this great museum in Ohio.  With a strong focus on the NASA programs, but plenty of information on space, science, and airplanes, this is a great geek culture travel destination that everyone will enjoy.
The Computer History Museum:  We visited this museum a few years ago when we had some free time before a conference in nearby San Jose, California.  It goes back in time to the first computing device, the abacus, and walks you to modern day computing.  Tons of great historical devices on display with great information and videos throughout to help you see and learn more about the history of computers, micro-computing, and the history behind some of the big names like Intel, Apple, and even Google.
The Titan Missile Museum:  I remember seeing this mentioned in the show Breaking Bad, so I had to add it to my list.  This is a unique museum that has the history of missiles and heavy armor. Perhaps not the place to take kids, but a great education and fun time for a history or military geek.
The Meteor Crater:  We stopped by here last year on our way home from California.  A few miles from the Grand Canyon, the Meteor Crater is a fun little museum and experience in the middle of nowhere.  You can take tours to walk around the crater or view from inside the building.  It's seriously huge and much bigger than you imagine.  There is a short video about the history, tons of fun things in the museum and even some interactive options for kids.
International Spy Museum:  Does this really need any more introduction?  It's a museum about spy missions!  Geeks will love this destination, and since it is in Washington D.C., you'll probably find out a lot more about military spies than you ever imagined.
Legoland:  Our two favorite locations are the Legoland California Resort and the Legoland Florida Resort.  These are both larger with a more theme park atmosphere.  Yes, Lego's are traditionally for kids but these parks have tons of fun sculptures, interactive play, rides, and the giant Lego store.
The Intrepid Sea, Air & Space Museum:  If you are in New York City, this is the place to go for all things sea, air, and space.  It's a great look at the history of transportation by sea, air, and space.  Tons of fun, and available on the New York CityPASS. 
Skywalker Ranch & Lucasfilms:  While they don't offer public tours, it is often a place people like to drive and snap a picture outside the gate. Just a fun tourist attraction.  North of San Francisco is this location, or you can visit one of their in-city location offices.
UFO Festival in Roswell, New Mexico:  If you can manage to attend the festival, it's a great time to be had for the entire family.  If not, visiting the city of Roswell can be tons of fun and a great photo opportunity for those alien conspiracy geeks.
Metropolis, Illinois:  Visit the city that is not the one from the comics, but is styled with many statues and tributes to Superman.  Just a fun stop along the way of many travels. There is even a Super Museum!
Wizarding World of Harry Potter: Muggles from around the world visit the Universal Studios experience in both Orlando and Hollywood.  Buy a wand, go down Diagon Alley, or drink a Butterbeer with friends.
ToonSeum:  Located in Pennsylvania, this museum is dedicated to the animated cartoon.  It's a super fun place to visit with your budding artists, kids, or just comic fans.
San Diego International Comic Con:  This ultimate comic book fan experience is also a great place for sci-fi fans, and just geek culture in general.  There are many Comic Con's around the nation to attend, but this is the best of the best.
Geppi's Entertainment Museum: Located in Baltimore, Maryland, this museum has a massive collection of comic books, movie memorabilia, movie posters, and pop-culture history.  It's ideal for any movie geek or comic geek to visit.
Mile High Comics:  Head to Denver to visit what is called the largest comic book store.  With a vast collection of both new and old comic books, this is just a wonderful place to visit to buy some new books for your shelf.
Hall of Heroes Museum:  This is the ultimate superhero fan museum.  Tons of artifacts, information, collectibles, and of course, the history of the modern day superhero all in one location.  Located in Indiana, it's a great little stop on any road trip journey.
Toy & Action Figure Museum:  Located a short drive from Oklahoma City in St. Pauls Valley, Oklahoma, this is another fun stop along the way of any road trip.  Action figures, toys, and he history of their progress all in one fun location.
As you can see, this list includes some amazing geek culture travel destinations.  From museums to interactive locations and even entire cities, this list has something for everyone.  Geek culture is a huge part of our life, and we love sharing those fun road trips with you.
More Great Travel Destinations: