We love upcycling things that would typically be trash, and this Upcycled Milk Carton Gnome or Fairy Garden Home was a great project for the kids.  The kids and I love buying cute little pieces for our gnome and fairy gardens but they can start to become costly so sometimes we turn to our craft stash, backyard, and recycling bin to create new features.  This cute little "Gnome Home" my son and I crafted from an old almond milk carton, and some treasures from our yard was tons of fun and very inexpensive.  This is perfect for an afternoon project to occupy your kids this summer!
Upcycled Milk Carton Gnome Or Fairy Garden Home
So, if you have an itch to create a welcoming abode in your garden for gnomes or fairies then grab some supplies and let's get started, this project cost me nothing as I had everything on hand- gotta love free!
You will need: 
A clean, empty milk carton
spray or acrylic paint
sharp serrated knife or straight edge razor
hot glue gun/sticks
collected yard treasures- leaves, pine cones, acorns, bark, pebbles, etc. or craft items from your stash!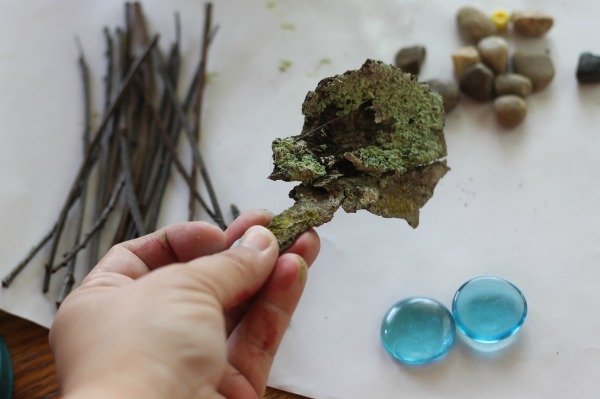 Here we go:
Wash your carton well inside and out, I like to swish a little bleach and water inside to clean it.
Dry completely.
Cut carton in half or how tall you like it to be, take your carton outside and place on newspaper or similar.
Spray well with a light coat of spray paint, you can also paint by hand with acrylic paint and a brush, we were aiming for quick, allow to dry for 5 minutes, continue adding coats until well covered.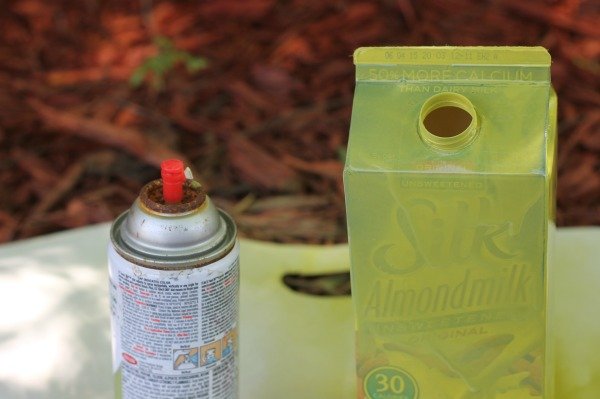 Allow to dry for 1 hour after final coat.
You can use found items in the home like buttons, ribbons,  paint pens,  glass beads, pony beads, string, stickers, or anything else on hand. We took a basket outside and hunted for treasures in the yard so it would have more of a natural look.
My son found this hunk of tree bark and declared it a perfect door.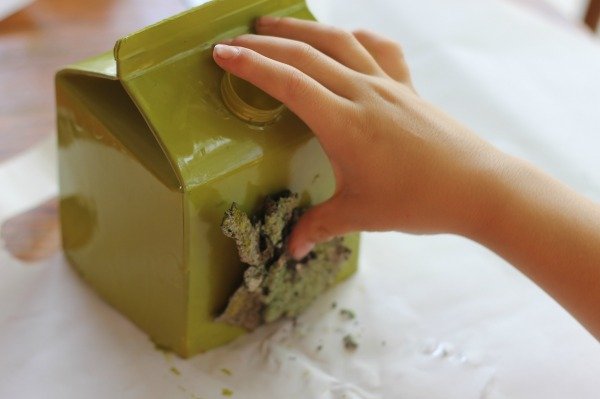 Next I added a generous amount of hot glue to a portion of the roof and let him add sticks holding them by the tips to  be safe, he never even had to touch it.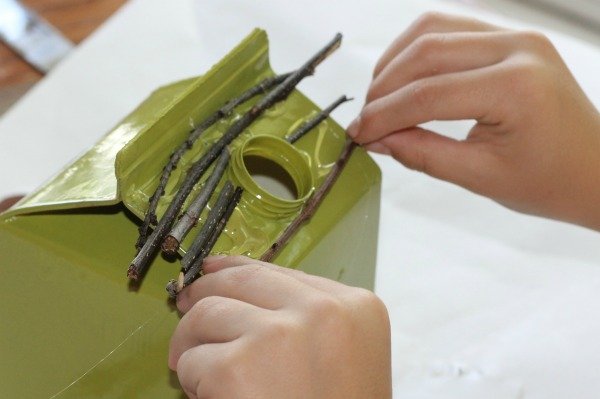 We thought the spout looked like a chimney but needed a little help so again I used the glue gun  and he placed small smooth stones to build it up (these were actually purchased by the bag at Dollar Tree for our sensory bins) .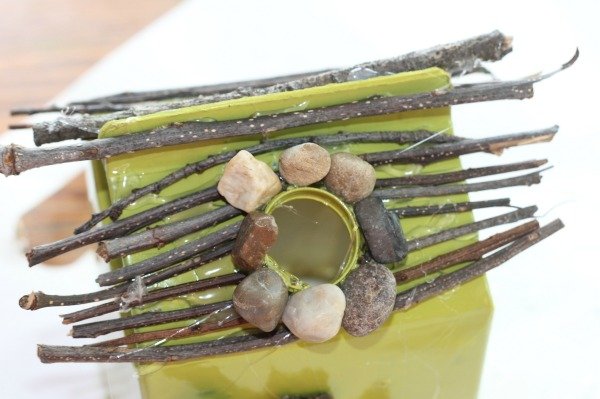 Let your child add whatever decorations they like, or keep it simple.
Trim off excess hot glue strings.
If using it outdoors I would recommend a coat or two of clear sealer to help it last.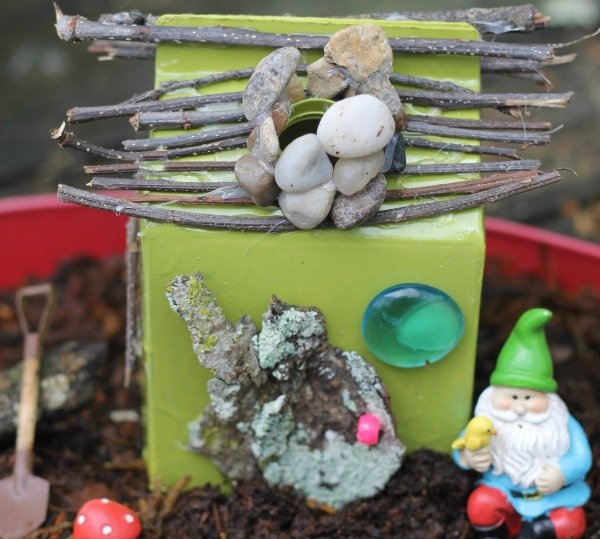 This upcycled milk carton garden gnome or fairy garden home is a great afternoon project for your kids this summer.  Not only will they be excited to make something themselves, they can quickly and easily make it truly unique to their personality.   We love the idea of building a creative and imaginative miniature home for pretend play.  This is not only a great way for your kids to spend their time this summer, it can be an excellent way to build their imagination.
Check out some of our other favorite projects for kids!
25 Outdoor Crafts & Activities For Kids
Upcycled T-Shirt Super Hero Cape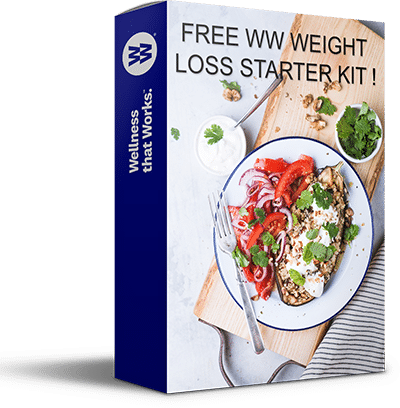 FREE WW WEIGHT LOSS STARTER KIT
+ exclusive tips, recipes & more to lose weight, increase confidence, and live a healthier and happier life !