This fun and easy cape will keep your little one busy for hours and doesn't cost a penny!  My little boy is like most of the little boys on the planet, he is enamored with super heroes and all they entail- capes,  masks, super powers, and cool names.   I am in love with free projects like this Upcycled T-Shirt Super Hero Cape  that satisfied both our needs.  An old t shirt of my husbands, scissors, and a bit of felt created this fun, colorful super hero cape that is one of his current favorite items for play. I am calling this a no sew project but there is a TINY bit, it is painless I promise,  the t shirt will curl a bit on the cut edges but shouldn't  fray- but to keep your velcro secure you need to sew it on with a few tight stitches.
UPCYCLED T-SHIRT SUPER HERO CAPE
This post may contain affiliate links. 
You Will Need:
scissors
hot glue or fabric glue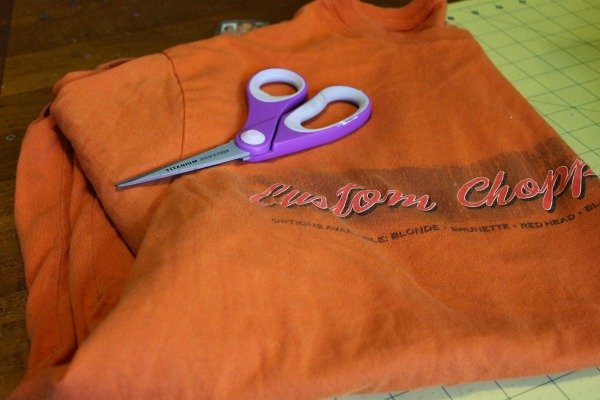 If you want to make a pair of matching cuffs you will also need 1 empty toilet paper roll.
 Directions:
On the front of shirt cut just under the seam of the neckline, leaving it intact and then across the shoulder .
For the sides cut through both the front and back about 3″ in from side seams.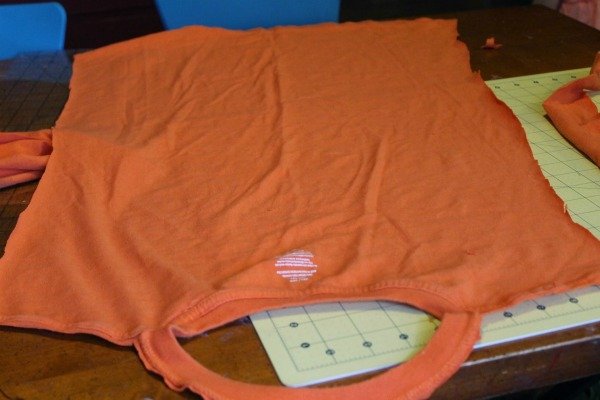 You should now have  a basic cape shape from your t shirt.  You could leave it just like this and let them loop around their neck as is, but I wouldn't recommend it, you want it to be able to rip away in case it gets hung up on something so cut it right in the  center and then cut 1″ off each side. Sew a small piece of velcro by hand onto the top of one half of cut collar, and then the other side of the velcro onto the opposite side of the neck.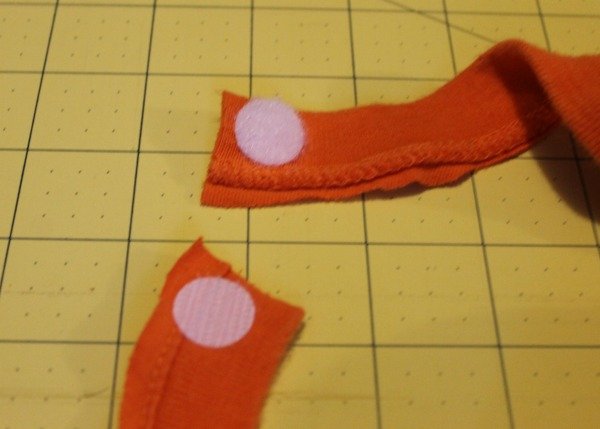 Now the really fun part of this project that your kids can become the leaders on- the super hero symbol.  Sketch out your design first on paper with your child, then trace onto felt and cut out.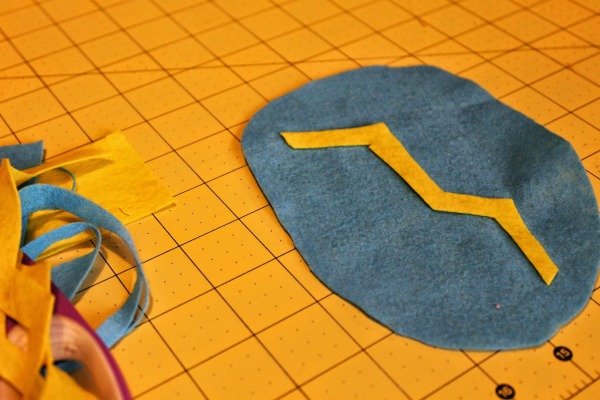 Glue your symbol to the back center of the cape.
If you want to make a set of matching cuffs it is really simple –
Cut an empty toilet paper roll in half.
Cut t shirt fabric to 5″ x 5″, wrap around roll and glue into place.
Add felt accents to match it to your cape.

As you can see this FREE, 30 minute project was well worth the little bit of effort it cost me.   He adored it and soared from one end of the yard to the other defeating arch enemies and evil nemeses for hours.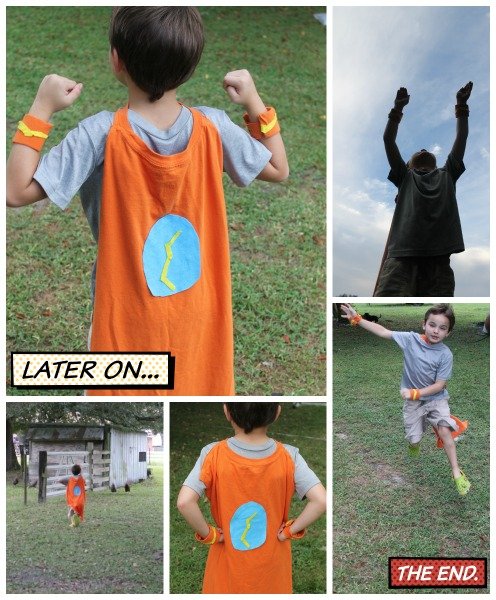 This Upcycled T-Shirt Super Hero Cape is sure to be a hit for the holidays too!  Not only can you make this now as a fun surprise for your kids, you could make it and put under the tree this year too!  There is nothing like a fun super hero cape to make your kids feel special!
Check out all of our other great DIY and Crafting Projects for great gift ideas!
Denver Broncos DIY Upcycled T-Shirt Scarf
Whipped Gingerbread Body Butter
Lavender Coconut Aloe Vera Shave Gel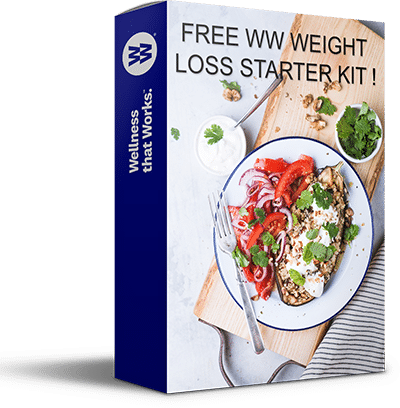 FREE WW WEIGHT LOSS STARTER KIT
+ exclusive tips, recipes & more to lose weight, increase confidence, and live a healthier and happier life !