As a BookShark ambassador this year, I am really excited to share the Reasons We Love BookShark History Level 6!  This curriculum is so comprehensive and thorough, while also fitting into our budget.  It's also a perfect fit for children in multiple grade levels, depending on their current knowledge.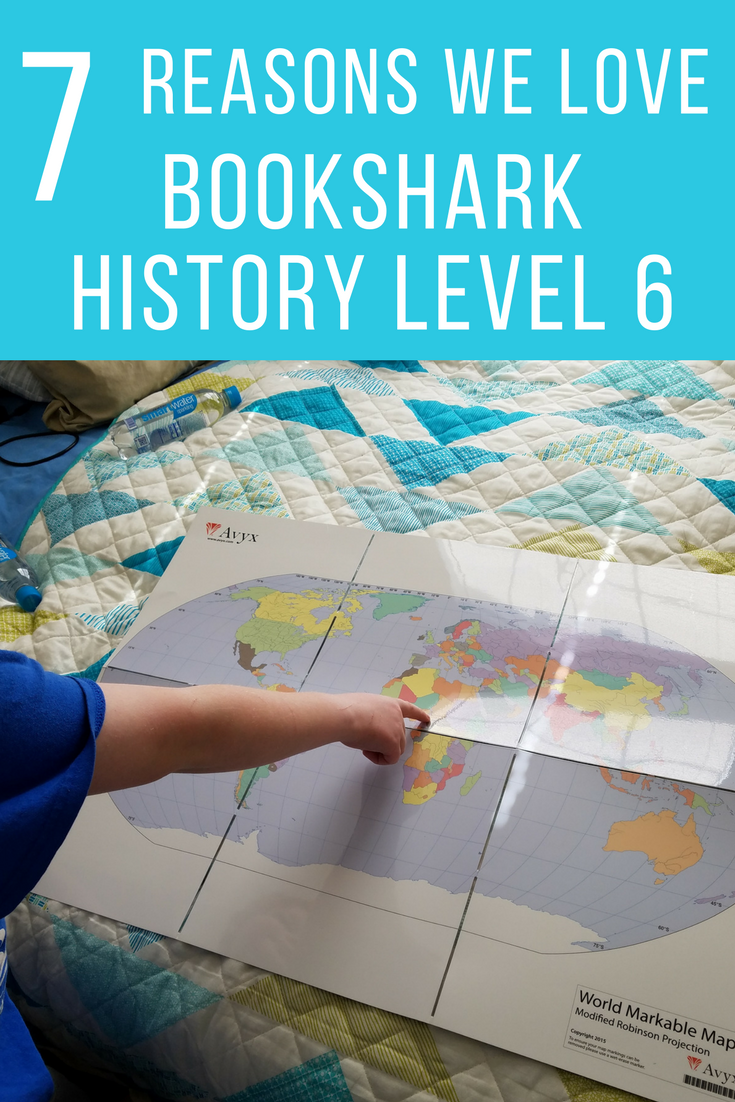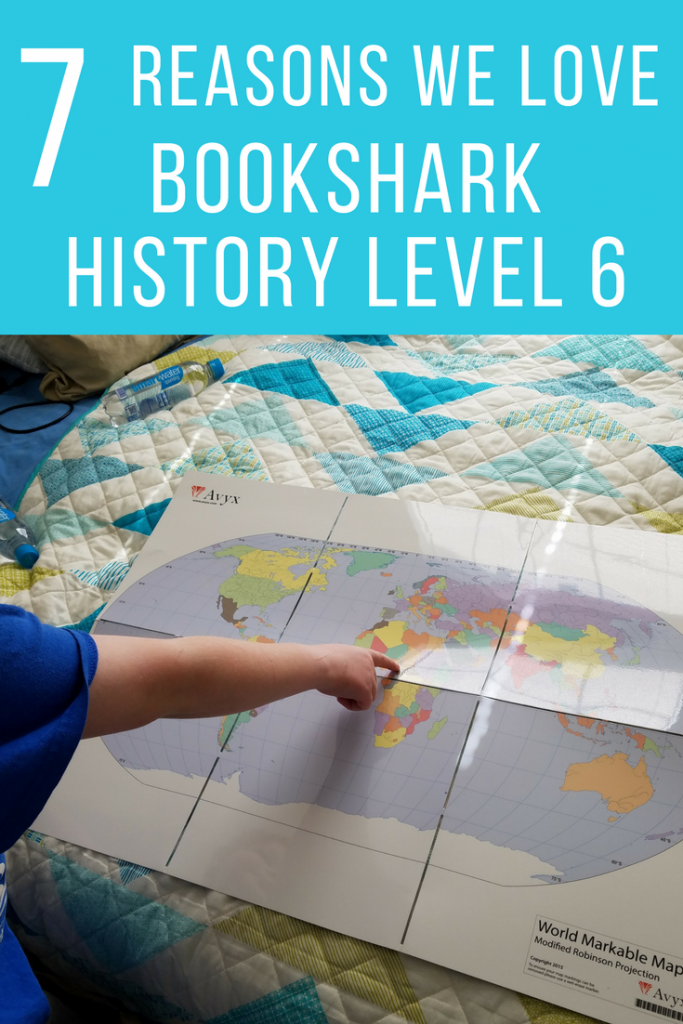 7 Reasons We Love Bookshark History Level 6
This post contains affiliate links. I may earn a commission on purchases made via these links. 
When we embarked on our journey using BookShark Secular Homeschool Curriculum this year, I was worried our son would struggle to stay interested.  History has always been a struggle for him in the past.  Not because he didn't understand or couldn't remember facts, but because he got bored very easily.  Let's face it, to a child, history just may not be so easy to find fun or entertaining.  So, I was hoping to give a positive review of this curriculum but didn't know for sure if I would be able to with our past struggles.  Let me say, I am thrilled with how easy this has been!
Engaging method of learning
One of the best things about BookShark is that the curriculum is so engaging on many levels.  Using fictional books as a base for keeping him excited about learning has been amazing.  The Wee Child already loves to read, and he digs into stories all the time.  In the last year alone, he has read over 75 books.  Adding to that collection now, are some amazing historical fiction accounts of things that fit perfectly into this timeline.
One of the best parts is that he loves the reading sessions so much that he asks for that first in his school day.  In fact, on a few occasions, we've gotten so interested in the story that we went past what was mandatory reading for that day.  Now, that is engagement! We keep this shelf in our homeschool room with just the BookShark History Level 6 curriculum.  It's nice to have everything in one place, and honestly, I have caught him reading ahead more times than I can count.  That's a problem, I don't mind having.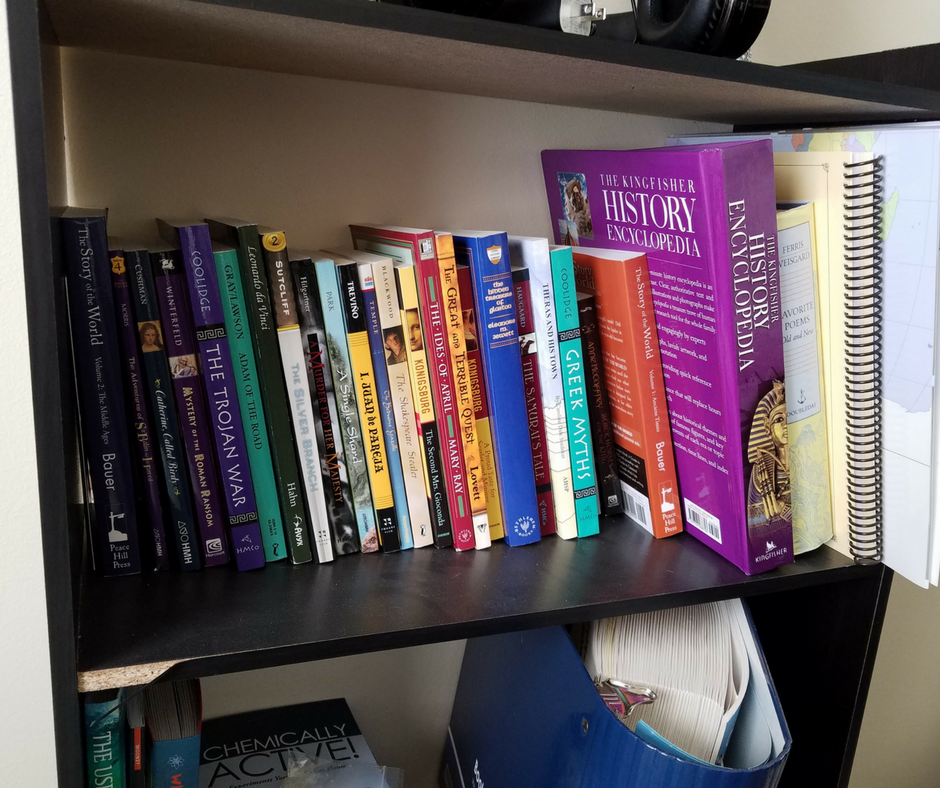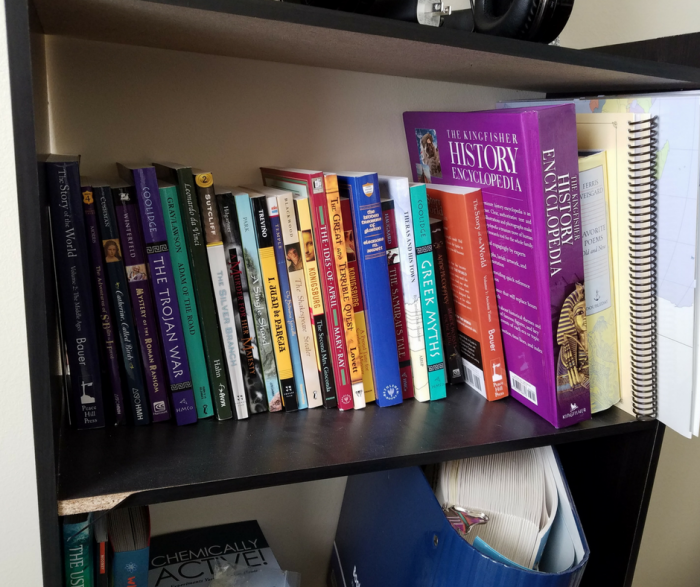 Can be self-paced if needed
With a 4-day lesson plan in BookShark, I can work with him at his own pace.  Sometimes, we speed up and do more than one day of work, and others we only do the four lessons per week.  Unlike most homeschool curriculum options, BookShark makes it easy to stay self-paced by giving that extra free day each week.  We can skip a day, or work every day.  It's totally up to him and how he feels.
Daily lessons aren't too long
Some individuals feel odd about not having a school day that starts at 8 am and ends at 3 pm.  In our family, a short school day means we have plenty of time for going to movies, hanging out with friends, playing games, and even field trips.  All of these things are a big part of the homeschool appeal for our family.
Short lessons pack in a ton of information for our son but don't take all day.  We can easily get all of his lessons for all subjects completed before lunch if we work consistently.  Alternately, we can spread it out over the course of the day if we want to do extra.  Both methods work great.
So many maps
I absolutely love seeing the visual of where something happened in the past.  The maps of the BookShark History programs are amazing.  Not only is there a current map, as shown in the picture below, but there are also great maps that show exactly what things looked like centuries before.  We have been studying the Fertile Crescent, and he thinks it is amazing to see how different the countries are now than they were in the beginning.
Teaching him with maps has been a great way to really give him a visual understanding of where things are in the world.  It has also helped him to understand more about how our world has changed due to political changes, religion, and even natural disasters and erosion shaping various continents.
Note:  We use our guest room as a homeschool room as well, so the guest bed is often where he does lessons!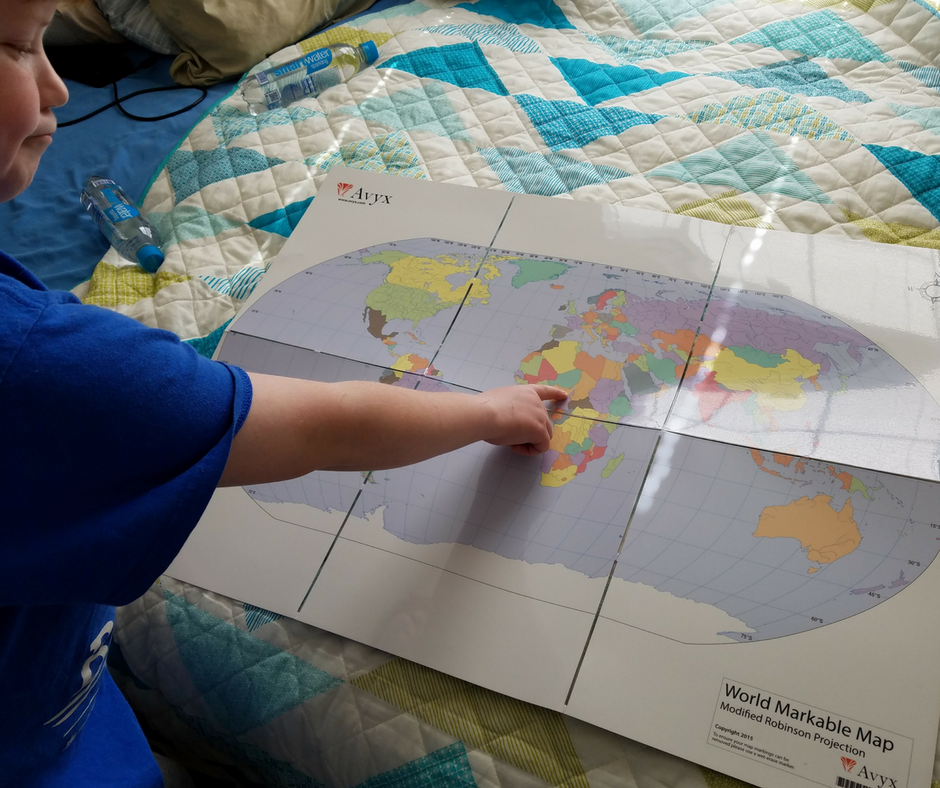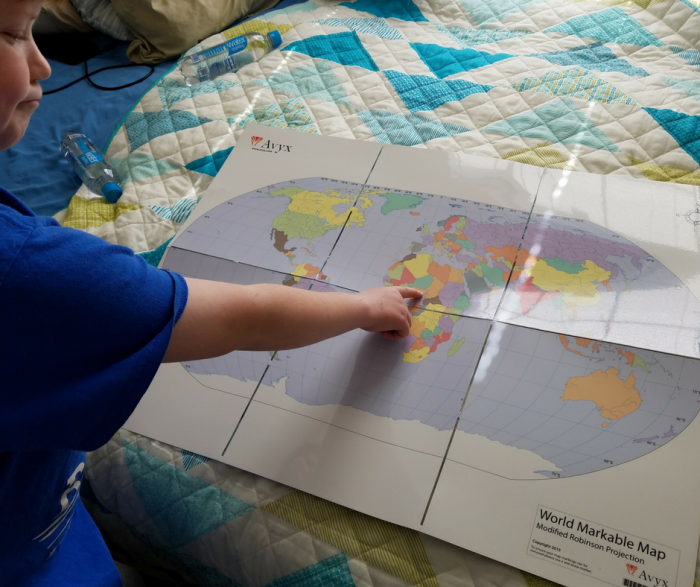 He is excited about exploring new things
Instead of dreading the annual lessons about specific common United States history facts, he is learning tons of new things.  BookShark History Level 6 is focused on ancient history.  It includes early history in Africa, the Middle East, Japan, and throughout Asia.  This is an area of history, that while mentioned in his past school experience, has not been heavily studied.
Easy to add my own worksheets if desires
While there are various lessons and worksheets included in this curriculum, it is easy for me to add additional printed items as I desire.  I love that I can include common Ancient history printables.  It's also great for using vocabulary words within the program as handwriting practice.  That leads us to my last reason to love BookShark History Level 6.
Works alongside their Level 6 Language Arts
The best part, in my opinion, about the BookShark program, is that each of the subjects weaves together with the others.  For instance, the BookShark History Level 6 coincides with the BookShark Language Arts Level 6 program.  The reading we do in our history lessons is also part of the vocabulary and language lessons in the LA curriculum.  This keeps his mind on one subject, which enforces the things he is learning in each category.  By using the vocabulary from history to practice handwriting, learn parts of speech, or even recognize how to write descriptive paragraphs, we are enforcing these in all subjects.  It's a great way repetition helps children learn.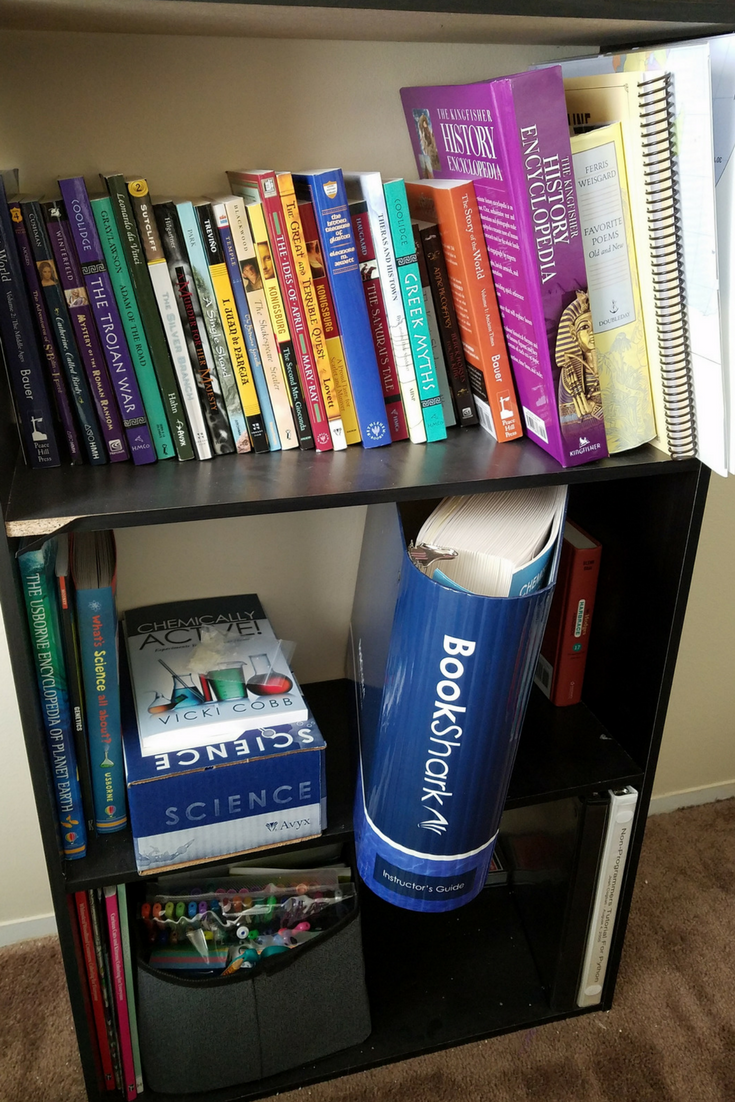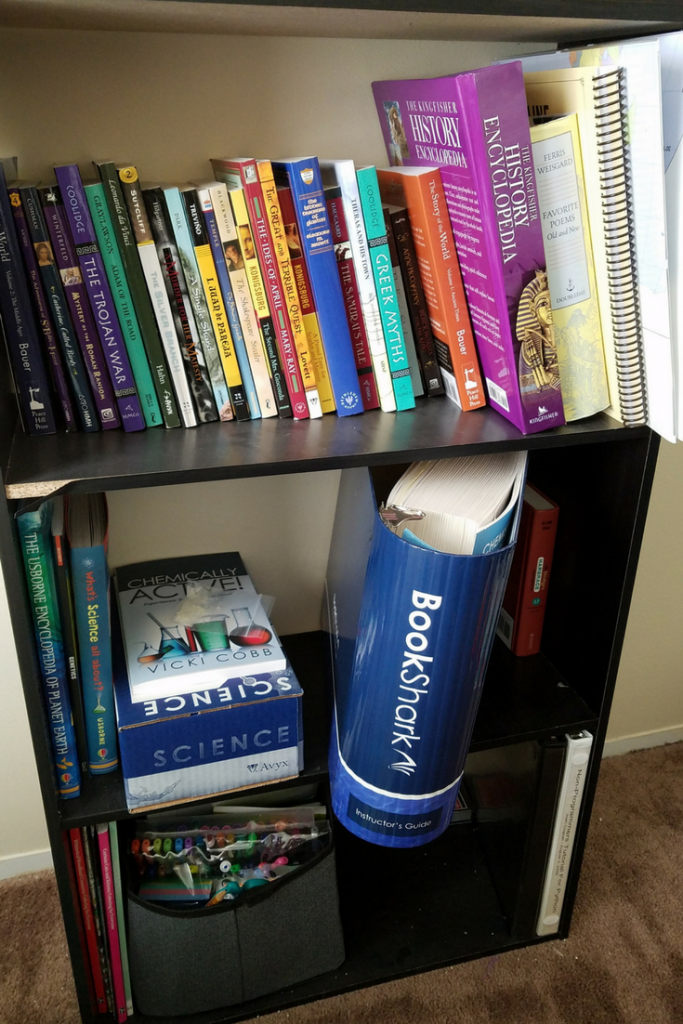 As you can tell, we are really huge fans of how much this has made history easier for our son to stay excited about.  He is learning tons of valuable information about the history of our world, and he is excited in the process.  The easy curriculum lesson plans make it simple for me to fit into my already busy routine.  It's definitely a win-win for this family!
Wondering why we started using BookShark?  Check out our list of reasons to use BookShark Secular Homeschool Curriculum.  Do you have questions about BookShark?  Make sure to follow their Facebook page and feel free to ask questions!