You will find many camps of thought when it comes to television and movies, and more specifically children and their viewing habits.  While I grew up in a home that wasn't super restrictive about our TV time, I also didn't have access to a lot of TV in my younger years as we lived where cable wasn't an option.  That said, we watched TV and some shows I recall more than others.  In our house now, TV is a regular occurrence, but it varies widely in how much time is spent there and for what reason.  We do watch movies routinely and a few fun shows are in our weekly DVR list, but we are not slaves to the television by any means.  There are even many days it is never even turned on.  While I am not here to argue the benefits of TV in general, I am her to share how Using Television In Your Homeschool Curriculum can be a great tool.  Not only can you reach your kids on a level they understand easier, but you may be able to introduce them to things you wouldn't have thought of otherwise.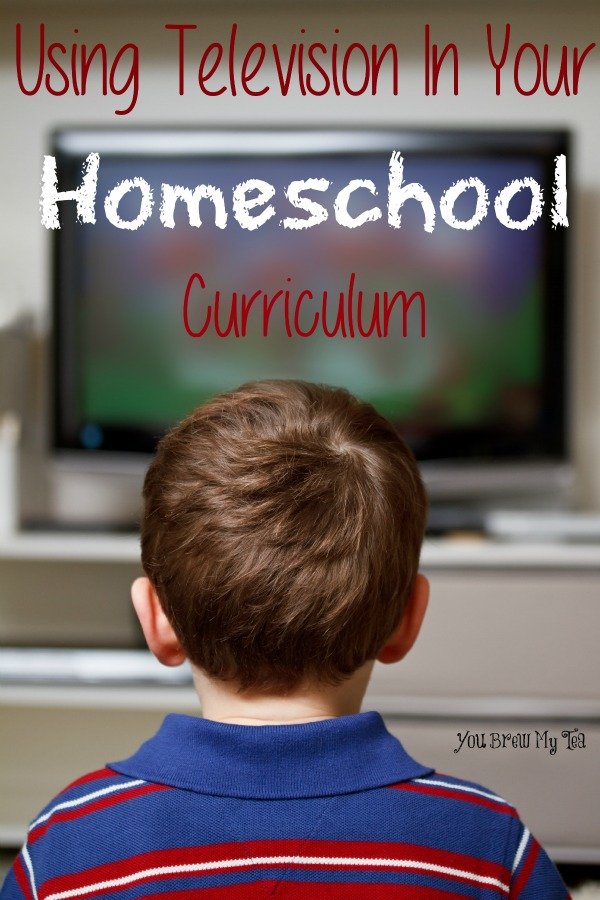 USING TELEVISION IN YOUR HOMESCHOOL CURRICULUM
Check out our Homeschooling for Lazy Parents Facebook Support Group for more tips and ways to make your homeschooling experience easy to manage!
What are the Benefits?
For homeschool parents who do not feel knowledgeable enough on some things to properly teach their child, this is a great way to help them understand.  For example, you have a son who is very interested in learning more about engineering and electronics but you do not have any knowledge in that field.  However, it would make a great unit study that could help you teach about electrical currents, gas and oil needs in society and even clean energy options.  Turning to a show like How It's Made on the Science Channel, or even History channel shows about different time periods of modern automobiles are great alternatives.  You have been able to educate your child on a subject you know little about and perhaps encouraged a future career interest in the process.
How do I incorporate television without it feeling like a babysitter? 
The easiest way to ease your mind is to actually be there with them participating.  Sit down together as a class or family to watch the shows and discuss as needed.  One of the best benefits of using select television shows for education purposes is the ease of hitting the pause button when questions arise.  The invention of the DVR has been excellent for recording series of shows on wars, culture and other great food for thought items in our house.  The recent Cosmos series update as well as the Apollo missions shows have been great for talking about various scientific things with our son.  If the show doesn't answer a question your child has, it can often lead to more research and learning.  Anything that is encouraging them to seek more information and learn more is a great thing.
What are good shows to start with?
There are a multitude of popular TV shows and movies out there that can be adapted to your homeschool curriculum.  While the list below is a great place to start, don't limit yourself.  Think outside the box and look at what stories and information are included in your favorite shows and then work to make them a part of your curriculum as well.  The best teaching methods are the ones that introduce critical thinking.  Many shows have a lesson to learn that will be prime opportunities for your child to inquire more, research and really stretch their minds.
Younger Students:
Schoolhouse Rocks
Liberty Kids
Sid The Science Kid
Word Girl
The Magic School Bus
The Waltons
Little House On The Prairie (movies and television show are excellent)
Middle Grade Students:
How It's Made
NOVA
Mythbusters
Modern Marvels
Bill Nye The Science Guy
Older Students:
Cosmos
Apollo 13
The Men Who Built America
North America
America The Story Of Us
Empire Of The Sun
The Bridge On The River Kwai
Moyers & Company (documentaries, very open political debates, etc.)
As you can see this includes a lot of classics as well as modern adaptations that are sure to bring about great questions and answers.  Always do your research to make sure that the shows and DVD's you introduce are acceptable for your child at their age and maturity level.  Some productions involving war and crime in the past can be very violent and may be disturbing to younger viewers.  Don't hesitate though to include your favorite movies or show sin the list that could give you a great teaching element.  Homeschooling is all about looking outside the box and using television in your homeschool curriculum may be a great way to help your kids overcome educational challenges.  All of the shows listed above offer some level of education that you can fit into your curriculum.  While not all will have your same belief system, faith, political stance or interpretation of facts, they will all offer a great talking point and place to begin.