This Valentine's Day Wreath is a great Dollar Store Crafts idea that my friend Allison from Crafty Mother of 2 shared with me.  It's almost time for the day of love, and a cute homemade Valentine's wreath is just what I want on my door.  She used some basic supplies, all available at a local Dollar Tree store that create a great wreath for just a few dollars!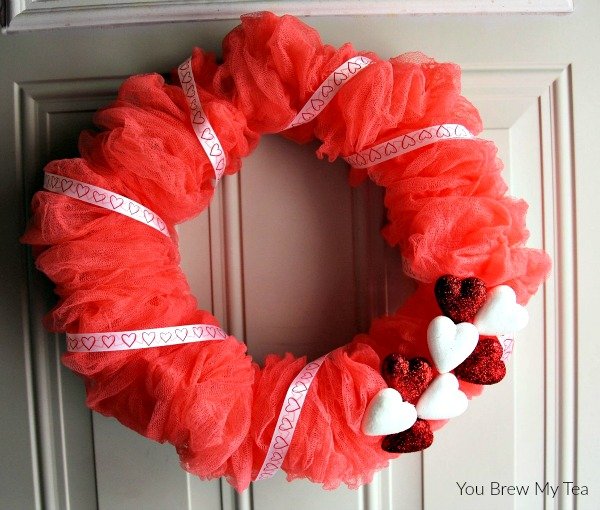 Valentine's Day Wreath Dollar Store Crafts Idea
This post may contain affiliate links. 
I love that Allison uses unique items to create such beautiful wreaths for me. She always has great ideas and of course, I adore the fact that they are dollar store crafts that you can fit into nearly any budget!  She uses a few simple items from the dollar store, and of course her trusty glue gun.  You could easily use a glue like E6000, but the glue gun is usually on hand and less expensive.
Materials Needed: 
2 Pink or Red Bathroom Puffs
Embroidery Hoop (used 12″)
Hot Glue Gun & Glue or E6000 Glue
Valentine Themed Ribon
Glitter Hearts or Flowers (we ended up using just the hearts, but flowers ar also optional)
Craft or Floral Wire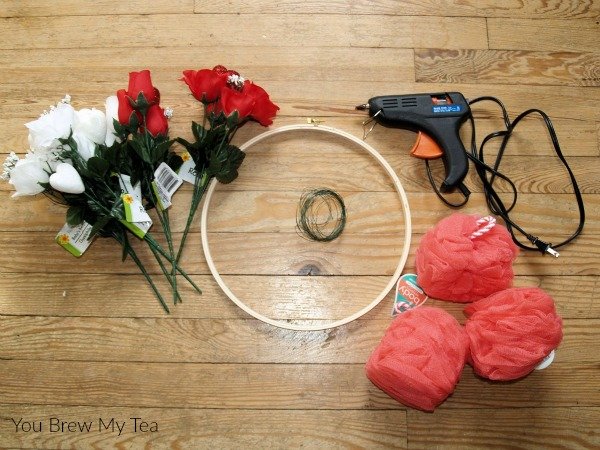 Step 1: Take apart the embroidery hoop. We will using the outside of the hoop again like we did for the Santa Wreath.  You can usually find these embroidery hoops for $1-$2 at a craft or discount store.
Step 2: Cut the main rope on the 3 bathroom puffs. Take the screw out of embroidery hoop. Grab the end and open it up. Gently pull up the bathroom puff. Once you get to the end of the first puff gently slide the hoop through the opening of the puff. Repeat for the other 2 puffs. Close the screw on the hoop. Fluff the bathroom puff to get the desired look.  This Valentine's Day wreath comes together easily when you use these inexpensive bathroom puffs as the base.  They stretch out much longer than you expect and are a perfect fluffy way to build a Valentine's Day wreath.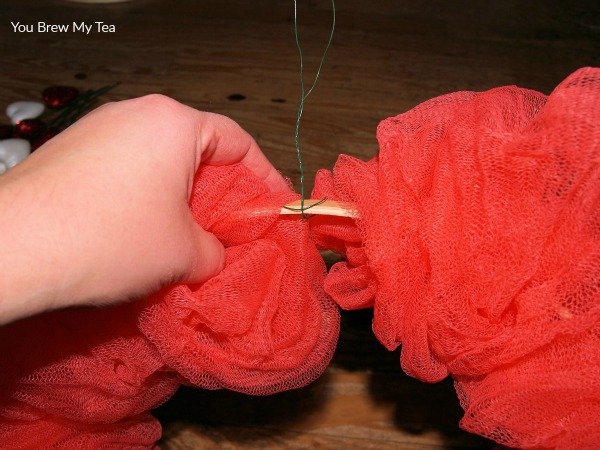 Step 3: With some wire make a hook to hang on the embroidery hoop. Fluff the puff so you can't see the wire.  This is why I love this dollar store crafts idea.  Using simple shower puffs can cover a multitude of mistakes underneath.  An embroidery hoop slim and easy to slide these onto, and of course, the wire can easily be hidden.
Step 4: Wrap your ribbon around the wreath. I used a safety pin and pinned the one end until I got the look I wanted. Then I glued the ribbon to the bathroom puff.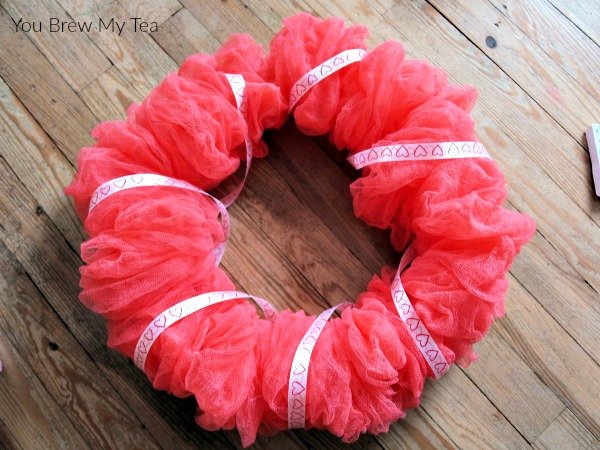 Step 5: Glue down the hearts or other Valentine decorations.  We had both flowers and hearts, but just like the simple heart look the best.  These flowers and Valentine's day hearts are usually easy to find at a local Dollar Tree store.
We love this dollar store crafts idea for a simple and inexpensive Valentine's Day wreath to go on your front door!  It is easy enough to get your kids involved in making, and could even make a great craft to make and give to their teachers to decorate a classroom!
Check out some of our other favorite Valentine's Day ideas! 
25 Valentine's Day Printables & Crafts
7 Fun & Frugal Valentine's Day Activites For Kids
7 Non-Candy Valentine's Day Gift Ideas
Printable Coupon Book For Valentine's Day