Let me start by saying I did NOT drink all this wine, ha!  These corks and a couple dozen more were lovingly collected at yard sales and thrift stores for craft projects- I adore the look of wine corks for simple projects around the home.  This Wine Cork Mini Memo Stick is  great way to use up your spare wine corks while giving your family a simple bulletin board for notes, grocery lists, cards and more.
All you need is about 15 minutes to complete it,  and if you have these items on hand you have a free craft project on your hands! This makes a great catch all by the front door, in your office, or maybe the laundry room? Ticket stubs, receipts, bills to run to the mailbox, little photos, etc. Use it as an inspiration board for paint chips, fabric swatches, and magazine pictures you have cut out. I am planning on making another for the kitchen to use as my weekly menu board and shopping list, it will hold several 3×5 cards nicely.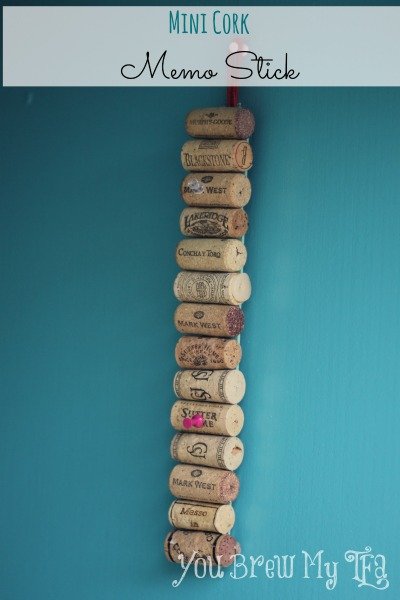 WINE CORK MINI MEMO STICK
Supplies Needed:
14 wine corks
paint stir stick
hot glue gun/sticks
Twine
*optional spray paint
Directions:
You can leave your paint stick wood color or spray paint like I did, it doesn't really show except maybe a bit from an extreme side view but i wanted it to pretty much blend in with my wall. 1-2 coats of spray paint should cover it well.
Plug in your HIGH temp glue gun and let it get hot, using high temp will help your corks stay on better.
Cut a 20″ length of twine, wrap it around your hand 2-3 times, tie it off, this will be your hanger.
Once you glue gun is hot and ready  attach one end of your twine bundle to the top back of paint stick, allow to harden for 1 minute.
Flip paint stick over and apply a generous blob ( yes, that is the technical term) of hot glue to the very top of your paint stick, center and press in the first cork.
Repeat the blob of glue and centering the cork all the way down.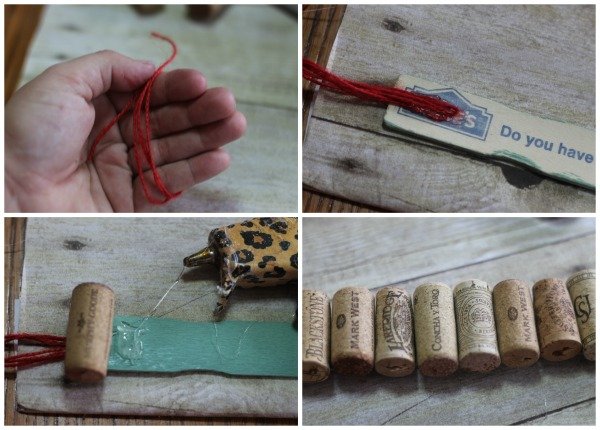 Allow to dry/set  for 10 minutes before hanging.
Add a couple pretty push pins and your  ready!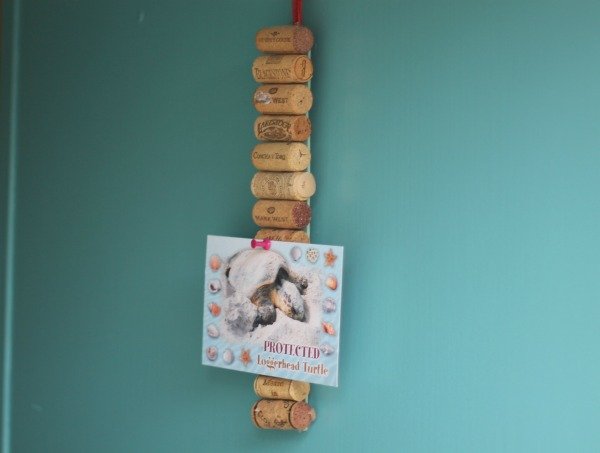 What will you use your cute wine cork mini memo stick for?  We love making wine cork crafts for fun useful things around the house!  You can go a step farther and even paint the corks to match your decor if you want!  We love upcycling items we would normally throw away for fun things in our home.  Not only does it save us money, but it helps get our creative juices going to create fun new and unique items.
Like this upcycled craft?  Check out all of our other great DIY ideas!
DIY Fall Burlap Pillow (Can be customized to any season)
Denver Broncos DIY Upcycled T-Shirt Scarf