To Whom It May Concern,
10 days after hysterctomy, I have only one major regret. A regret that I believe many women have but are afraid to share publically. I am not ashamed to say that I have failed my body.
I imagined my life after hysterectomy being a bit painful for a few days (2-3) then back to normal. I thought, the strong business woman that I am, that I would be just fine to be back working within a few days to a week. I would put the pain pills away, get back at my desk and while slower for a few days, I would be back to normal in no time.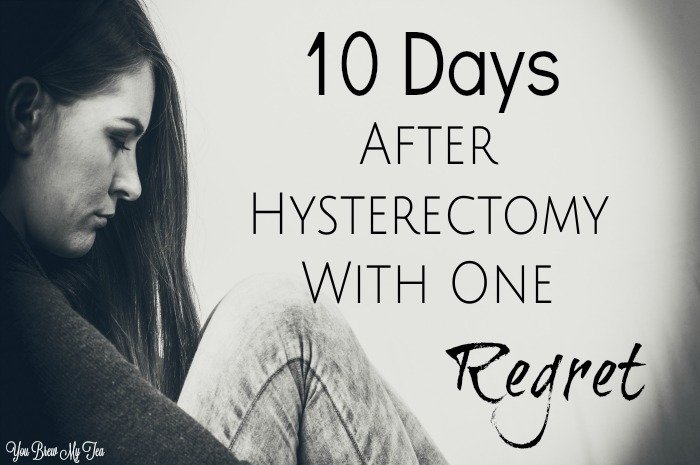 I was wrong. I was 100% wrong. I was stupid. I was prideful. I was just downright idiotic believing that I was better than the stereotype and could bounce right back. I thought that since I really bounced back fast after my back surgery last year, this would be no big deal. A day or two of rest and pain meds, then back to work on day 3 or 4. Yeah, I tried that, and here I am on day 10 pretty miserable.
I do feel better. I do not regret this surgery at all. In fact, I can't even say it is tough to recover from. I just have to admit that I regret trying to recover too fast. I regret not caring for my body better. I simply tried to speed up a natural process to suit my "needs". Folks, it doesn't work that way.
After Hysterectomy I Regret Not Caring For My Body Better
I am discovering that I truly did move and bend and twist and overdo it a lot the first week. On day 10, I am laying here in bed fighting the tears because I know I have to take a pain pill to just be able to relax. I didn't imagine this simple "outpatient" surgery could leave me so completely drained. Let alone hurting so deeply for so long. On day 3 I felt a bit of a tug around my incisions but otherwise felt pretty "normal". I really thought the pain was gone and I was good to go. So, I got to work. I did some client work. I worked on some things for this site. I stood and helped my Beau make soup. I lounged a lot, but I wasn't as slow or careful as I should have been, and now here I am back to the point of being in pain when the pain should be gone.
No, this isn't the worst pain I have ever felt, but it is the most exhausting thing I have ever undergone. I hurt. A deep ache in my abdomen that is expected and I can handle with some ibuprofen or on the worst days/times a pain pill. My 3 incisions from surgery are mostly healed. They itch, as is normal in healing, but otherwise are not a problem. It's just that my body is kind of in shock. This isn't just a little surgery. Just because it was outpatient for me, doesn't mean it is just a minor thing. Frankly, I see why so many doctors have been making my friends who are going through this stay 24-48 hours in the hospital. Your body has a lot of healing to do after hysterectomy. A lot. Seriously, if you take nothing else from this - remember that your body has to heal inside - not just outside.
Not only did I have surgery, I had organs removed from my body. She removed organs that control my hormones. Hormones that affect my emotions, my physical reactions to many things, my temperature, my ability to burn fat, the way my hair grows, just so many pieces of who I am. She removed my way of giving life to another human being. She removed the last piece of my sons from my body. For me, knowing that I no longer hold the place I carried my sons was a lot more emotional than I expected. She removed the entrance to my womb and sewed my body back together to create a seal that will keep my bowels and bladder inside where they should be instead of prolapsed out of my vagina. Yes, it's a yucky thing to think of but it can happen. She, with the skill of her hands, removed something that had turned bad inside my body and then sewed me back together in a way that will leave me whole and healthy.
After hysterectomy, I realize that when you remove organs, your body has to adjust to them not being there. It's not like clipping a fingernail or cutting your hair. This is, still, no matter how short your hospital stay, a majorly invasive surgery. Not only does my body have to adjust to the loss of part of what makes it me, it has to recover from the effects of the anesthetic used. It has to overcome the pain, fight off infection, and begin the process of healing and letting those sutures stay put to keep everything in place.
My doctor warned me. She told me, as I sat across from her signing the papers to allow her to take my uterus, ovaries, and cervix in hopes of a better and healthier life in the long run, she told me that I was to be a total couch potato that slept, took short walks, ate healthy foods, and slept some more for the first two weeks. She told me, that under no circumstances was I to go back to work before my post-op appointment at one month after surgery. I explained that I worked from home, online and it wasn't like a regular outside the home job. She laughed and said, "Yes it is. Your body doesn't know the difference between an office or your couch".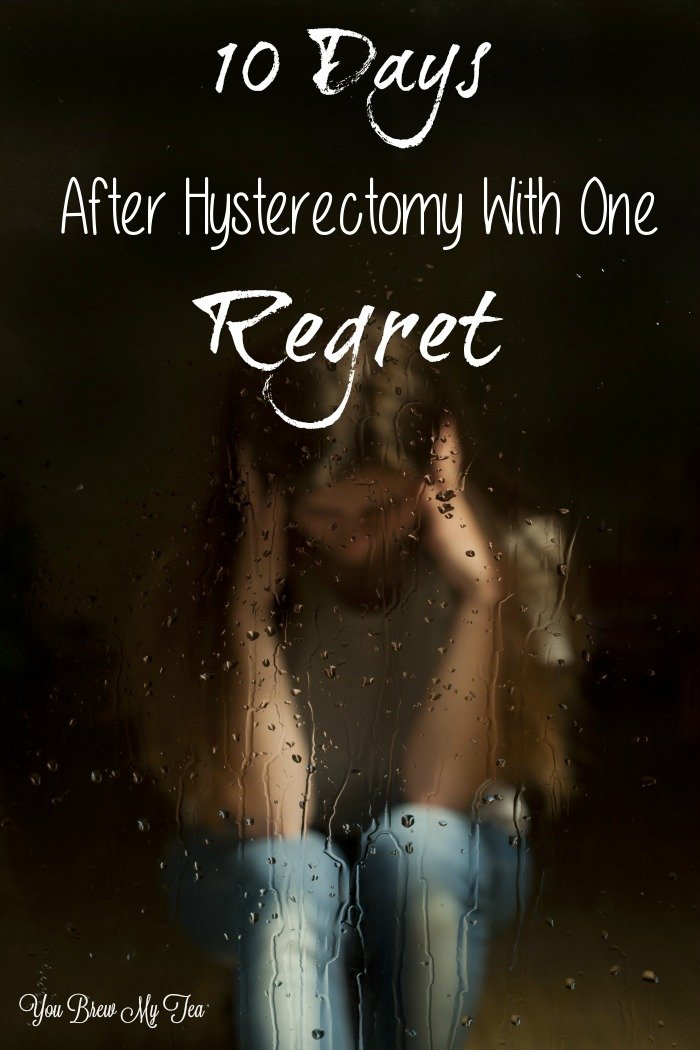 She was right. So was my Beau. So was my mother-in-law. So was my Sister.
I didn't expect this to be something that knocked me down for a few weeks, but it has. I believe that it is a surgery that is not tough to recover from if you follow directions and take things easy. That means, don't be like me. Don't overdo it. Don't try to be super independent. Don't act like you are better than others and can just overcome with the snap of your fingers.
Right now, I am laying in bed writing this. I feel the lull of the pain pill I took shortly before I begin writing clouding my brain. I know, that while I have clients I owe work to, my own site in need of work, and ultimately bills to pay, I am likely going to be asleep within the hour. Doing what I should have been doing the last 10 days. Letting my body heal properly after hysterectomy. So I can spend more days laughing, smiling and taking selfies with the Wee Child.
If you find yourself faced with choosing to have a hysterectomy, don't hesitate to do so for you health. It is a great thing, and it can be easy to recover from. However, don't follow my initial example. Do what your doctor says. Take it easy. Rest. Allow your body to heal after hysterectomy surgery.