If you have been hanging around here much the last few weeks, you know we have recently started a series of podcasts covering all the ways you can make money from home.  This week we are covering Making Money Taking Surveys.  This is one of the most controversial subjects in working from home, because it isn't always very profitable.  Many people feel there are scams and potential for overwork with little pay.  The facts are – surveys at home can be lucrative, but they can also be very time consuming.  This podcast covers all of the basics on how to make  the most of your surveys, all while understanding the limitations.  Sit down, grab a notepad and a cup of coffee and listen in as I cover some of the common things you should know when giving this a try to supplement your income.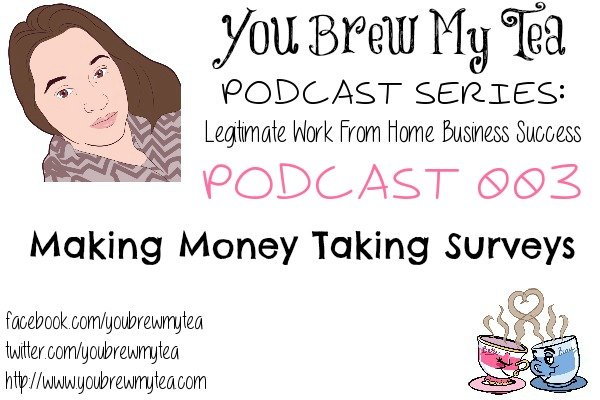 PODCAST 003: MAKING MONEY TAKING SURVEYS
HAVE THE RIGHT TOOLS FOR THE JOB
Reliable Internet Access
Spreadsheet or Notebook to track completed surveys & payments received
Schedule to follow for rotating through all survey sites.
BE REALISTIC ABOUT YOUR EXPECTATIONS
This is not going to be a full time job with full time income for most people
Your demographics (age, race, location) are what get you surveys.
Some surveys will pay only a few dollars each, others will pay large amounts.  This varies widely and is to be expected.  Changes happen regularly.  Don't depend on having that high paying survey each month.
HOW TO REALLY MAKE MONEY DOING THIS
Be Consistent.  Don't do it for a week and give up.  Continue working at it and check in daily to see if you have new opportunities
Don't put all of your eggs in one basket.  Make sure to sign up for multiple companies that give you multiple opportunities to earn.
Update your demographics on a regular information.  Any small change can be a significant difference in what surveys you are offered
Keep notes about completed surveys, amount owed to you and when payment should be received.  Follow up regularly as needed.
BEST SURVEY COMPANIES TO USE:
WHO SHOULD TRY TO MAKE MONEY AT HOME TAKING SURVEYS
Stay At Home Momes
College Aged Adults with free time
Single Individuals with free time
Retired or Empty Nesters
All of this information is here to help you succeed in making your dream of working from home a reality.  While this is not the work at home income most are looking for, we feel it is important to talk about making money taking surveys, as there are some people reading and listening who only have a few hours a day to work with.  This is a great way for that stay at home mom to create a Christmas fund, or to even help fund their family vacation.  Every little bit helps, and while you work to get your business off the ground, this may be just the thing for you too.
Check out our past podcasts and don't forget to sign up for our weekly newsletter so you don't miss out on any new updates on the site!
Podcast 001:  Becoming A Successful Work At Home Entrepreneur