Do you love essential oils as much as we do? While I don't think they are a miracle cure for everything as some do, here are 10 Reasons To Use Essential Oil that I love.  Essential oils are always our "go to" when we want a home remedy that will work.  I love being able to relieve nausea, help a headache or simply calm myself down to sleep easier with a bit of aromatherapy.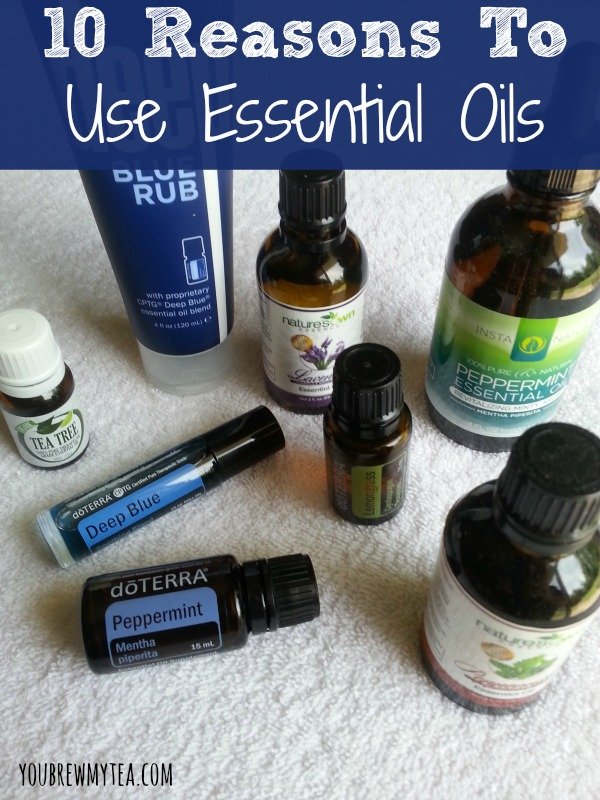 10 Reasons To Use Essential Oils
All natural- We're tired of putting junk in our bodies, so we use essential oils because they are all natural.  When something like peppermint oil can cool and soothe a headache or joint pain, I feel better than putting a harsh anti-inflammatory or pain medication in my system.  We tend to have sensitive stomachs and those medications can really bother us.  When we are able to, using an essential oil for symptom relief is a great choice.
Easy to use- It doesn't take a genius to know how to use essential oils. There are tons of remedies floating around to help us know and understand how to use essential oils.  We love using the diffuser to permeate our home with the aromatherapy benefits, but applying to skin and pressure points is simple as well.  Just make sure you use a carrier oil (we prefer coconut oil) to protect your skin.  Essential oils are very strong and can cause skin irritation if applied directly.
Very affordable- We've noticed that the amount of money we spend on essential oils is small compared to heading to the doctor every time we turn around.  There are many things like sinus congestion, headaches and even nausea from a stomach bug that we can use essential oils for symptoms with.  This may not cure the underlying problem, but can help us avoid costly doctor visits when it is just a symptom that needs relief.
Healthy alternative- When it comes to being healthy, using essential oils is a smart move for us because it's a healthy substitute to many "solutions" out there.
Helps with the unexpected- You can't prepare for all of life's "ouchies." If we get a sunburn, we can rely on essential oils to help us out. Our essential oils are always helping us with the unexpected.  Lavender is a great choice for skin conditions like sunburn, bug bites and scratches.  Peppermint is great for sunburn and joint or muscle pain.  Lemon and tea tree oil offer anti-septic benefits that are great when cleaning.
Better smelling home- Since our home as been using essential oils, I've noticed that our house all over smells a lot better. We no longer spend a fortune on air fresheners because we just use our essential oils.  Lemon and Lemongrass are our personal favorites to freshen the house. They just make everything smell so clean!
Making our own products- One of the best reasons to use essential oils is for the fact that they can help you make your own products. You can make anything from laundry detergent to your own lemon cleaner, the options are endless.  Almost all of our favorite homemade cleaners include essential oils.
Gardening- Yes! Essential oils make the perfect solution for gardening. You can use the oils to make your own combat against bad bugs in the garden.  They are also a great choice for treating bug bites, or making your own homemade bug spray.
Get more energy!- If you're sitting right there and have little to no energy, then essential oils might be for  you. The perfect blend can help you get your energy back.  Peppermint, lemon and wintergreen always perk me right up!
First Aid- Having boys in our family means we always need a first aid kit on the scene. We've started using essential oils, like lavender, to help us heal various "owies."  There is no end to the uses in our first aid kit.  Just like hydrogen peroxide is handy throughout the home and first aid kit, so our essential oils.
There are a ton of reasons to sue essential oils in your daily life.  While we enjoy using them and feel they are a vital part of our medicine cabinet, we realize they are no substitute for real medical care.  Treating minor symptoms is one thing - masking a major issue is another.  Like with any other over the counter medication, if your symptoms are not relieved easily, seek medical attention.  A headache, nausea or pain that lasts for multiple hours or days does need medical attention, and you shouldn't hesitate to seek help.
Check out our other popular health related posts!
Aerobic Exercise For Chronic Pain
Easy Ways To Get Fit Playing With Your Kids
Natural High Blood Pressure Remedies
7 Sneaky Ways To Feed Your Kids Spinach