Summer is upon us and that means the homeschooling life changes a little bit. We all want to enjoy the outdoors a little more, which is why we want to make homeschooling easy, fun, and flexible. Check out some of these easy summer homeschool ideas.  More unschool and life experience than education, they still give us a chance to teach our kids and make the most of these fun summer months.  Set aside time to get active with your kids and learn a few new things that aren't traditional to their regular school curriculum this summer.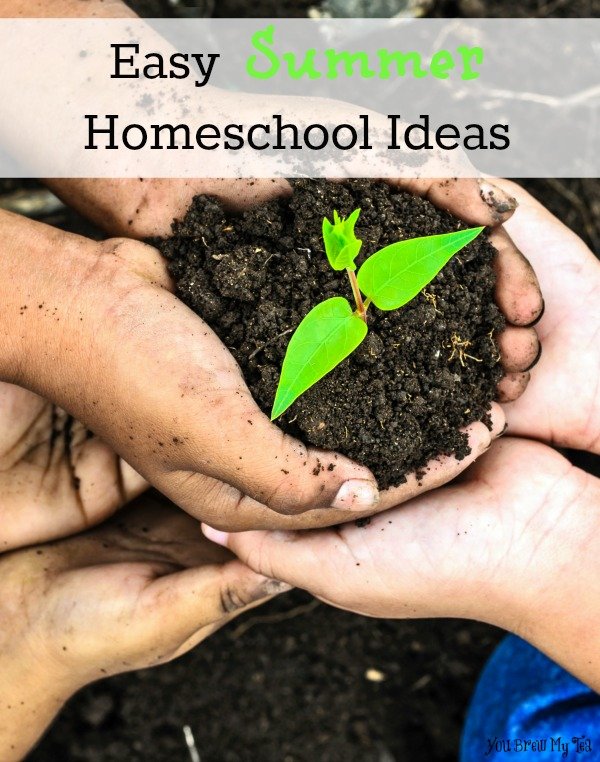 Easy Summer Homeschool Ideas
#1. Local Park
I don't think there is anywhere that's easier to homeschool than at the park. You could do a quick lesson outside and then enjoy the park the rest of the day. You could also incorporate learning into your play. Hiking, walking, and observing can all be made into a homeschooling lesson.  Create a scavenger hunt for your kids to find fun outdoor items like rocks, a leaf, sticks, pinecones or even worms in the dirt.  Great chances to learn about your area, and nature in general abound at a local park.
#2. Your Kids Will "Dig" Gardening
Yes, gardening is a great way to make homeschooling easy and fun this summer. One of our favorite things is to watch what is happening in the garden. All sorts of wildlife loves to hang out around the garden and we sit there and watch it. You can also count planting, watering, and watching plants grow as an easy summer homeschool lesson.  Start with planting seedlings and learning about how seeds germinate.  Continue with learning how to care for plants as they grow, as well as how to make sure you harvest at the right times.  There is a ton of summer homeschool ideas in gardening that you can take advantage of while having fun.
#3. Have Fun with Water
Let's face it, some of those summer days get extremely hot, which is why water is the perfect summer homeschool idea. You can play in it, measure it, freeze/unfreeze it and just have a ball with it.  Water sports are always a great part of homeschooling, but especially when you want a simple life lesson without the books and paper.  Teaching about boiling points, types of water in ponds, lakes, oceans and rivers as well as sea life are all great ways to use this for a fun homeschool or unschool lesson this summer.
#4. Cooking is on the Learning Menu
Did I just say cooking? Yes! Let your little ones and big ones help you with cooking this summer. There's so much to be learned when it comes to cooking a variety of summer foods. Incorporating foods from the garden is a bonus! Measuring, cutting, and following directions are just a few things your children will learn while helping you cook this summer.
#5. Board Games
Board games are a very fun and practical way to homeschool this summer. Thinking skills are a large part of board games and a great way to keep your child's mind moving this summer. Try various garage sales to find a variety of board games to keep "learning" fun and easy this summer.  Games are a great way to pull your family together for family time as well!  Not only will they help you to teach kids colors, numbers, counting and critical thinking - they can become a fun routine your whole family enjoys as downtime together.
Are you looking for more homeschool support?  Come join our Homeschooling Lazy Parent Style group today!
Check out some of our other favorite homeshcooling ideas!
Using Television In Your Homeschool Curriculum