Let's face it - there is a constant struggle to become debt free.  We all have issues juggling our finances from time to time and unfortunately, with the state of the economy, that means many of us have found ourselves in a considerable amount of debt.  Since I have been there, and still struggle at times to overcome financial stress, I am happy to share some basic tips to becoming debt free.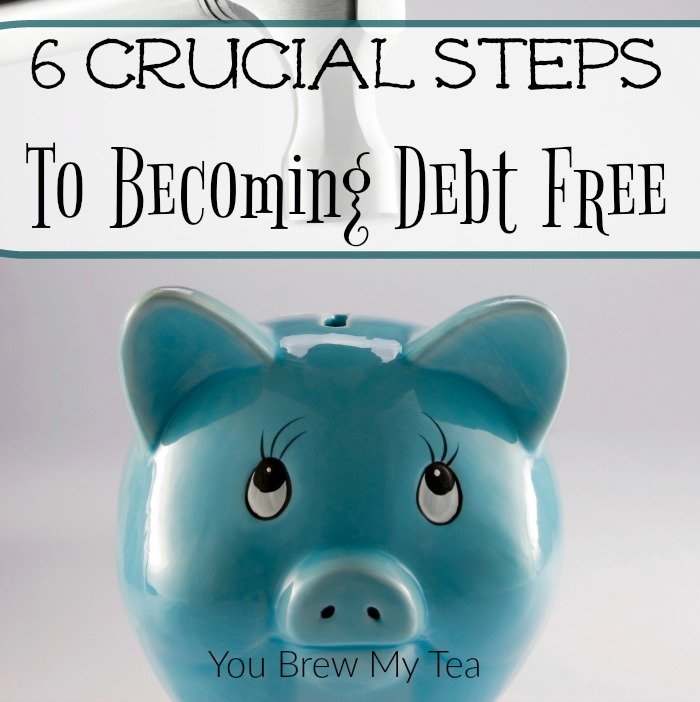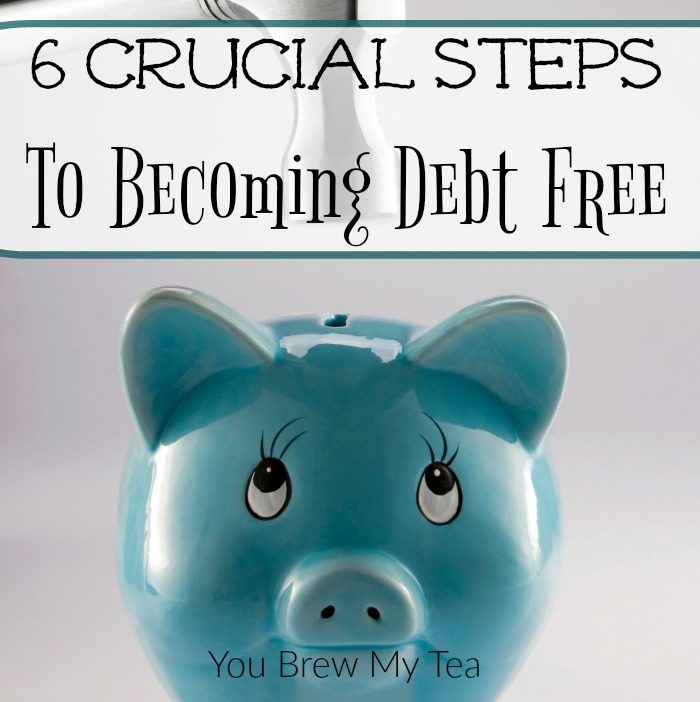 6 Crucial Steps To Becoming Debt Free On Any Income
Whether you owe money on personal loans, credit cards, student loans or just the basics like home and vehicle loans, getting debt free is a huge goal.  Being able to really focus on your finances and stop having to live paycheck to paycheck is a must.
I'll be honest.  These steps aren't a means to remove debt instantly, or even remove debt in a short amount of time.  This is, however, a list of real ways that you can work to help ease the amount of debt you currently owe and focus on not only being debt free but having a significant amount of money in savings as well as set aside for retirement.
Before you begin with these steps, you need to check out what your credit score is, and also who you currently owe.  I make a list of all of my bills and debt so I can track things as I make changes. I use Cafe Credit to see how my credit score changes over time.  This helps me know and see the changes, no matter how small they are.
Stop Using Credit Cards:  I realize that may seem obvious to some and impossible to others but it truly is a necessity when you are in a bad cycle of repeated spending.  If you do not have the money to buy the item, do not buy it.  No vacations, no new shoes.  Remember that credit cards are there for emergencies or to be paid in FULL at the end of each month.  For some people, this means cutting the cards up or filing them away so they won't be used.
Some books I recommend reading on how to stop using credit cards and stay within your budget:
Ask for a lower interest rate:  Most credit card companies will actually readily lower your interest rate if you have been a long standing customer who consistently pays on time.  Especially if that means you are able to pay more toward your balance.  A 5-minute phone call can lower your interest rate by a considerable amount depending on the specific card company.
Make sure when you are contacting credit companies that you take notes, get names, and of course, ask for confirmation.  Keep track of these notes so you can refer to them later if the interest rate goes up unexpectedly.

Pay off lower balances first:  While most would say to work on the balances that have the highest interest rate first but for those who are dealing with a lower income that may be more difficult.  Sit down and look at each balance of credit card, loan, mortgage and work on the smaller balances first. Once you pay off one balance applies that monthly payment to the next smallest and so on and so forth.  This method works especially well with those who have less wiggle room in their budget.
Dave Ramsey shares some amazing tips about how to do this in his book mentioned above.  He calls this the snowball method.  It is an excellent way to work through your debt.

Pay cash only:  This is the most popular method shown by Dave Ramsey.  Putting cash money in envelopes for weekly or monthly expenditures like groceries, gas, entertainment, etc. can help you to curb spending.  If you have a hard time limiting what you spend at the checkout on splurge purchases, fall victim to the peer pressure of eating out for lunch every day or sneak that iced latte's in the afternoon from the local coffee shop this can put a stop to those habits quickly.  When you run out of money, you can't spend again until the next "refill" day.
Pay off your credit cards in a reduced lump sum payment:  Some credit card companies are willing to work with you on reducing the overall balance of your debt if you make a one-time lump sum payment that pays a large percentage.  They will then write off the remaining debt and close your account in good standing.
Note: Remember that whatever amount is written off will be considered as "income" on your tax return so make sure to account for that when deciding if it is a good overall decision for you financially.
Take on a second job:  Don't roll your eyes at this one.  We understand how difficult this can be.  Jobs are not easy to come by and if you have children and other responsibilities this can be tough.  If you are able to take on a traditional second job this is the time to do so.  If you are unable to go for a traditional job look into doing extra things you are good at to earn money here and there.  Babysit kids on weekends for other parents wanting some alone time.  Sell handcrafted goods around the holidays or even take up blogging and freelance writing on the side to supplement your income.  Just make sure that you apply all extra income earned directly toward your debt and not toward more frivolous purchases.
While unfortunately, I have to admit to having made bad decisions in the past regarding my income, credit and overall debt I have also learned from my mistakes and can confidently tell you these 6 steps to becoming debt free on any income will work.  Determination and hard work can reward you over the course of time with a higher credit score and an overall better outlook on life.
If you are serious about becoming debt free, you can do it.  It will take time and effort, but it is possible.  Use these tips and others to move past your debt and to financial freedom.
More Financial Tips: