You do not have to wait until your child is school age to begin teaching them their letters, a gentle introduction somewhere in the toddler years will lay a great foundation for learning in later years.   These 7 Ways To Introduce Your Toddler To The ABC's will gently introduce the names of letters, identification  and the sounds they make through various fun activities, they wont even know they are soaking up knowledge. Remember you don't need to push your toddler to learn their alphabet this is a skill learned later most often, these are simply ideas to begin a light introduction and build upon as they grow.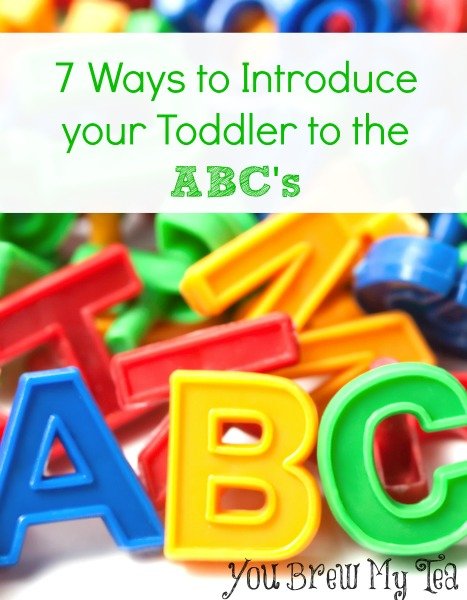 7 Ways To Introduce Your Toddler To The ABC's
1. Sing it out! Besides the alphabet song that we all know and love, leapfrog products have a catchy tune for learning sounds- Leapfrog Letter Factory ABC Song "A says Ah, A says Ah, every letter makes a sound and A says Ah" and so on...
2. Point them out- When you visit you favorite store or see signs along the way identify them for your child "Look at the yellow S, S says sssss" As you play with blocks, while looking at newspapers, magazines,or when writing yourself.
3. Create sensory experiences- "Draw"  letters together in shaving cream, pudding, or with finger paint in the bathtub- this makes for much easier clean up.
4. Read alphabet based books-  Chicka Chicka Boom Boom is our hands down favorite,  but Dr. Seuss ABC, and  My First ABC Board Book are great choices as well. Seeing the letters, hearing the read aloud, and enjoying one on one time will lay a good foundation.
5.Allow a little technology- There are tons of great apps and videos that introduce letters through song and finger play. Youtube, Leapfrong Videos, Ipad  and other tablet apps all have a wide selection of letter apps.  Don't drop your tot in front of  the TV or an iPad all day of course, just a bit of time is all they need.
6.Puzzzles! Puzzles are great fun and not only do they help teach letter identification but also fine motor skills as they work to fit the pieces into place.
7. Play with your food- Create letters from carrot sticks, noodles, or cut them from pancakes and bread with alphabet cookie cutters. Have  letter of the week and try to incorporate it into breakfast, lunch, and snacks all week long!
Check out some of our other favorite homeschooling tips!
7 Ways To Teach Toddlers Colors
7 Ways To Build Toddlers Fine Motor Skills
7 Ways To Build Toddler Gross Motor Skills
Using Legos In Your Homeschool
Check out our Homeschooling for Lazy Parents Facebook Support Group for more tips and ways to make your homeschooling experience easy to manage!