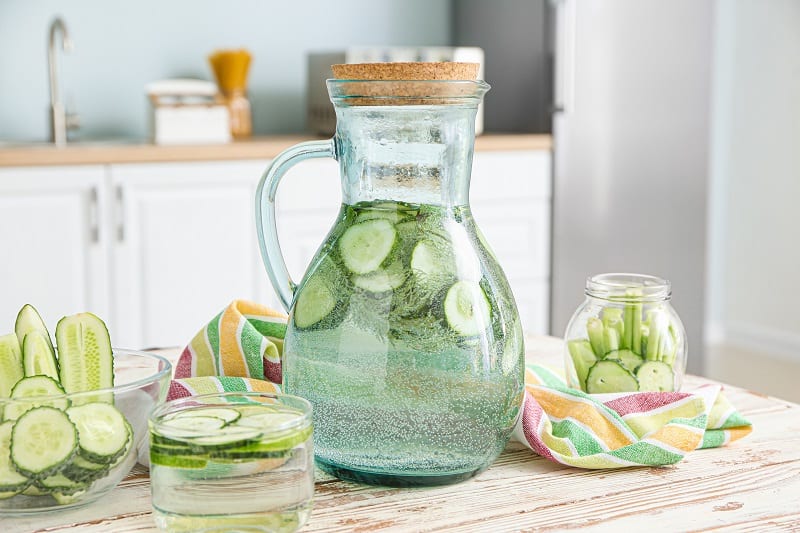 Did you know that as we age, we often lose our sense of thirst? That means, we often lose our sensitivity to when we need to drink. 
That's why it is good to have plenty of healthy non-sugary drinks on hand to encourage us to keep our fluid intake up. Vitamin waters and other such beverages add a lot of sugar that isn't healthy, and sometimes having a tasty, sugar-free drink is just the thing to make thirst-quenching pleasure. 
That is why we recommend cucumber water. Cucumber water is easy to prepare, and having pitcher in the fridge can also prevent non-hunger related eating. 
Because we sometimes don't feel our thirst, we can mistake it for hunger. So when you open the fridge and a fresh container of cucumber water is waiting for you, you might try drinking first. 
After you drink then see if you are truly hungry, or if have you been answering your body's need for hydration with food. 
In addition, there are fact-based benefits to cucumber water, beyond the obvious one being hydration. Cucumber water can also aid in weight loss, lowering blood pressure, and the promotion of healthy skin.
Cucumber water tastes great, is not expensive, and is easy to prepare. It turns water into a treat, adding vitamins, antioxidants, and more, to promote overall health. 
It may even benefit bones and muscles, and can be a preventative for some major diseases, such as diabetes and even cancer.  
Hydration is absolutely key to the body's proper functioning. Doctors recommend between six to eight glasses of water, minimum, per day. 
Water is essential for the functioning of all organ systems. And you know how tired and sluggish you can feel if your body's hydration needs go unanswered. 
Many common health problems can be solved with an increase in water. But often, we just don't "feel like it". That's when many turn to sugary drinks, which go down easier, but can really harm your body. 
Cucumber water is an elixir.  It brings the water that your body needs, with its refreshing flavor and zero calories.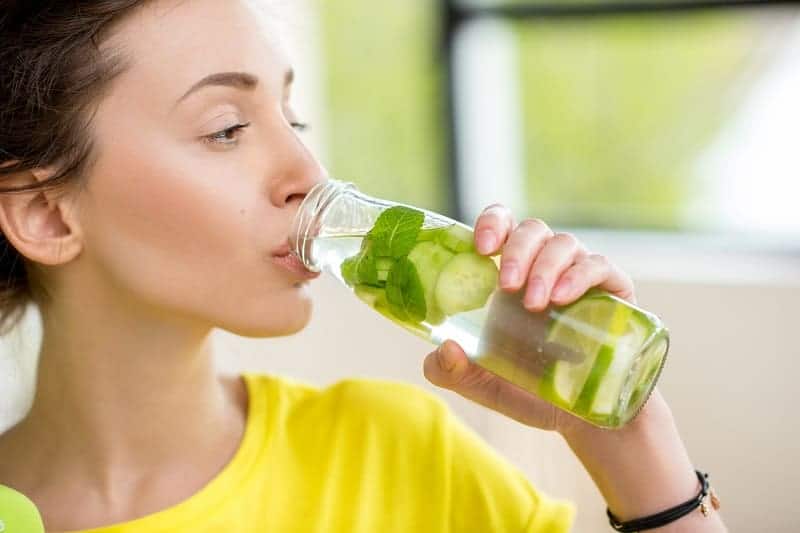 If you are sweating a lot, due to exercise, hot weather, illness, or hormones, your body's needs for dehydration are even higher. 
Most people are struggling with their weight, especially in our modern world, in which many are forced by work and lifestyle into a sedentary lifestyle. 
Overly rich foods, and the sugars that are hidden within many processed foods, make weight control an uphill battle. If you can relate to this, than the last thing you need is the addition of empty calories through sugary drinks. 
These add nothing to your health nutritionally, and actual are harmful, creating pre-diabetic conditions that can turn into full blown diabetes with weight gain as you age. 
Drinking cucumber water can actually aid in weight loss, by helping your organ systems to function better. Just like a dry river that limps along, collecting waste and becoming shallow and muddy, our bodies don't function well when we are water starved.
Having enough water also makes you feel full with smaller portions, and discourage excess snacking, making it easier to lose weight. Cucumber water will help your metabolism and filtration organs function better.
Antioxidants
Cucumbers can prevent oxidative damage, by adding antioxidants to your diet on a regular basis. This helps to prevent cell damage and lower levels of oxidative stress. Antioxidants in cucumbers include magnesium, calcium, potassium, phosphorus, and vitamins A and K. 
Blood pressure
Most modern diets contain higher than healthy sodium levels. The potassium in cucumbers can actually help lower blood pressure, and keeping hydrated is an intuitive plus when avoiding high blood pressure. 
Cancer prevention
Cucumbers also contain high levels of flavonoids. This substance may actually help prevent cancer. 
In fact, a 2012 study found that the dietary flavonoid fisetin, which is found in abundance in cucumbers, may help to slow the progression of cancers, such as prostate cancer. 
In addition to antioxidants, cucumbers also have compounds called cucurbitacins,  as well as a group of nutrients called lignans, which may have a role in protecting us from cancer. 
Muscle health
The potassium in cucumbers provides energy to muscles, as well as aiding in muscle recovery after accidents or health crisis that can cause muscular atrophy and muscle loss. 
It also helps soothe sore muscles, and is a good addition to a high output, active lifestyle, to help you feel your best. 
Healthy skin
Keep your hydration levels up and you help your body remove toxins and keep your skin healthy. The vitamin B5 found in cucumbers is known to be good for acne and other skin problems. 
Proper hydration can help the body to flush out toxins and keep the skin healthy. Cucumbers are also rich in vitamin B, which can help with acne and other skin problems. Cucumber water can help soothe your skin from the inside out. 
Bone health
Cucumbers contain plenty of vitamin K, as we mentioned earlier. Vitamin K is essential in helping the body form the proteins that make healthy bones and tissues. It can strengthen bones to prevent fractures, and be beneficial for osteoporosis. 
So How is it Done?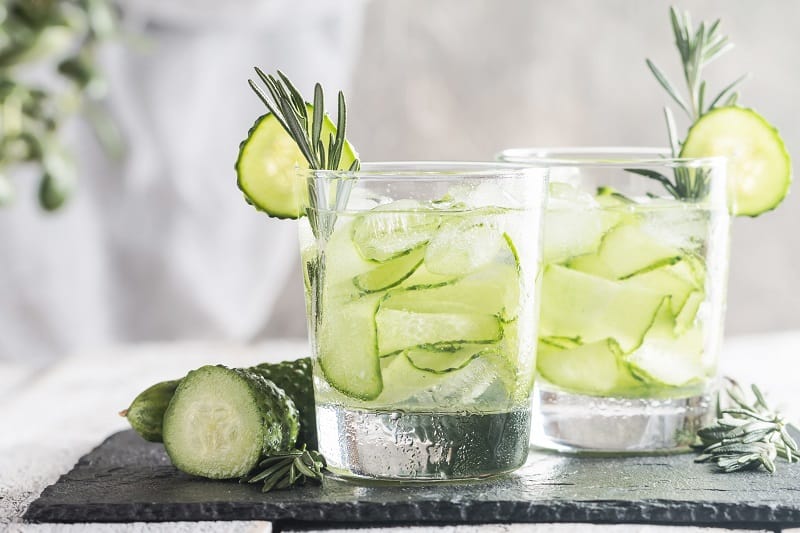 A basic recipe is to add 2 cups of cucumbers, sliced thin, to 8 cups of water.  Add to that about ½ teaspoon of salt. 
The thinner the slice, the more the goodness of the cucumbers will permeate the water, filling it with vitamins and nutrients. 
Cover the container and allow for at least 4 hours, or overnight, for the cucumbers to release their vitamins and flavor into the water. Once it is ready, you should drink it within three days, so that you benefit from its freshness. 
It should be kept refrigerated, and you can serve it on ice or straight up, depending on your preference. Once you have made this basic recipe, you can add all kinds of additional ingredients according to your taste. 
Lemons can be a wonderful addition. Lemons are also cleansing and contain vitamin C, and if you like lemon flavor, they can make your cucumber water even more delicious.
Other ideas to spruce up your cucumber water are limes, mint, basil, oranges, melon, ginger, fresh berries, pineapple, or other herbs such as lemongrass, melissa, and sage. 
Be creative, and follow your tastebuds. There are many more options for spicing up your cucumber water, like cinnamon or other spices. Almost any kind of herb will add flavor. 
In fact, you can even add a tea bag directly to the water for extra flavor without calories. Try fruity teas, green tea, or an herb like chamomile. They will permeate the water even without heating.