I am always a fan of affordable clothing.  Especially when they are plus size fashions that can fit my body as it changes during my health journey.  Since I have fluctuated in weight a lot before and after my hysterectomy, I especially love styles that flatter and camolflauge my problem areas.  My friend Kimberly was nice enough to assemble this great capsule wardrobe for me of plus size fashions with all pieces under $50 at Target!  Most of these styles are actually under $30!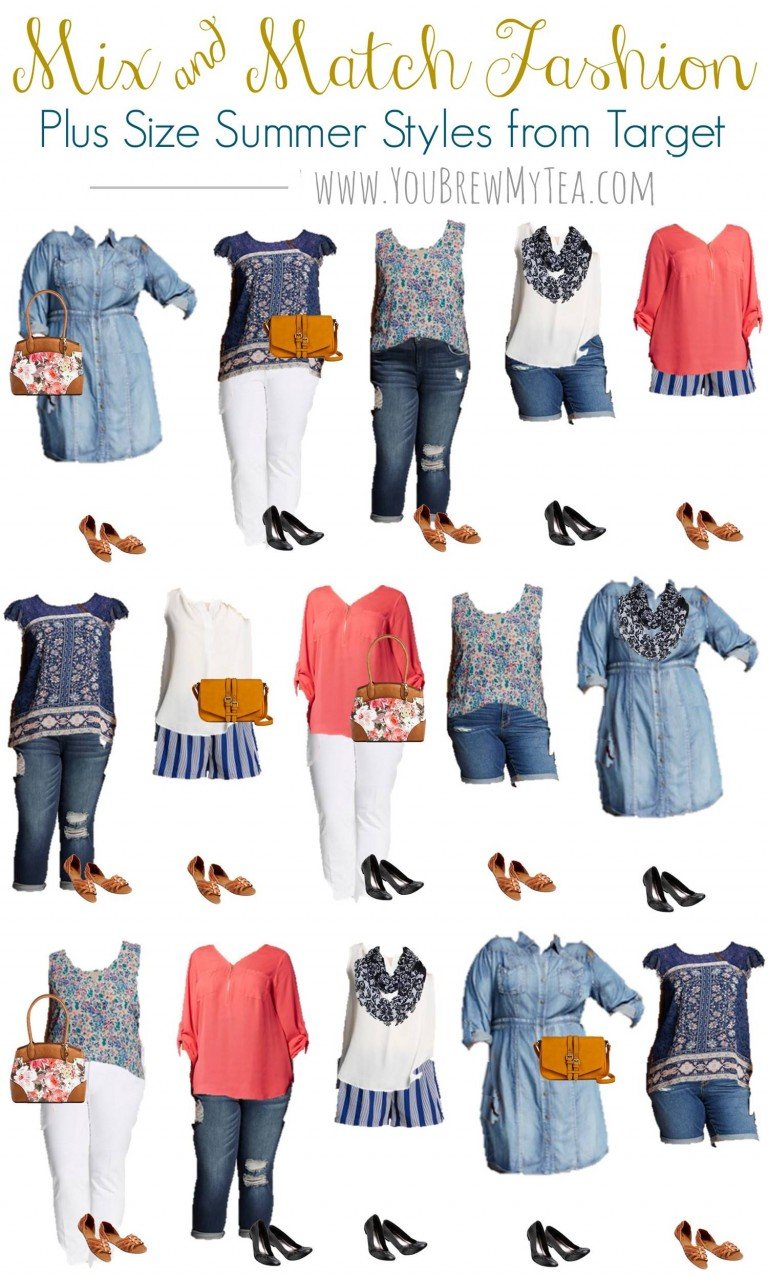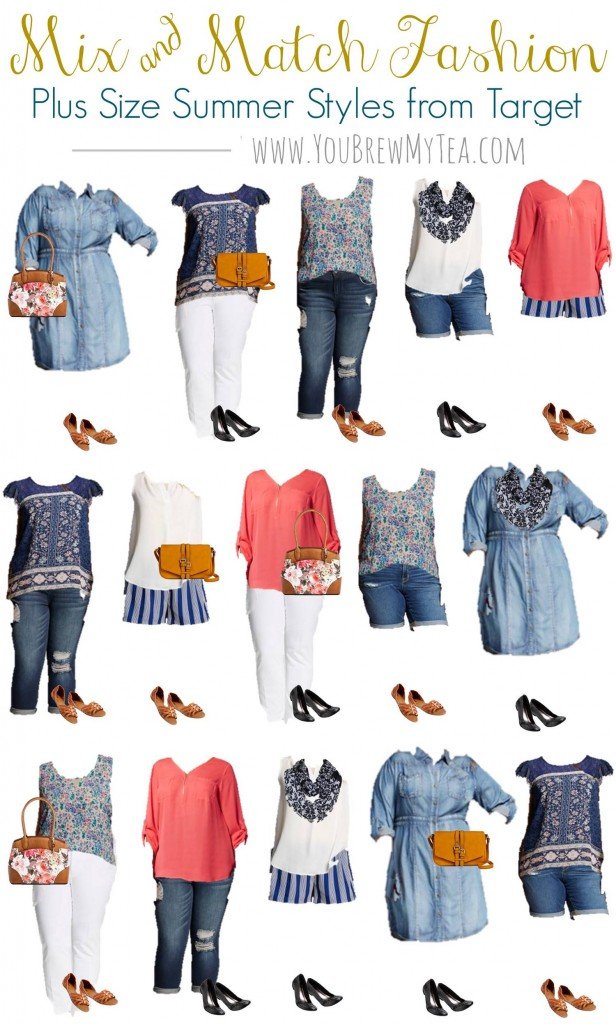 Affordable Plus Size Fashions For Spring
When I think about investing in any new plus size fashions for my wardrobe, I am always on a budget.  I usually want to find pieces that not only flatter my figure, but also fit into my limted budget.  I am also always looking for pieces that are cute and fun without making me feel like I grabbed something out of my grandma's closet.  No offence, but my Granny didn't exactly wear what I consider my style.
There are some super cute options in this grouping that include a feminine and casual denim dress that pairs easily with your favorite scarf, jewelry, and bag.  I love the cute shorts included, and of course the shoes - I am a shoe girl and these look like they would be comfy and flexible in my existing wardrobe.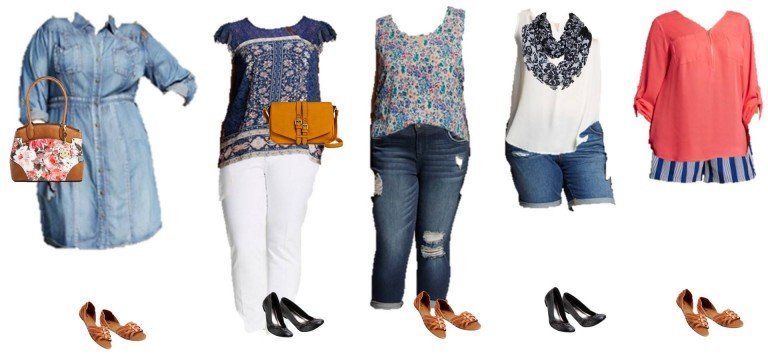 I am a bit more self-concious about my larger arms, so I prefer the shirts that have longer sleeves, but I can easily see myself grabbing one of these tanks to go under a simple cardigan or sweater.  I think my favorite look is in the second picture above featuring the white ankle pants and tab sleeve top.  It just makes me feel like summer casual is just around the corner.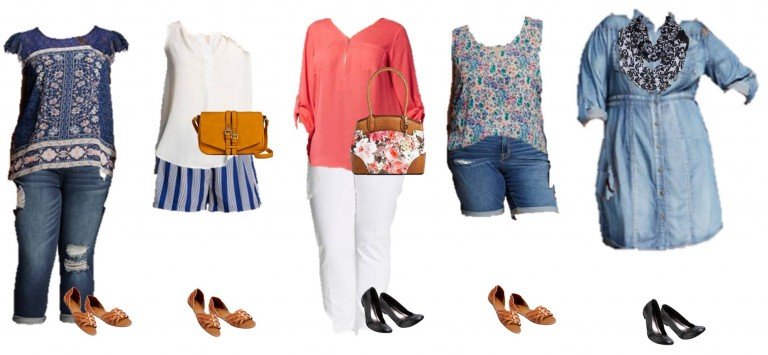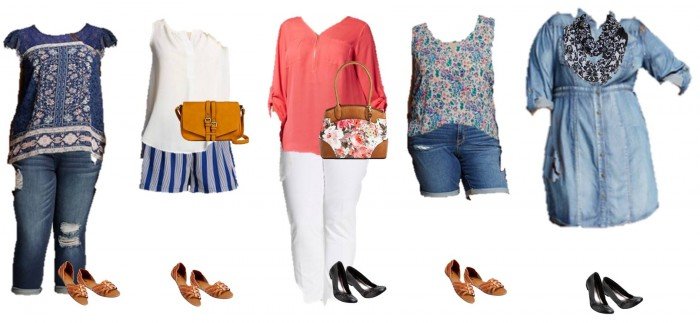 I love wearing shorts, and these looks make me excited for Spring and Summer temperatures.  Plus size fashions often make shorts feel frumpy and ulgy, or simply ill fitting.  I love the option of the longer bermuda style denim shorts, or the shorter striped casual shorts.  Both are great options that can be dressed up or down.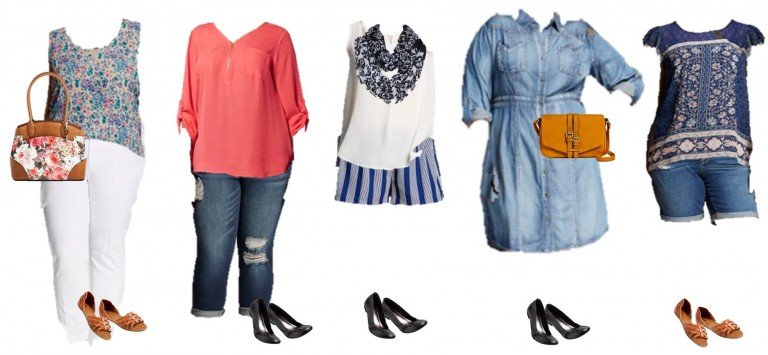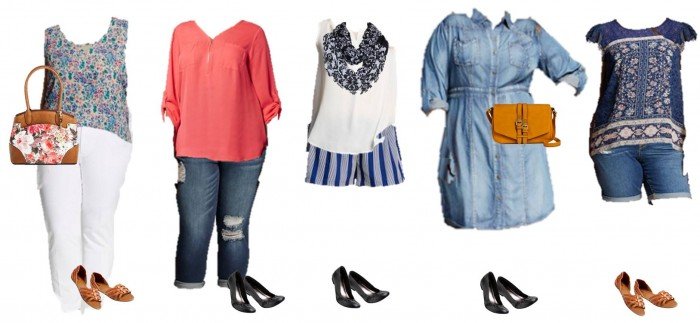 For all of these great plus size fashions, you can easily check the links below to order them online at Target.  Mix and match these looks to build acute Spring and summer wardrobe that is affordable and makes you feel feminine and attractive.
If these plus size fashions are out of your budget range, take inspiration from Kimberly's great ideas in this post to build your own lower cost wardrobe with fun and unique pieces that compliment each other.  Even if you are plus size, you don't have to avoid color and fashion trends in your wardrobe!
Check out our other great plus size fashion tips!