This Baked Chicken Fajita Recipe is a lifesaver.  Seriously, it has become go-to in our house and is a favorite of everyone.  I love the easy to make seasoning blend because it has less salt in it.  Plus this is a great way for me to have a low carb high in vegetables meal.  Bonus is this fits easily into my Weight Watchers SmartPoints needs weighing in at only 3 SmartPoints per serving on the Beyond the Scale plan or Zero Points on the Flex Plan or Freestyle Plan!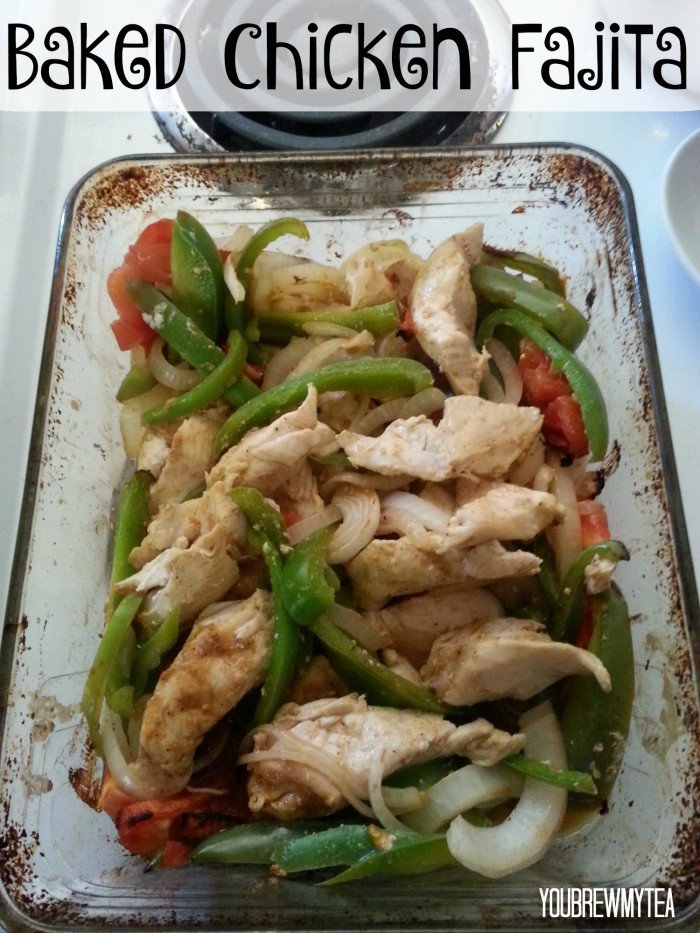 I love fajitas, and I love easy meals.  Not having to stand over the stove is great for me, but the big thing is these are so tasty I can eat them without the tortilla.  Even if I do want a tortilla – I grab the corn tortillas since they are lower in fat, calories, and carbohydrates.  that makes them ideal for Weight Watchers.
Serve these baked chicken fajitas with lettuce, tomatoes, salsa, and your choice of low-fat cheese, sour cream, or guacamole!
Baked Chicken Fajita Recipe
I start with some chicken breasts, but you could use chicken thighs if you prefer.  Simply cut into chunks or strips and season with my spice blend.  It's basic with garlic powder, onion powder, salt, pepper, cumin and a small amount of chili powder.  So basic but has no extra sugar and limited salt so no worries about health issues like with the already mixed stuff in stores.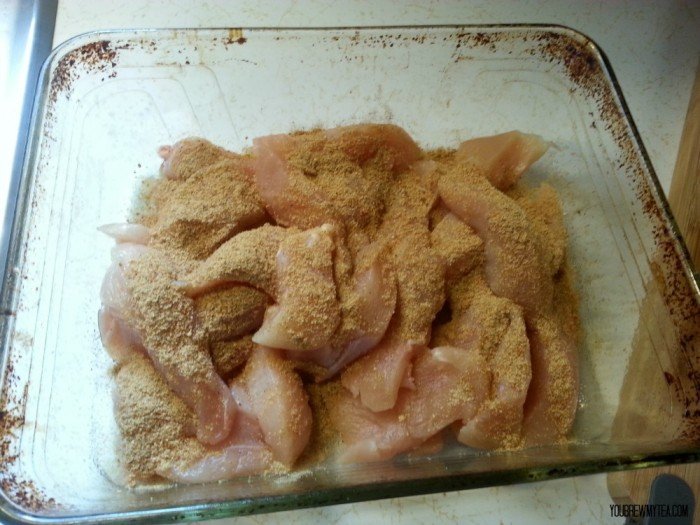 Next, I slice up a bell pepper, onion and we love a tomato or two roasted in the mix.  It just adds a rich flavor.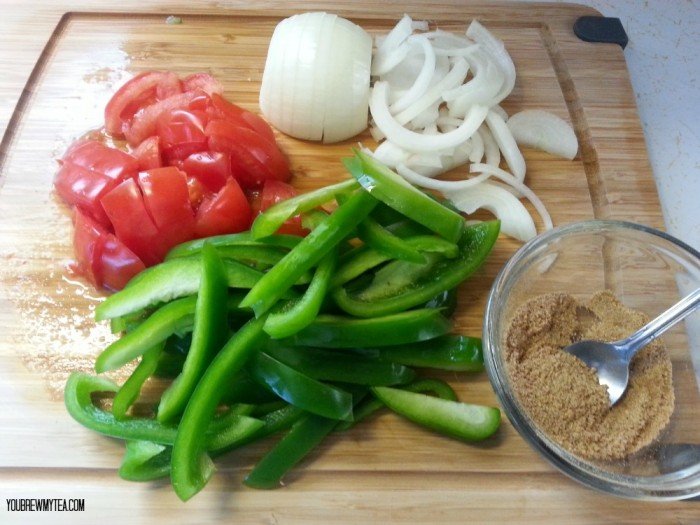 Layer up in the casserole dish and then stick in the oven for about 35-40 minutes.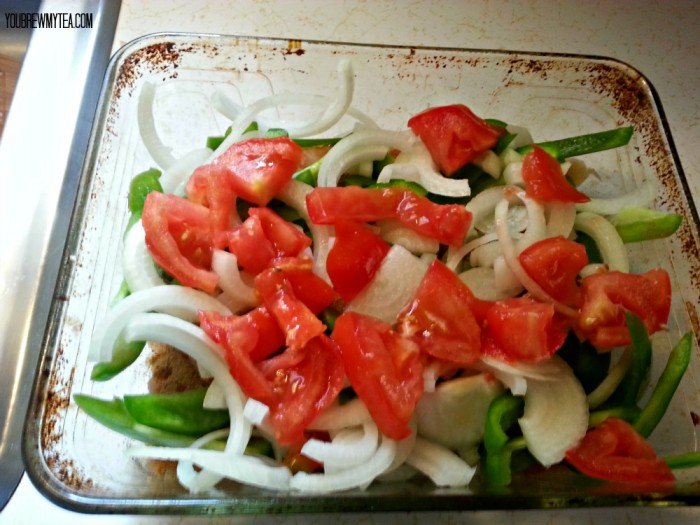 Baked Chicken Fajita Recipe
Ingredients
1 pound boneless skinless chicken breasts, cut into strips
1 medium onion, sliced
1 bell pepper, sliced
1 ripe tomato, cubed
1 tablespoon cumin
2 teaspoons garlic powder
1 teaspoon onion powder
1 teaspoon salt
1 teaspoon black pepper
½ teaspoon chili powder (more or less to taste)
Instructions
Preheat oven to 375 degrees
Spray medium casserole dish with non-stick spray
Mix together seasonings in small bowl
Cut chicken into bite sized pieces or strips and coat well with seasoning blend
Place in single layer in bottom of casserole dish
Top with vegetables
Bake at 375 degrees for 35-40 minutes or until vegetables have browned and chicken is cooked through.
Serve with tortillas, salsa, cheese, gaucamole, sour cream, lettuce and tomato as desired
Makes 4 Servings
3 SmartPoints Per Serving on Beyond the Scale
ZERO POINTS per serving on Flex Plan or Freestyle Plan
NOTE:  Since some do not read the complete notes here – I am adding once again that the points are just for the veggies and chicken and do not include any toppings or wraps you use, or any sides you choose to serve with the fajitas.
I calculated the SmartPoints for this recipe using the Recipe Builder within my personal Weight Watchers plan.  While not associated directly with Weight Watchers, I am a huge fan of the program and have lost a significant amount of weight following the plan. The SmartPoints for this recipe are calculated for just the veggies and chicken.  If you add this to tortillas or serve with other items that include points, you'll want to add those point values to your meal.
As you can see, the end result is this nicely browned and cooked through veggie and chicken mixture that is a perfect easy family meal everyone will love.  Squeeze a bit of lime over the top, and serve with salsa, cheese, guacamole and corn or flour tortillas.  If you are on a low carb and low sugar diet, this baked chicken fajita recipe is ideal since it is so full of flavor.  Instead of using tortillas, simply top with a squeeze of lime, some salsa and a sprinkle of cheese over a bed of lettuce for a chicken fajita salad that is hearty and satisfying without the carb worries!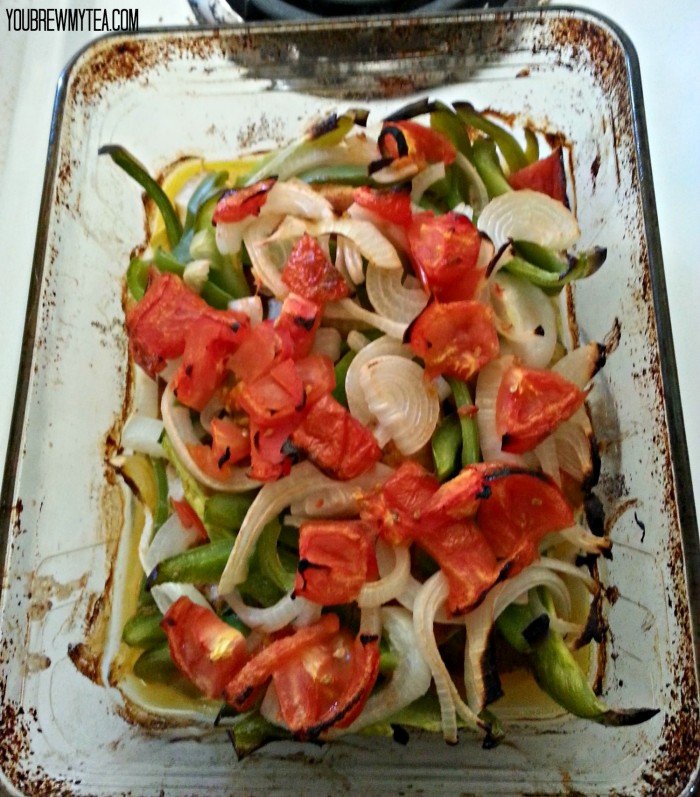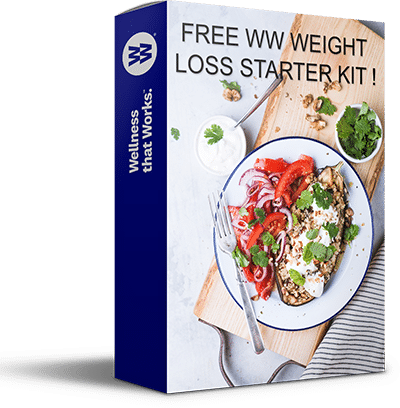 FREE WW WEIGHT LOSS STARTER KIT
+ exclusive tips, recipes & more to lose weight, increase confidence, and live a healthier and happier life !