This Blueberry Bread Pudding Recipe is one that comes from my long standing love of bread pudding, and my desire to somehow make it appear to be a healthier dessert by adding fruit into it.  Okay, so admittedly this is just totally not healthy in the least, but I love the combination of adding blueberries that I already love to the favorite flavors of bread pudding.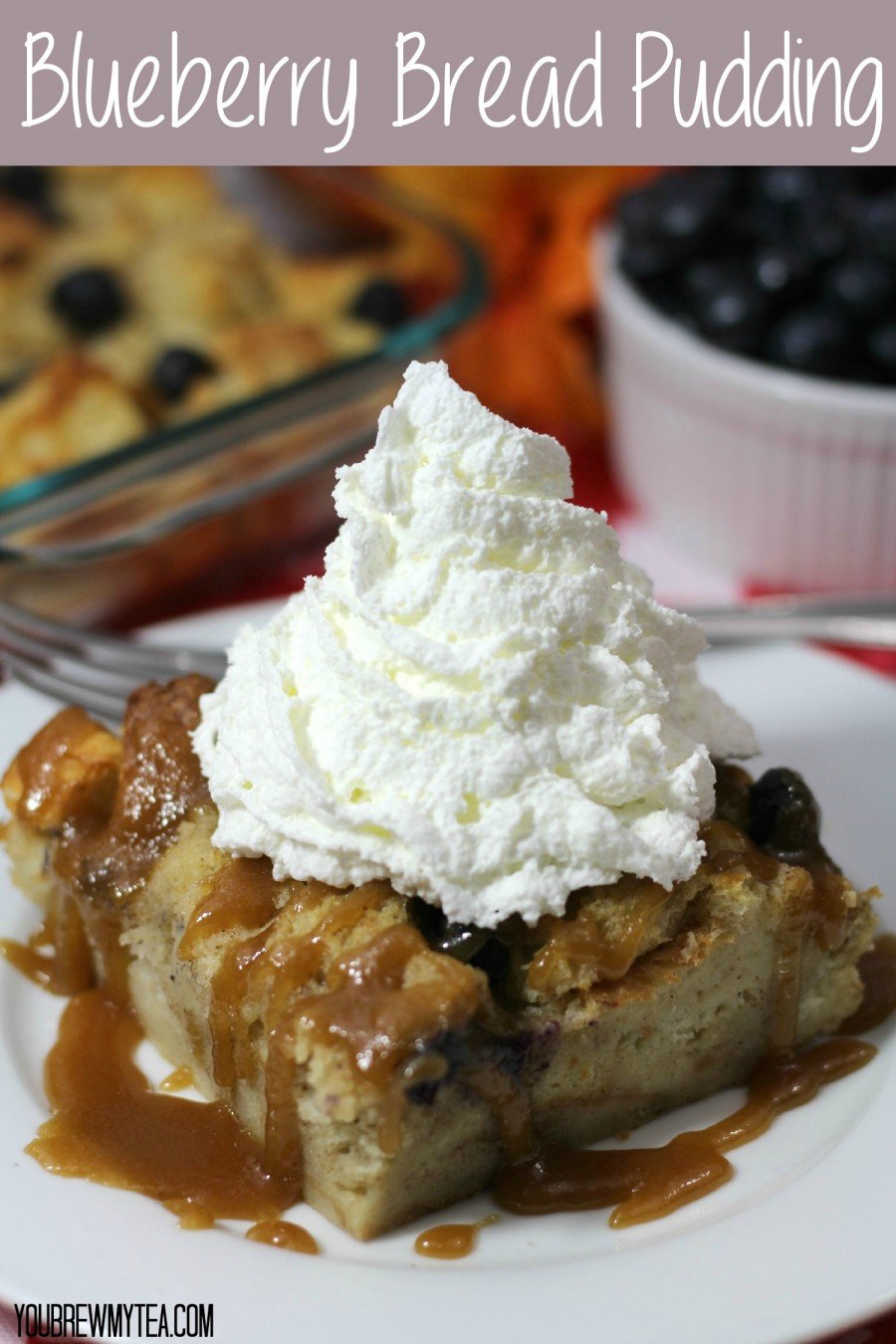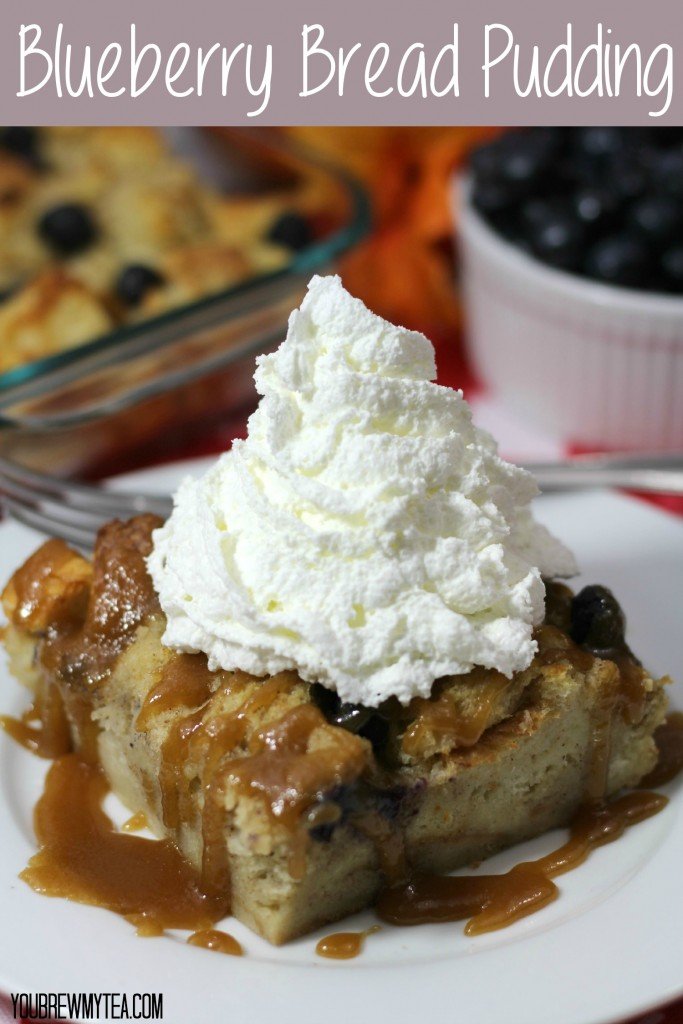 Blueberry Bread Pudding Recipe
I remember being 13 or 14 years old and going to a church potluck where one of the ladies made bread pudding.  I thought I wouldn't like it at all, but then she poured this amazing caramel sauce over the top of it.  It was rich in cream, brown sugar and well, a bit of whiskey.  It was heavenly.  Ever since that experience, I have tried to make my own bread puddings, and have had varied success through the years.
I have some friends locally that own a bakery, and this summer they made this recipe for me.  It's taken me far too long to share it with you, but trust me when I say, it is phenomenal.  Their version is the recipe below, and is slightly different than the once I have enjoyed in the past, but definitely in my top 5 of favorite bread puddings.
The best part of this recipe?  You can go to the closeout area of your bakery and grab day old bread to make this with.  Cheaper is always better!
Blueberry Bread Pudding Recipe
Ingredients
2 cups milk
¼ cup butter
½ cup granulated sugar
1 teaspoon ground cinnamon
¼ teaspoon salt
2 eggs, slightly beaten
1 loaf stale french bread, cubed
1 loaf cinnamon swirl bread, cubed
1 pint blueberries
For Caramel Sauce
1 cup packed brown sugar
½ cup butter or margarine
¼ cup heavy whipping cream
⅛ cup whiskey
Instructions
Heat oven to 350ºF.
In 2-quart saucepan, heat milk and butter over medium heat until butter is melted and milk is hot but not boiling. Once hot, remove from heat.
In large bowl, mix together sugar, cinnamon, salt and eggs with wire whisk until well blended.
Mix bread crumbs, egg mixture and blueberries together in large bowl.
Stir in milk mixture until bread is well coated.
Pour into ungreased 8-inch square (2-quart) glass baking dish or 1½-quart casserole.
Place casserole in 13×9-inch pan; pour boiling water into pan until 1 inch deep.
Bake uncovered 40 to 45 minutes or until knife inserted 1 inch from edge of baking dish comes out clean.
For Caramel Whiskey Sauce
In 1-quart heavy saucepan, heat all sauce ingredients to boiling over medium heat, stirring constantly, until sugar is dissolved. Approximately 10-15 minutes until thickened and alcohol has cooked out.
If you are looking for a delicious dessert recipe to create for your next Sunday dinner, potluck meal or dinner party with friends this simple but delicious bread pudding is the way to go.  Not only will you love the addition of the blueberries, but the caramel whiskey sauce on top will be the perfect sweet addition at the end of your meal.  This blueberry bread pudding will be a favorite for everyone in your home!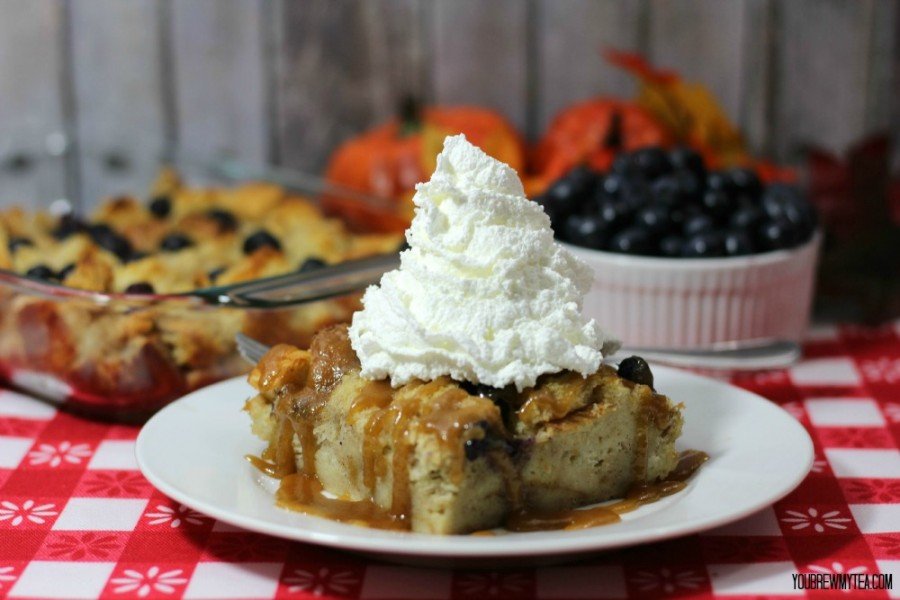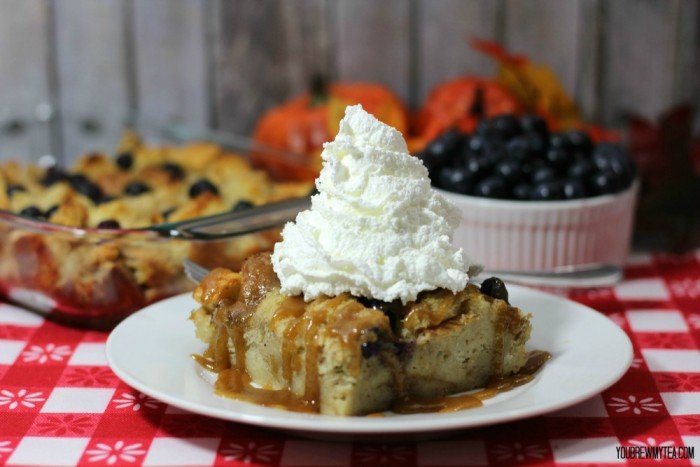 Check out some of our other favorite dessert recipes!