One of my favorite bloggers helpers and virtual assistants, Jill, shared this easy and delicious recipe for Andes Mint Chocolate Cookies with us this week.  When she mentioned it, I knew I wanted it on our site, and was excited she was willing to share with me!  We love the combination of chocolate and mint, and with all of those Girl Scout cookies floating around these days, I knew this was a great make at home substitute.  We hope you enjoy them as much as we did!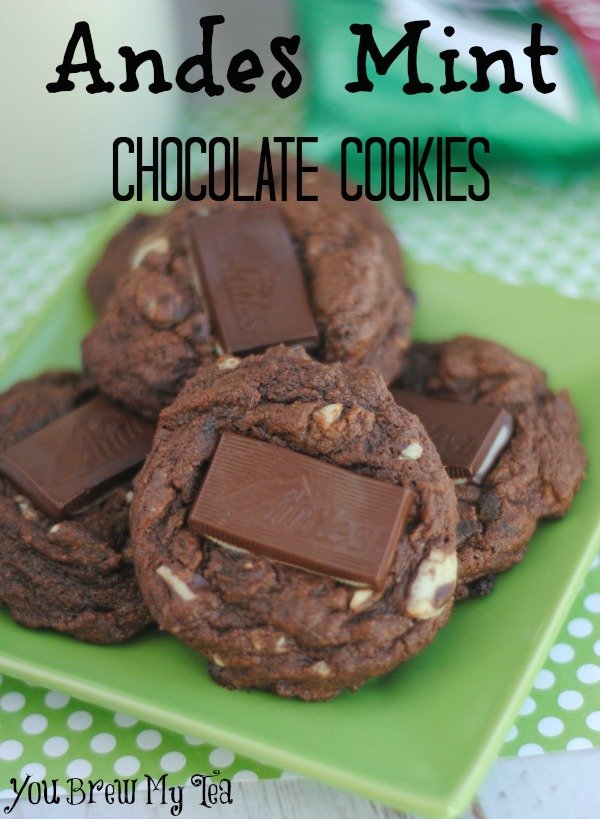 ANDES MINT CHOCOLATE COOKIES
We love Andes mints, but even more than that, we love cookies.  Those always popular Girl Scout cookies that combine chocolate and mint are a favorite in our house, so these definitely are.  One thing I personally love about this combination is that they are satisfying, but also rich enough that I can only eat 1 or 2 at a time.  That means I am less likely to over indulge and eat the whole batch!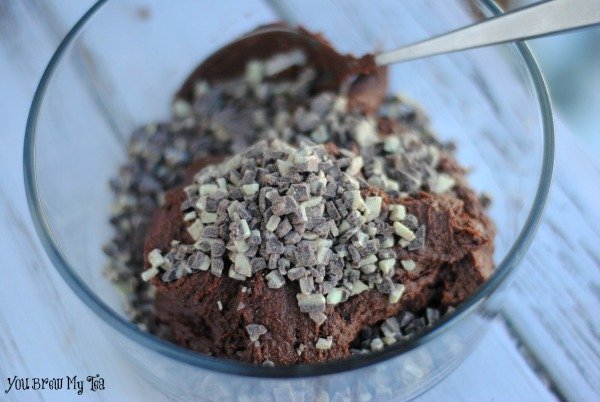 Mix up these delicious cookies in no time.  In less than half an hour, you can have these fresh from the oven and the perfect accompaniment to a tall glass of milk.

Andes Mint Chocolate Cookies
Ingredients
1 Cup Butter, softened to room temperature
2 Eggs
1 ½ Cup Sugar
2 Teaspoons Vanilla Extract
⅔ Cup Cocoa Powder
½ Teaspoon Salt
1 Teaspoon Baking Soda
2 Cups Flour
1 Package of Andes Mint Chocolate Baking Bits (located in the baking aisle near the chocolate chips)
1 Package of Andes Mint Chocolate Candies
Instructions
Preheat the oven to 350 degrees and line your baking sheets with parchment paper or foil (easy clean up, trust me).
Combine the softened butter, eggs, vanilla, cocoa powder and sugar, mixing well.
Slowly fold in the dry ingredients; the flour, baking soda and salt.
Add in the Andes baking bits and mix into the dough.
Drop the dough by rounded tablespoon onto the baking sheets about 2-3" apart.
Bake 8-10 minutes. Do not over bake. These cookies are best on the chewy side!
While you are waiting for the cookies, unwrap the Andes Mint and discard the wrappers. Place one Andes Mint on top of each cookie right after you remove them from the oven. The heat of the cookies will melt them a bit and make them stick. So yummy!
Kids love working with you on these cookies!  Get them involved by having them unwrap the candies to put on the center of the cookies when the are ready.  For those who don't like a quite so minty flavor you can skip the last step ad enjoy the cookies without the full candy piece on top.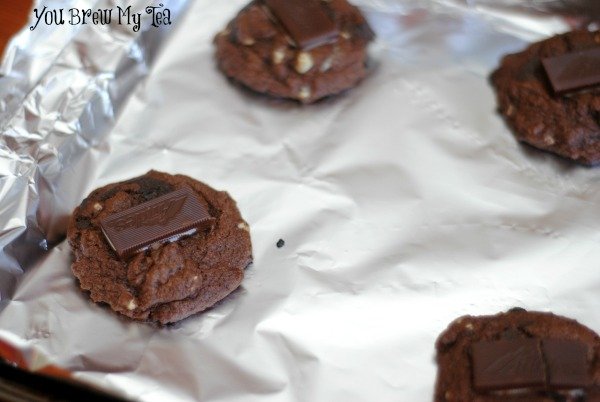 Make these Andes mint chocolate cookies as a special bedtime treat.  Nice hotels often leave an Andes Mint on your pillow with turn down service.  You can serve your kids a special cookie with a glass of milk instead!
Check out some of our favorite dessert recipes!
Weight Watchers Mini Apple Pies
Weight Watchers Pumpkin Pie Tarts
Weight Watchers Baked Pumpkin Pie Egg Roll