Nothing is more classic in America than apple pie.  We love these Weight Watchers Mini Apple Pies as a special treat on occasion.  They are higher in point value than other treats, but they are still a much lighter version than traditional apple pies.  When you are trying to change your eating habits, you have to embrace the 80%/20% rule.  This advice was given to me by my Sister, and frankly I feel it has helped us to make small but consistent changes in ou eating habits over the last year.  Eating healthy 80% of the time and allowing treats or changes 20% of the time is a healthy way to approach food. While you still need to be careful about the 20% you indulge in, eliminating everything can be dangerous as well.  We tend to over indulge in bad choices if we try to limit ourselves too much.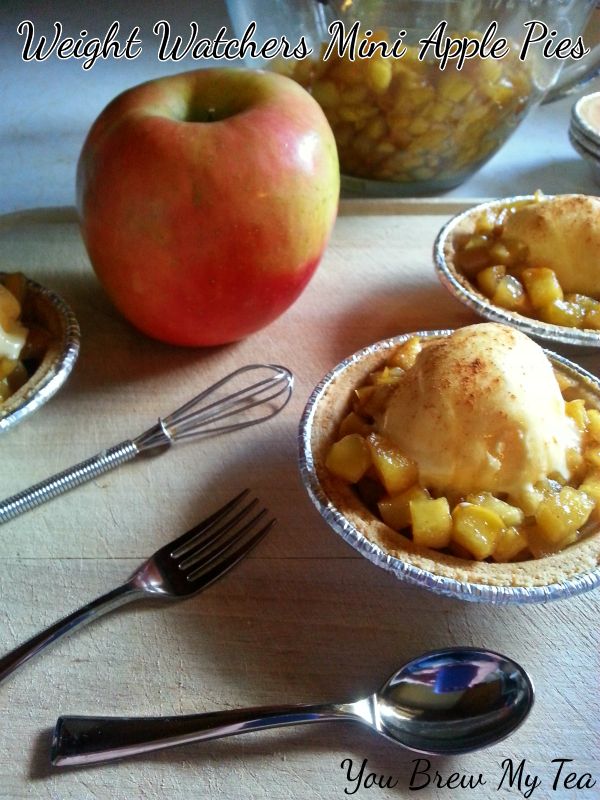 WEIGHT WATCHERS MINI APPLE PIE
My Beau made these little low fat apple pies for us a couple of weeks ago as a special treat.  We had found organic Gala apples on sale at a great price at Whole Foods, and took advantage.  Not only do we enjoy apples as snacks, we love apple desserts.  Since Gala apples are much sweeter and juicier than the traditional Granny Smith apples found in pies, they were perfect for making a healthier and lower fat and sugar option.
He started by washing and coring the apples.  Of course, the Wee Child has to have fun with this part of the process.  What could be more fun than purposely stabbing a funny looking apple corer into an apple?  Kids will always find a way to have fun with it.  While some would peel them, we love leaving the peels on our apples, even in pies like these.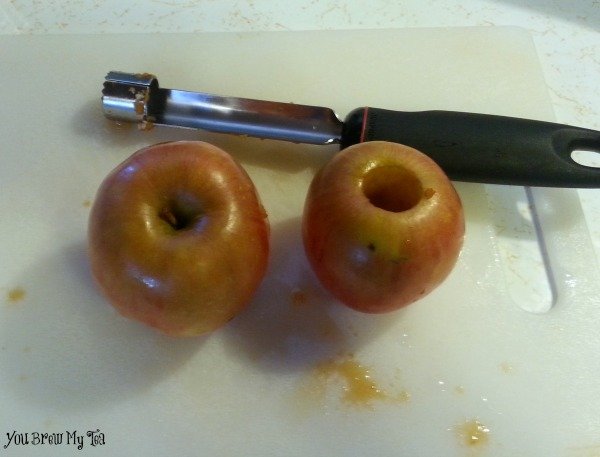 Next he got some help from the Wee Child with chopping the apples into small cubes.  We have been working on knife skills, and prefer using the ceramic knives since the blades are nice and sharp.  Surprisingly, a sharp knife is much safer for kids to use than a duller blade.  We supervise while he takes his time slicing and chopping vegetables.  This was a great time to help him learn more about holding the blade and making steady knife cuts.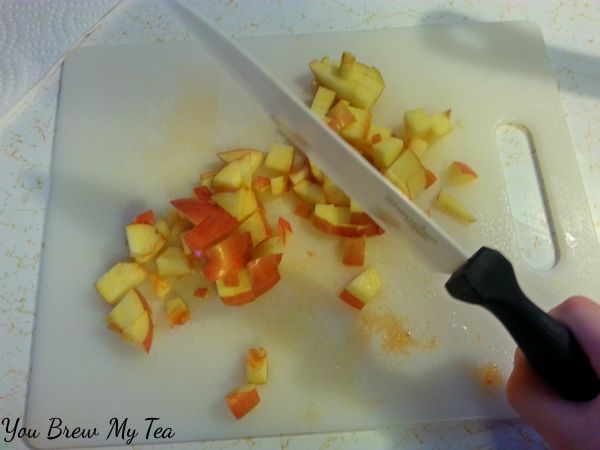 Here is where a traditional apple pie gets high in fat in calories.  Instead of adding a ton of butter or sugar to the apples, my Beau used a different easy method of par boiling the apples instead.  Using Gala apples made them much more naturally sweet, so he could get away with just a small amount of Splenda in this recipe.  Simmering these apples with a bit of water until they began softening was perfect.  When they get tender, you simply add in the Splenda and cinnamon.
See Related Topic: 5 Healthy Low-Calorie Flan Recipes and Tips for the Newbie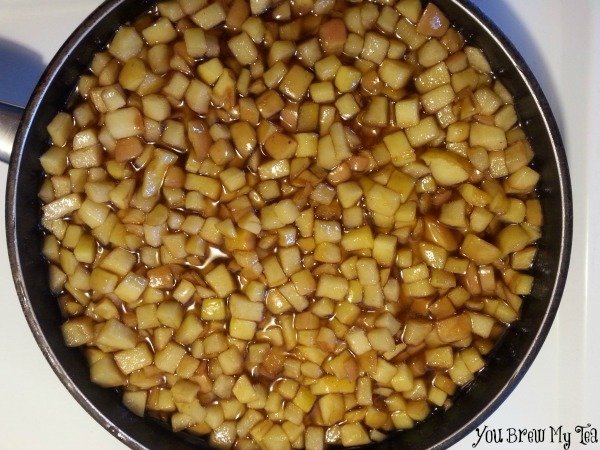 Weight Watchers Mini Apple Pies
Ingredients
4 Gala Apples
½ Cup Splenda
2 Teaspoons Cinnamon
½ Cup Water
8 Mini Reduced Fat Graham Cracker Pie Crusts
Instructions
Core and dice apples into ¼" chunks.
Add apples and water to large saucepan or skillet and bring to a boil. Allow to cook fro 5-7 minutes or until apples are softening.
Reduce heat and mix in Splenda and cinnamon.
Cook for additional 5 minutes.
Divide into 8 equal parts and spoon into Graham cracker pie crusts.
Weight Watchers Points Plus = 5 Per Pie
We chose the reduced fat Graham cracker pie crusts instead of making our own simply because with these we could much easier control our point values.  You have to watch brands though, because some of the reduced fat varieties contain a lot more sugar and are actually higher in points.  Compare labels, or skip the crust all together and crush graham crackers to sprinkle over the topping.  We also served with a spoon of fat free whipped topping or fat free low sugar frozen vanilla yogurt.  That isn't included in the point value listed here, so make sure you double check that before serving.
While this is a bit higher in value than some snacks, it is also a much healthier option for your dessert menu.  You can adapt this to create something even healthier by leaving out the Splenda entirely, or serving just the apples and whipped topping.  These apples are very versatile and definitely one of our favorites to use in many different desserts and breakfasts.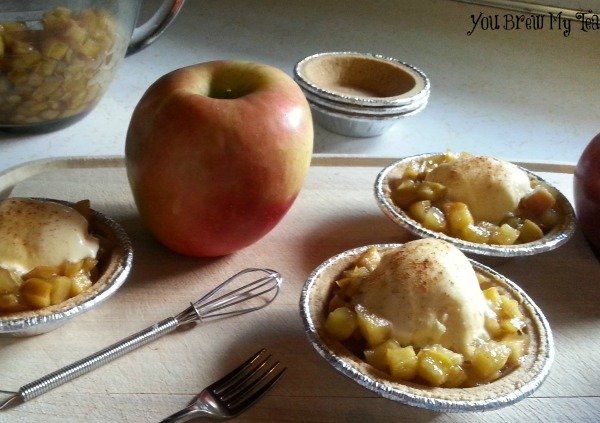 Check out some of our other favorite Weight Watchers Recipes!
Weight Watchers Banana Pancakes
25 Weight Watchers Recipes Under 6 Points Per Serving
Weight Watchers Pumpkin Pie Tarts
Weight Watchers Baked Pumpkin Pie Eggrolls