We love bananas.  Seriously - we eat anywhere from 10-15 bananas a week in our house. Each of us has at least one a day.  So when Chiquita came out with this amazing program and contest I knew I wanted to participate.  The Chiquita Cooking Lab has created this AMAZING contest!  From September 29th to November 24th, you can enter your own special banana recipe for a chance to win up to $4000 CASH!  Well, since we eat bananas all the time, I knew we could come up with something yummy to enter into this contest.
We came up with a combination of some of our favorite things.  Bananas Foster Cheesecake Trifle. This no bake and tasty combination was a perfect recipe to share with our family, and so easy to submit at http:/www.Chiquiatabananas.com/cookinglab for a chance to win one of the weekly prizes, or the great $4000 grand prize.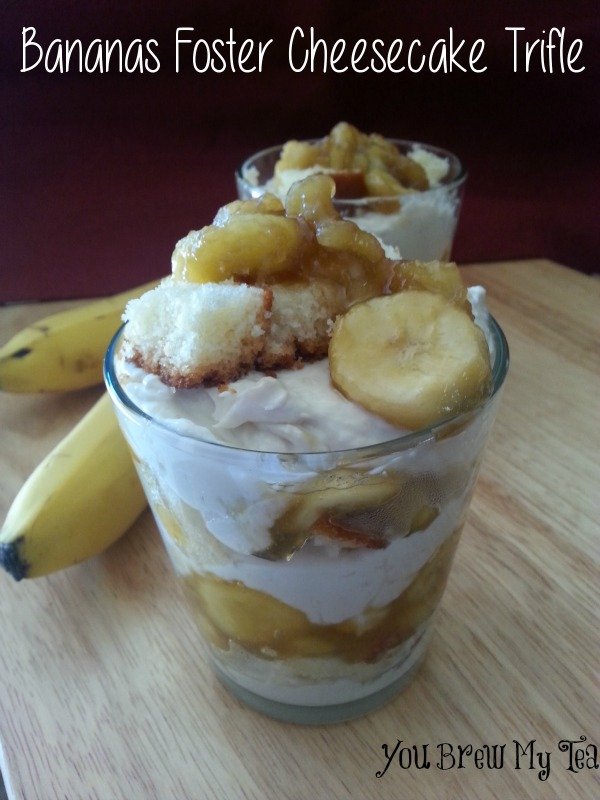 Bananas Foster Cheesecake Trifle With Chiquita Bananas
Ingredients
6 Large Ripe Bananas
1 Cup Brown Sugar
½ Cup Unsalted Butter
1 Large Pound Cake
2 Packages Softened Cream Cheese
1 Cup Powdered Sugar
½ Cup Milk
1 Teaspoon Vanilla
Whipped Cream, Optional
Instructions
Slice bananas
In a large skillet melt butter.
Add bananas and brown sugar. Cook for 10-12 minutes or until softened and sugar/butter mixture begins to caramelize.
Remove from heat and set aside.
In large bowl - beat together cream cheese, powdered sugar, milk and vanilla until smooth.
Cut pound cake into ½" cubes.
In large trifle bowl, or individual trifle cups as shown, layer cake, cream cheese mixture and banana mixture. Top with banana mixture and optional whipped cream as desired.
Chill for at least 1 hour before serving.
This trifle is a great choice to go with your holiday meals.  As a light treat, snack or dessert after those super heavy and rich holiday meals, you can't go wrong with this Bananas Foster Cheesecake Trifle.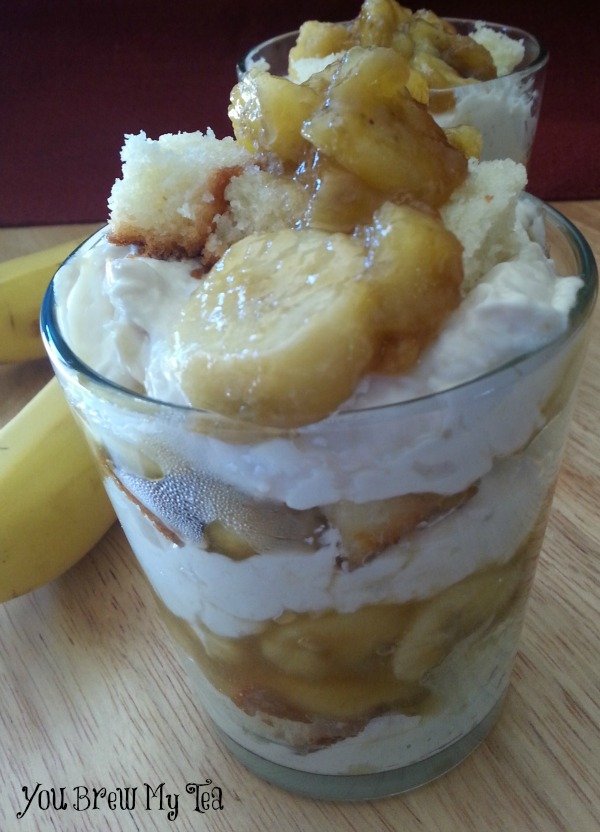 Don't miss out on this chance to win the Cooking Lab contest!  Make sure to head over and enter you recipe today!  Make sue to connect with Chiquita online to see all the great recipes shared, and learn more about their great products!
Thanks to Moms Meet and Chiquita Bananas for the chance to share this contest and recipe!