With back to school officially here I am boosting up my homeschool curriculum with some fun projects that are more like playing than learning.  My son loves painting and crafting, so this Kids Fall Thumbprint Leaves Craft is perfect for him!  Not only can we have fun crafting together, but I can use some of our favorite fall-themed books to teach him more about why the leaves change colors and fall from the trees.  Perfect activity for a simple homeschool class!  I was excited when my good friend Katie Fermia shared this great tutorial with me for you guys!  I look forward to making these with the Wee Child in the coming month.
This year you can get kids into the spirit of Fall when you create these frugal fall thumbprint leaves!  With just a few basic craft supplies you can create a great lesson and project that even the younger students or preschoolers will enjoy.  I love how adaptable this is for the early ages and school grades.  With the right books and curriculum, you can make this work for toddlers to 3rd graders easily!  It's a perfect way to encourage motor skills in the younger kids, color recognition in early learners and scissor and art skills in your early elementary students.  Get the whole family involved to make a "family tree" of thumbprint leaves to frame or give to the grandparents as a gift too!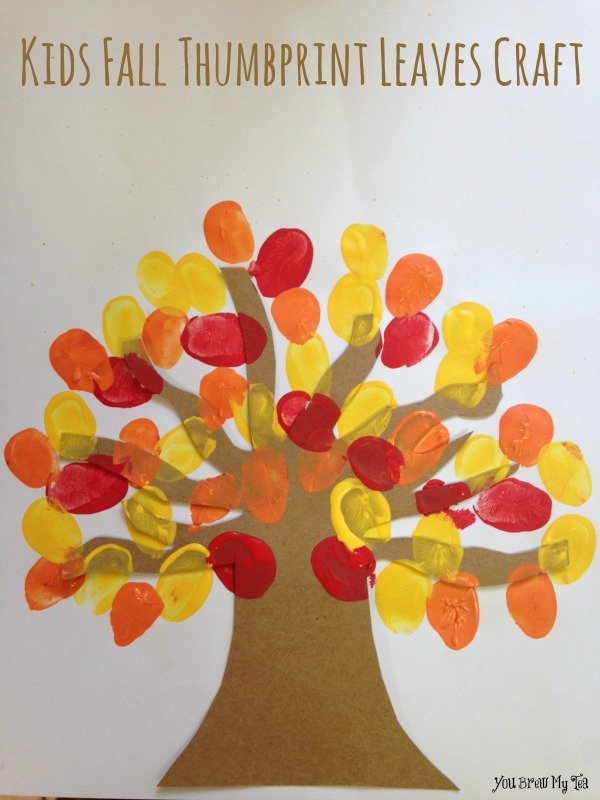 KIDS FALL THUMBPRINT LEAVES CRAFT
SUPPLIES NEEDED:
Brown Construction Paper, Craft Paper or Brown Paper Bag
Red, Yellow or Orange Craft Paint
DIRECTIONS:
Begin by creating the trunk of your tree.  We just did this by free handing our cut out from the brown paper.  You can do the same or use a stencil or pattern if available.  It doesn't have to be fancy, you just need a trunk and some branches.  You can even cut the trunk and branches out separately if you wish, then glue them in place.
Glue the trunk to your white paper.  Press it flat.
It is now time to create your thumb print leaves.  Begin by putting a few dabs of each paint color on a paper plate (easy disposal later).  Spread it around into a thin layer.  Dip your thumb into one color at a time and press it to the white paper around the branches of the tree.  Press firmly before removing.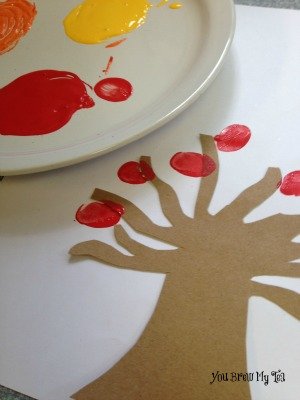 Repeat the process using all the colors.  Be sure to wipe your hand with a wet cloth or wipe between colors so the paints don't mix (you may mix a few at the end for a marbled look if desired).  Continue layering the leaves all over the tree.
Once the tree is nice and full of colorful thumbprint leaves it is ready to dry and be displayed!  Not only is this simply a great fun craft to do with your kids, but it can also be customized to suit your homeschool needs.  We love doing crafts that go along with unit studies or books we are reading, and this would be perfect along with the books below for a fun addition to your homeschool schedule this fall.
The Leaves Fall All Around Us by Steve Mack
Fall Leaves Change Color by Kathleen Weidner Zoehfeld
Autumn The Falling Leaves Fairy by Daisy Meadows
Fall by Nuria Roca
Be sure to check out our other great Fall Craft articles!
Upcycled Fall Flannel Napkin ring
Our friend and fellow author, Katie Fermia,  was gracious enough to share this awesome craft and tutorial with me to share with you guys today!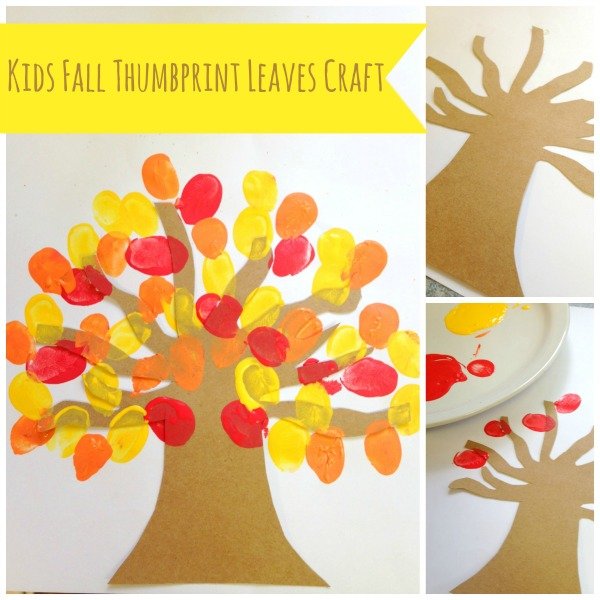 Check out our Homeschooling for Lazy Parents Facebook Support Group for more tips and ways to make your homeschooling experience easy to manage!