We love our Greek flavors in food, and this Easy Taziki Dip is a great addition to our menu any time.  Not only is it a great accompainment to our Shawarma Style Chicken recipe, but it is perfect served with some crispy pita chips, fresh vegetables or as a dipping sauce for any meats.  With it being easy to make fat free, it has quickly become a go to dip for snacking, or even spreading on a simple turkey sandwich to pep it up a bit.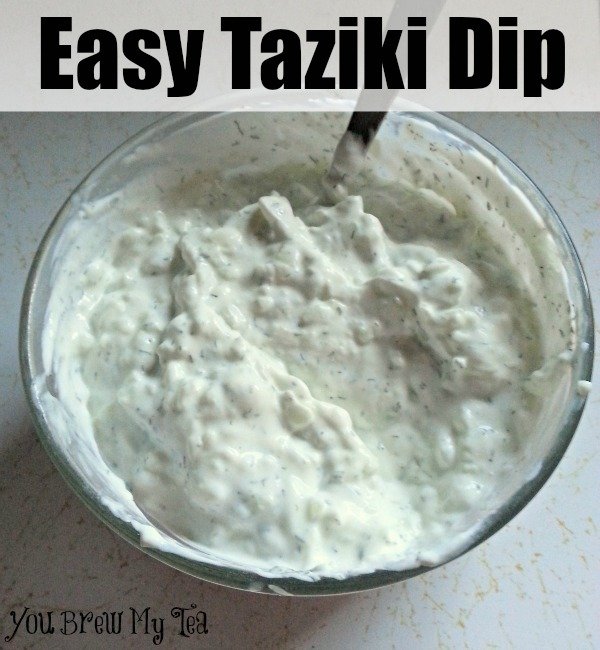 EASY TAZIKI DIP
This last Christmas, my mom got me this little Mini Chopper.  I have to tell you that if you've ever made Taziki in the past you know that grating cucumber is a recipe fr shredded knuckles.  I swear this might be the best Christmas gift we have ever gotten from Mama.  In less than a minute I can shred an entire cucumber for my dip.  So easy, quick and yes, I am putting in a shameless affiliate link there for you.  Cheap and useful in the kitchen. You need one.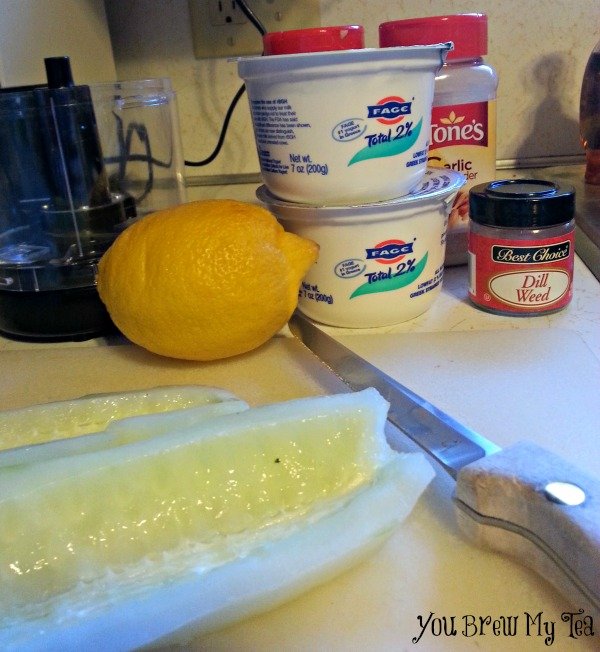 This dip is so simple to make.  Grab your low fat or fat free plain Greek yogurt.  We use Fage since it is often on sale and we prefer the flavor and texture, but any brand of plan Greek yogurt will work.  We usually try to find the fat free, but sometimes we settle for 2%.  Either way, it's super healthy.  Grab some dill, garlic powder, onion powder, salt, pepper, cucumber and a lemon and you have dip or sauce.  Yep, that's it.  So simple!

Easy Taziki Dip
Ingredients
16 oz. Non Fat Greek Yogurt
1 English Cucumber
1 Lemon
1 teaspoon garlic powder
2 teaspoon dill weed
½ teaspoon onion powder
½ teaspoon salt
½ teaspoon black pepper
Instructions
Peel cucumber and removed seeds
Shred cucumber with grater, mini chopper or dice very fine
Mix all ingredients together in medium bowl
Cover and refrigerate for 1 hour prior to use
Seriously people - listen to me for once and make this.  You will LOVE it.  It is so good with multi grain crackers, pita chips and fresh veggies.  I've even spread a flour tortilla with this and added sliced turkey, shredded cheese, lettuce and tomato for a sandwich.  It's a great alternative to high fat mayonnaise!
Check out some of our other popular recipes!
50 Delicious Asparagus Recipes