We love grilling and love shrimp, so this Grilled Shrimp Marinade with Shrimp Sauce was, of course, a favorite right away.  It's amazing how the simplest of things can bring about great flavors.  I loved shrimp scampi, but it is often far too oily and high in fat.  This ends up giving a similar flavor with a fraction of the calories!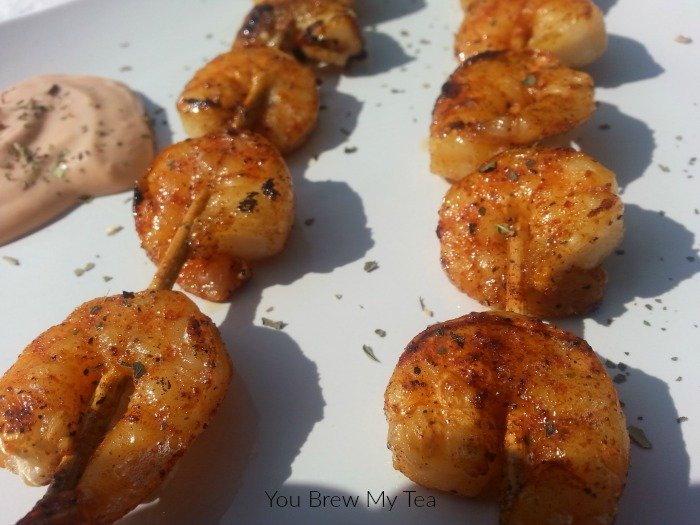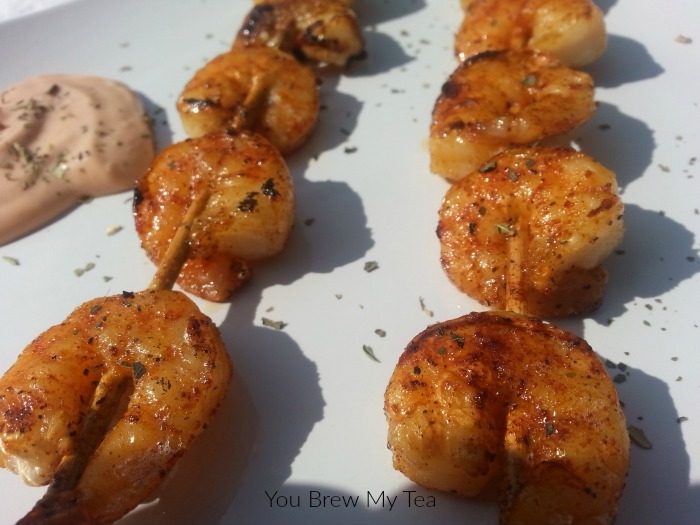 Weight Watchers Grilled Shrimp Marinade with Shrimp Sauce
This post contains affiliate links. 
One of the best things about this grilled shrimp marinade is that it takes just a few ingredients you most likely already have in your pantry.  That is actually how it came about.  We wanted some grilled shrimp but knew it would dry out fast without a marinade or sauce.  After scouring our pantry, we came up with this great marinade, and then we whipped up a favorite sauce on the side for dipping.
We just combined some balsamic vinegar, lemon juice, olive oil, crushed garlic, salt, pepper, and a tiny bit of red pepper flakes to create this grilled shrimp marinade.  This is a simple and delicious combination that works great for any shrimp.  I let the shrimp marinate for a couple of hours in the mixture in our refrigerator, but even just half an hour would work.
If you are using wooden skewers like we did, make sure to soak them in water for at least 10-15 minutes before adding your shrimp.  Wood can catch on fire on the grill, and that doesn't create good results for your shrimp.  Soaking them in water helps prevent that.  Alternately, you could invest in some nice reusable metal skewers instead.  Frankly, I prefer the easy to throw away version so I don't have to worry about one getting lost, or someone getting injured by a sharp point on the end.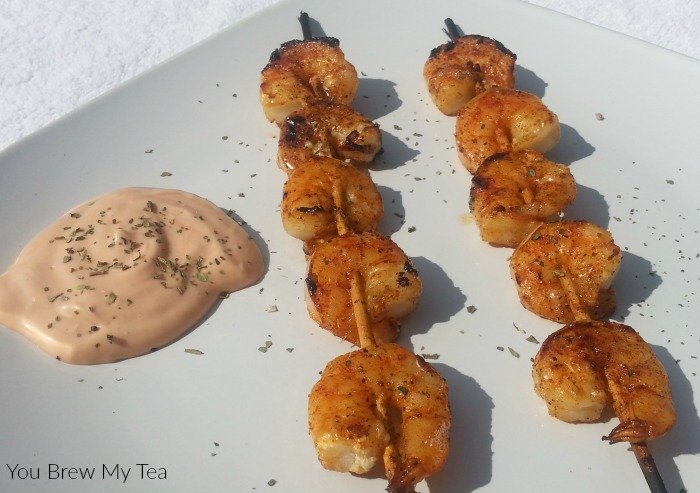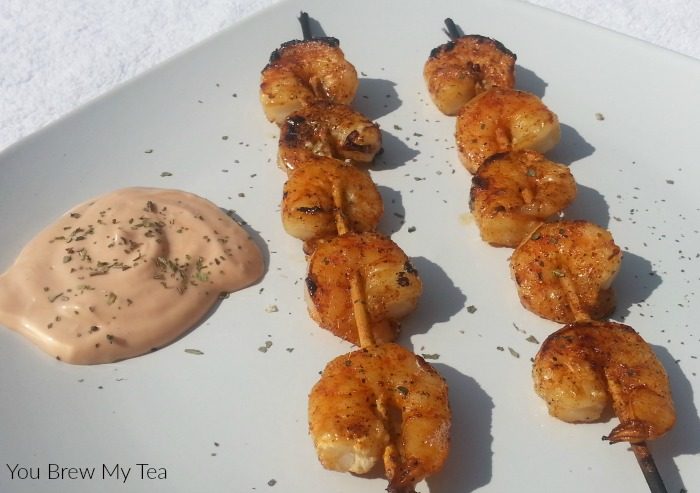 To grill the shrimp will only take a few minutes.  Since it can overcook very quickly, this is one item you do want to watch closely.  We use nonstick grill mats on our gas grill to help prevent them from sticking and to prevent burning.  They still get a nice color, and it makes grill cleanup super easy.
Now, you may be wondering what shrimp sauce is.  Most people are pretty familiar with cocktail sauce.  That's what most would consider shrimp sauce.  We, however, have our own dip that we just love making since it can be a bit milder than traditional cocktail sauce, but just as tasty.  Horseradish is the base, but a prepared horseradish sauce cuts the heat back, and it makes it easy to whip this up and adjust to your preferences easily.  We combine a simple 3 ingredient shrimp sauce that everyone in our house loves!
This simple and easy grilled shrimp marinade and tasty shrimp sauce make an ideal choice to go alongside some freshly grilled vegetables for a healthy Weight Watchers friendly meal.  The bulk of the point values in this meal are from the marinade, and since that really doesn't stay on the shrimp, it is still a super light and healthy option.  Just a little bit of the shrimp sauce goes a long way, so no worries about it racking up a ton of points either.

Grilled Shrimp Marinade with Shrimp Sauce
Ingredients
24 Medium Shrimp cleaned and deveined
2 teaspoons balsamic vinegar
1 teaspoon olive oil
Juice of 1 Lemon
1 clove garlic minced
½ teaspoon salt
½ teaspoon pepper
Pinch of red pepper flakes
Sauce:
1 tablespoon prepared horseradish sauce
2 tablespoons ketchup
1 tablespoon non-fat plain Greek yogurt
Instructions
In a medium bowl, mix together vinegar, oil, lemon juice, garlic, salt, pepper, and pepper flakes.
Pour over shrimp then covers and refrigerate for a minimum of half an hour.
Slide shrimp onto skewers.
Grill for 2-3 minutes on each side. Shrimp cooks fast, so watch for it to curl and turn pink.
For Sauce:
In a small bowl, mix together all ingredients.
Add more or less horseradish sauce to taste
I use the
Calorie Count nutrition calculator
and the
Calculator Cat Weight Watchers
points calculator to get my points values listed below.
3 PointsPlus per serving
2 SmartPoints per serving on Beyond the Scale
Zero SmartPoints on FreeStyle Plan or FlexPlan
Weight Watchers Points For Shimp Sauce
1 PointsPlus per serving
1 SmartPoint on Beyond the Scale and FreeStyle Plan
Grab some grilled vegetables, and maybe our yummy roasted sweet potatoes to round this out for a hearty, lower calorie but delicious meal your whole family will enjoy!
More Weight Watchers Recipes: