I am always looking for great Weight Watchers chicken recipes since we eat primarily chicken as a protein source.  I found a lot of Slow Cooker Butter Chicken recipes out there that I thought sounded good but wanted to adapt to make healthier, as well as a bit more economic.  The result was a wonderful meal I made this past weekend that we will definitely be enjoying more frequently.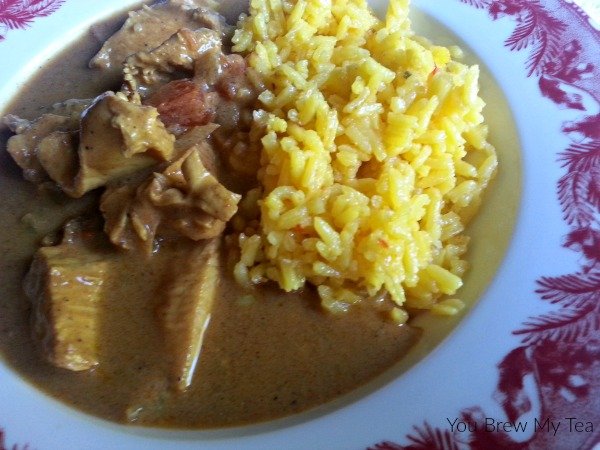 Weight Watchers Chicken Recipes:  Slow Cooker Butter Chicken
This post contains affiliate links. 
I like to keep my freezer is well-stocked with boneless skinless chicken breasts for our meals.  So, when I find a recipe we love, and can make it in the Slow Cooker - I am totally going to add it to our menu plan.
We are huge fans of Indian cuisine and have often made various curry dishes at home.  We recently discovered how much we love Butter Chicken, and of course, I was determined to find a recipe I could make at home without spending a fortune on spices or tools.  A slow cooker recipe means I can set it and forget it, which makes it better for the whole family since I can focus a bit more on work, and my Beau doesn't have to stress over the details of dinner.
For this Slow Cooker Butter Chicken recipe, I made a few substitutions from recipes I found online.  Most called for heavy cream, full-fat yogurt, and of course loads of butter.  That doesn't work so great with Weight Watchers or a healthy diet, so I opted instead for a combination of coconut milk, fat-free yogurt, and fat-free sour cream.  The result was delicious and lower in fat and calories.
This recipe easily makes 8 servings.  I do serve with a saffron rice recipe, but you can serve alone, with quinoa, brown rice, or a side of vegetables.  Also, if you prefer a milder flavor, omit the chili powder.  Garam Masala is a combination of Indian spices that already has a hint of spice so adding additional chili can make it too spicy for some.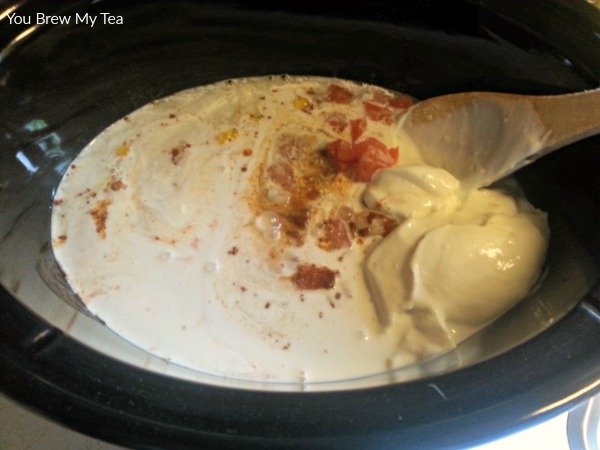 Weight Watchers Chicken Recipes Slow Cooker Butter Chicken
Ingredients
1 pound boneless skinless chicken breasts, cut into 1" pieces
1 cup unsweetened coconut milk
1 cup fat-free plain yogurt
½ cup fat-free sour cream
2½ tablespoons butter
1 cup tomato sauce
1 medium tomato diced
1 small onion diced
2 cloves garlic minced
2 teaspoons Garam Masala
1 teaspoon ground cumin
1 teaspoon ground ginger
½ teaspoon chili powder (optional)
1 bay leaf
1½ teaspoons salt (less if preferred)
Juice of 1 lemon
Instructions
Place chicken in the bottom of your slow cooker. Top with diced onion, garlic, and tomato.
Sprinkle with Garam Masala, cumin, ginger, chili powder, and salt.
Pour in tomato sauce, unsweetened coconut milk, butter, sour cream, yogurt, and lemon juice.
Stir everything until well combined.
Add bay leaf.
Cook on high heat for 3 hours.
Stir well, reduce to low heat and cook additional 1 hour.
Serve with rice.
Makes 8 Servings
4 SmartPoints Per Serving (without rice)
2 SmartPoints Per Serving on Freestyle Plan or FlexPlan
This recipe was calculated using the Recipe Builder within Weight Watchers.  You can also use the Weight Watchers SmartPoints Calculator if you don't have access to the Weight Watchers dashboard recipe builder option.
This Slow Cooker Butter Chicken is definitely going to become one of our favorite Weight Watchers chicken recipes.  It's simple, affordable, and satisfying. Since it makes easily 8 portions, it is perfect for splitting up for two evening meals, or freezing half of the meal for another meal later in the month.
More Weight Watchers Recipes: